Mia and the Bad Boy
by
Lisa Burstein
Series:
Backstage Pass #2
Also in this series:
Aimee and the Heartthrob
,
Daisy and the Front Man
,
Anya and the Shy Guy
,
Abby and the Cute One
Published by
Entangled: Crush
on May 12, 2015
Genres:
Contemporary
,
Romance
Pages:
220
Goodreads
Buy the Book
This good girl's about to meet her match…

Ryder Brooks is living the dream—he's famous, loved by millions of girls, and miserable. All he really wants is to write his own music, not Seconds to Juliet's sugary sweet pop. In order to do that, though, the "bad boy" of the band will have to play by the rules. And that includes behaving with his new—and super cute—über-good-girl tutor.

Mia Reyes is in fangirl heaven. Tutoring her favorite member of her favorite band? It's a dream come true…until it turns into a complete nightmare. Ryder is nothing like she thought. He's crude, arrogant, and pretty much a total jerk. And the worst part? She's roped into pretending to be his girlfriend so that no one finds out he's being tutored. Fake kisses, plenty of PDA, and even sharing his hotel room…

But sometimes even the baddest of bad boys needs a little redemption.
You know that we really liked the first book in the series, Aimee and the Heartthrob, so we couldn't wait to grab Mia and the Bad Boy. Who doesn't love a good girl/bad boy story? And you know how we feel about fake relationships to more stories.
The 411:
The bad boy of the band, Ryder Brooks, needs a tutor to get his GED. It's a secret that he never graduated, so Mia has to pose as his girlfriend so no one will know about the tutoring.  Of course, more than just studying starts happening between them.

What We Loved:
Even though Ryder started out being an asshole, he ended up being really sweet and felt very authentic. We think his situation is probably more authentic that not. He wants to spread his wings and write music that means something to him instead of being stuck in boy band hell. We loved the chemistry in this story. There are some seriously swoonworthy moments.
"After all that, you haven't even taken a drink." Mia smiled.

He'd forgotten the bottle was still in his hand. He dropped it, and it rolled along the floor. "In the desert of my life," Ryder said, "kissing you is my water."
We also loved the interactions with the other members of Seconds to Juliet, particularly Miles, who you know we loved.

Um...Not So Much:
Again, we would have liked this to be told in first person POV, and we think some of it was a tad on the immature side.

Bottom Line:
All in all, this was a fast, cute read with characters we loved and a great story.

Verdict:
Rating Report
Cover
Characters
Plot
Writing
Swoon
Overall:
4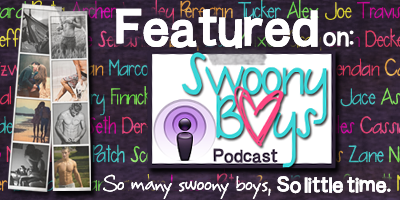 Related Posts