Reclaimed
by
Sarah Guillory
Published by
Spencer Hill Contemporary
on October 15th, 2013
Genres:
Contemporary
Pages:
296
Goodreads
Buy the Book
Jenna Oliver doesn't have time to get involved with one boy, let alone two.

All Jenna wants is to escape her evaporating small town and her alcoholic mother. She's determined she'll go to college and find a life that is wholly hers—one that isn't tainted by her family's past. But when the McAlister twins move to town and Jenna gets involved with both of them, she learns the life she planned may not be the one she gets.

Ian McAlister doesn't want to start over; he wants to remember.

Ian can't recall a single thing from the last three months—and he seems to be losing more memories every day. His family knows the truth, but no one will tell him what really happened before he lost his memory. When he meets Jenna, Ian believes that he can be normal again because she makes not remembering something he can handle.

The secret Ian can't remember is the one Luke McAlister can't forget.

Luke has always lived in the shadow of his twin brother until Jenna stumbles into his life. She sees past who he's supposed to be, and her kiss brings back the spark that life stole. Even though Luke feels like his brother deserves her more, Luke can't resist Jenna—which is the trigger that makes Ian's memory return.

Jenna, Ian, & Luke are about to learn there are only so many secrets you can keep before the truth comes to reclaim you.
Welcome to Swoony Boys Podcast. This is our stop on the Reclaimed Blog Tour for Spencer Hill Contemporary. We are THRILLED to be a part of this tour and are looking forward to sharing a little more about why we loved reclaimed and that characters in this amazing debut. Check out our review and character interview below.

What We Loved:
There's a lot to love about Reclaimed, but there is also only a little we can say without giving away too much. We'll keep this simple. This is one of the most unique storylines that we have ever read. We didn't see the twist coming… not even a little.
The characters are lovable. They are real, well written, and vulnerable. Sarah Guillory has managed to make us shout, cry, swoon, and most importantly… fall in love.

Um...Not So Much:
There is absolutely nothing we would fix about the plot, characters, or arcs. If we could change one thing about this book it would only be the editing. There are a few issues with the flow of the story at the beginning, phrases and transitions that aren't as smooth as they could have been, but it's something that we were more than willing to overlook because of how amazing the story is. We would also like to say that if you pick this up and aren't immediately immersed, give it time. You don't want to miss out on this one for a lack of patience.

The Boys:
Ian and Luke are both so different, but we had a favorite from the beginning. Like, Jenna we couldn't help our pull towards Luke. They both have great senses of humor though. Like Ian saying this:
"I invited him for dinner."

"Great!" Mom was practically floating. "Hope you like frozen lasagna."

"Well, I prefer it cooked, but whatever," he said.
Or Luke saying this:
"Okay, so not bottle rockets. Not," Luke added, throwing me a wicked grin, " that I'd be too upset if your shirt went up in flames."
But in the end, who could deny the swoon of words like these:
"And that kiss had been more like running across a bridge and setting it ablaze. I knew know that, no matter what happened, we couldn't go back."
Oh, Luke. We love you.

What We Think Will Happen Next:
I don't think we can say what we think happens next without spoiling. (That seems to be a reoccurring theme in this review.) But we can say this- we think that Jenna gets her happily ever after with the boy that we wanted her to.

Bottom Line:
Painfully beautiful, swoony, and full of surprises. A must-read debut novel.

Verdict:
Rating Report
Cover
Characters
Plot
Writing
Swoon
Overall:
4
***Character Interview***
Today we're sitting down with Jenna, Ian, and Luke from Reclaimed. Hi, guys! Welcome!

Thanks so much for having us!
Jenna. Getting involved with two boys is always a mess, but twins? We can't even imagine. What drew you to them?
Ian is sweet and certain and responsible. Being with him makes it easier to forget just how bad things are getting at home. He understands my need to set goals and work hard to meet them. Luke is irresponsible and irreverent, but he challenges me and makes me want to know what it's like outside the safety of the fence. And he seems to know what it's like to be in my skin.
Okay, boys. Moving can be difficult, especially during high school. What was your first impression of your new small town?
Ian: There is so much history here, so many memories. It's interesting to see how Jenna fits into that. She's lived here her whole life. I've never lived longer than five years in any one place.
Luke: You can't escape yourself or the past, no matter how small the town. And while Jenna is hell-bent on getting out, the landscape itself, the woods and train yard, seem created just for her.
The two of you seem to disagree a lot. Has that always been the case, or was there a time when things were much more peaceful between you?
Ian: We used to be inseparable. I drew the plans for our treehouse, he built it.
Luke: I built his birdhouse for woodshop, he brought up my math grade. And had to do one of my detentions.
Ian: And then . . .
Luke: . . . we grew up.
You two are so different, and seem to envy each other slightly at times. So we want to know what's something your brother has done that you've always wanted to do? Why haven't you done it?
Ian: I envy the fact that Luke still has those memories I lost.
Luke: I envy the fact that Ian can forget what I can't.
And lastly, (and probably easiest!) what is it about Jenna that makes her irresistible to you?
Ian: Her stories are so vivid, and I love the way her face changes when she tells them.
Luke: Her hope. She makes me believe in miracles.
**The Swoony 5**
Boxers or Briefs? (We know it's cliche', but that doesn't mean we don't want to know!)
Luke: Who says I wear either?
Do you think you're a good kisser? What's the best kiss you've ever had?
Ian: I've never had any complaints. And I'm not one to kiss and tell. But Jenna. Jenna is the best kiss I've ever had.
What's your favorite book?
Ian: The Giver, because it's about recovering memories.
If Jenna wanted to make you breakfast in bed, what would you want on the menu?
Luke: Cold shrimp pizza
Since we're all about the swoon here at Swoony Boys Podcast, we have to ask. What do you think makes you swoony?
Ian: I'm not sure swoony is the right word. But I'm a good listener.
Luke: Yeah, my brother got the manners. I got the looks.
But you're identical?
Luke: *winks* That's what you think.
***About the Author***
Sarah Guillory is a YA author. In addition, she teaches sophomore English and loves that they pay her to fan girl over books and authors and to watch her students fall in love with the written word. Sarah lives in Louisiana with her husband and ridiculously spoiled bloodhound. RECLAIMED is her debut novel.
Find Sarah Here:
Website | tumblr | Twitter | Goodreads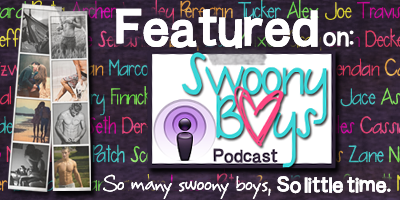 Related Posts