Incarnate
by
Jodi Meadows
Also by this author:
Asunder
,
The Orphan Queen
Series:
Newsoul #1
Also in this series:
Asunder
Published by
Katherine Tegen Books
on January 31, 2012
Genres:
Dystopian
,
Fantasy
Pages:
374
Goodreads
Buy the Book
NEWSOUL
Ana is new. For thousands of years in Range, a million souls have been reincarnated over and over, keeping their memories and experiences from previous lifetimes. When Ana was born, another soul vanished, and no one knows why.

NOSOUL
Even Ana's own mother thinks she's a nosoul, an omen of worse things to come, and has kept her away from society. To escape her seclusion and learn whether she'll be reincarnated, Ana travels to the city of Heart, but its citizens are afraid of what her presence means. When dragons and sylph attack the city, is Ana to blame?

HEART
Sam believes Ana's new soul is good and worthwhile. When he stands up for her, their relationship blooms. But can he love someone who may live only once, and will Ana's enemies—human and creature alike—let them be together? Ana needs to uncover the mistake that gave her someone else's life, but will her quest threaten the peace of Heart and destroy the promise of reincarnation for all?

Jodi Meadows expertly weaves soul-deep romance, fantasy, and danger into an extraordinary tale of new life.
The 411:
For the past 5,000 years, there have been exactly one million people in Range, and they have been reincarnated over and over again. The cool thing about that is when they are reborn, they remember their pasts (as soon as they are mentally mature enough), including who they are (or were) and any skills they acquired. Something happens when Ana is born, though. When they touch the newborn baby's palm to the scanner that identifies who she's coming back as, there's nothing in the system to match her to a past soul. She's a newsoul, and most of the people in their community feel an immediate loss for the girl that she should have come back as. Her father takes off, and her mother moves them into the woods, ostracized and mad.
Every breath I took should have belonged to someone whom everyone had known for five thousand years. The guilt was crushing.
Ana lives cut off from most of society until she's old enough to strike out on her own, bound for the city of Heart to look for information about other people like her. On her way there, she encounters horrors in the woods. She also encounters Sam.
Something solid pressed against my back. A body breathed in time with me, steady in and out, until I broke the unity by thinking about it. An arm was slung over my ribs, and a palm rested on my heart as if to make sure it continued beating, or to ensure that it didn't fall out. Breath warmed the back of my neck, rustling hairs across my skin."
They form a relationship, and he helps her get to the city to search for her past.

What We Loved:
It was really difficult for us to write this review and express how much we want you to read this, but we'll try.
The story.  It's wonderful and so imaginative.  The words Meadows uses–wow.
The swoon.  Sam is so swoony–he gets all the stars.  Not Ana, though we liked her, and not the incomplete feeling we got when we finished reading.  He made us flail with pretty much every word he said to her.

Um...Not So Much:
We loved all of the potential–there are just SO many things that can happen. And we realize that this is a trilogy, so the story has to be drawn out some, but we felt like this book was pretty much about Ana coming to terms with who she is and the way that Sam feels about her. We didn't really learn anything that she set out to discover, and actually we felt like we had more questions at the beginning than at the end. Honestly though, the swoon makes up for the lack of answers.
Sam is enough.

The Boys:
Sam (Dossam).  Can you tell that we loved him?   He's a musician and so passionate.  We loved that he was so loyal to Ana and even though he had to be going through some guilt since pretty much everyone in their society believes that Ana took the place of one of their beloved friends.  He's a gentleman and wise and smart and just amazing.  And he says things like this:
"A thousand things, whenever you're ready."
And this:
"I regret I didn't wear a jacket, or I'd give it to you."

"I still have my wings. It wouldn't fit."

"I'd carry them for you."

"They're attached to the dress. It was the only way I could get them to stay."

He squeezed my hand, tone mischievous. "In that case, I'd be especially happy to carry the wings."
And this:
"Ana, you make me ache in places that aren't even physical."
Gah! He helps her search for her past and stands up to her evil mother for her. We ♥ him so much!

The Girls:
Ana.  Ana was a complex character, and we feel like we're just getting to scratch the surface here with her.  She's been told her entire life that she was an abomination–she's the only one in their society that wasn't someone else first.  We love that she's so musical and that she wants to live.
"I'm not going to waste time being angry about things I can't control. If I only have one life, I should make the most of it."

Bottom Line:
With its unique storyline and totally swoony boy, Incarnate starts off what is sure to be a must-read series, and we can't wait for more.

Verdict:
Rating Report
Cover
Characters
Plot
Writing
Swoon
Overall:
4.5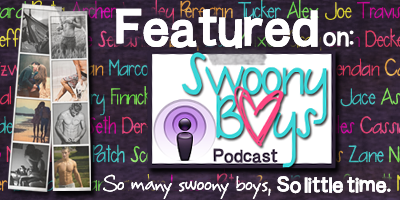 Related Posts