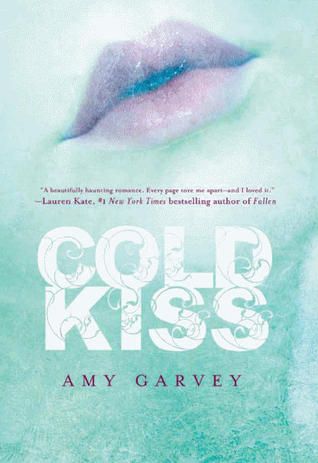 Cold Kiss
by
Amy Garvey
Also by this author:
Glass Heart
Series:
Cold Kiss #1
Also in this series:
Glass Heart
Published by
HarperTeen
on September 20, 2011
Genres:
Paranormal
Pages:
292
Goodreads
Buy the Book
It was a beautiful, warm summer day, the day Danny died.

Suddenly Wren was alone and shattered. In a heartbroken fury, armed with dark incantations and a secret power, Wren decides that what she wants--what she must do--is to bring Danny back.

But the Danny who returns is just a shell of the boy Wren fell in love with. His touch is icy; his skin, smooth and stiff as marble; his chest, cruelly silent when Wren rests her head against it.

Wren must keep Danny a secret, hiding him away, visiting him at night, while her life slowly unravels around her. Then Gabriel DeMarnes transfers to her school, and Wren realizes that somehow, inexplicably, he can sense the powers that lie within her--and that he knows what she has done. And now Gabriel wants to help make things right.

But Wren alone has to undo what she has wrought--even if it means breaking her heart all over again.
The 411:
Cold Kiss is unlike any story we've ever read. The summary of it doesn't really do it justice–Wren is a witch (for lack of a better word) and when her boyfriend dies in a terrible accident, she does the unthinkable and brings him back. The consequences of that act aren't something that she considered, and now she has her boyfriend back, but he's just the shell of the boy she knew. And he's starting to ask questions.

What We Loved:
We've never been into zombie stories, so we really have no frame of reference to go by. We liked this story. We thought it was well-written and the feelings that Wren had were authentic–all of them. There was a squick factor for us, but at the same time, it was sweet and we got it.
I tilt my head up, my mouth brushing his lightly, and he pulls me closer. "Missed you," he murmurs, lips against my cheek after a second. "Always miss you."

When he finally kisses me, really kisses me, his lips are cool and dry and his arms are tight around me, fingers of one hand tangled in my hair. He tastes like smoke and ashes, the bitter weight of wet earth, but I kiss him back, my palm resting on his cheek.

"Always want you." The words are breathed against my mouth, and I relax into the circle of his arms as he pulls me closer. He'll stop when I tell him to–he'll do anything I tell him to now…
Even though he's undead, we love how affectionate he is with her. The memories that she shares with him are so sweet and give insight to both of their characters before the accident. We felt like we knew them, and that's one of our favorite aspects of this book.
Something else that we really enjoyed is the way the story is told. We don't have Wren sitting down in the first chapter and going over her entire history. We love the way that Amy Garvey weaves their back story and history into the current story. She's a great writer, the descriptions she uses are vivid and remind us of what it was like to be in love with a beautiful boy.
He's awake, but he's not, not really–the boy I loved is buried somewhere in a body that looks familiar, but isn't really the most important part of him.

That Danny, the one who used to chase me down the street, threatening to tickle me if I didn't kiss him again, who used to piggyback me up and down the science hall after school as we left the building, who used to sing snatches of songs to me on the phone when we were both home in bed at night, he's been gone for a long time. He's the one I'm never going to be okay with losing…

Um...Not So Much:
What we didn't love about this story was Gabriel. We liked him as a character, but it didn't really make sense to us that he was there. Wren knew that she had to fix the situation with Danny–she didn't need Gabriel there to come to that realization. So for us, we don't get the purpose that he served, and it felt wrong to us that she was kissing him while Danny was still in the picture. We guess that's kind of the point though, and we appreciated the fact that Wren felt guilty about it, too.
There were some loose ends that weren't tied up, like the deal with her dad and exactly where Gabriel came from or if he had any kind of special "powers". That's not even mentioning the fact that she's this–witch with virtually no idea how to focus and control her power. *shrugs*–we're picky.

The Girls:
Wren's character is very likable. She is a good big sister, a good girlfriend, and she wants to take responsibility for her actions. She cares about her friends and about her grades, and about her parents. She's barely holding it together, and we love that about her.

Dream Cast:
When we were looking for Danny, we found Luke Grimes on another site. We thought he was the perfect dreamcast.

What We Think Will Happen Next:
We've already read (and really loved) the followup, Glass Heart. We won't spoil you with what happens here, but we discuss all the things in our review, including our newfound love and swoony heartclenches for Gabriel.

Bottom Line:
Overall, we really liked this story. Even if you aren't a zombie fan, Amy Garvey is a great writer who paints an amazing picture, and Cold Kiss is definitely worth reading.

Verdict:
Rating Report
Cover
Characters
Plot
Writing
Swoon
Overall:
4
Check out the book trailer for Cold Kiss by Amy Garvey: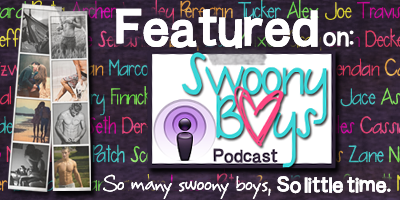 Related Posts