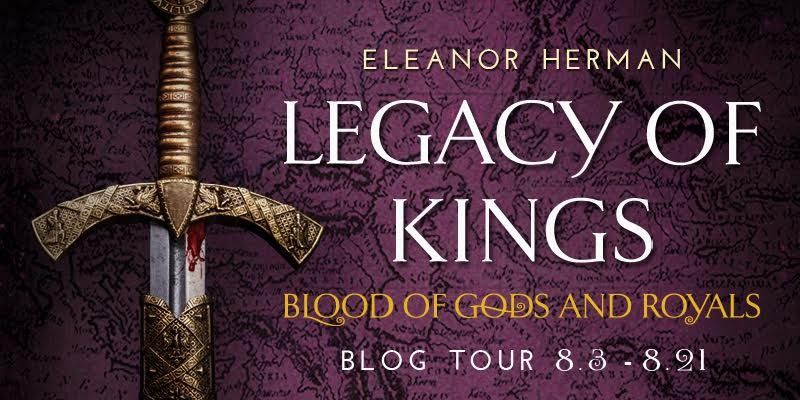 Welcome to Swoony Boys Podcast! This is our stop on the Legacy of Kings Tour hosted by Kismet Book Touring. We are excited for you to get to know more about the book and Eleanor Herman. We've got a great guest post from Eleanor and a great giveaway at the bottom of the post! Let's get started…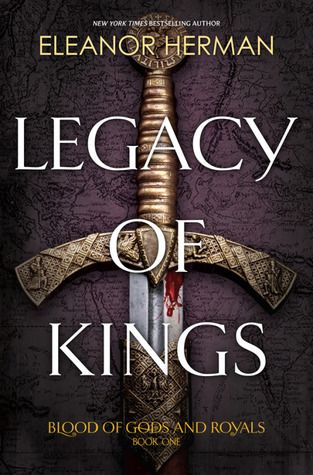 Legacy of Kinds
by
Eleanor Herman
Published by
Harlequin
,
Harlequin Teen
on August 25th, 2015
Genres:
Fantasy
,
Historical
Pages:
384
Goodreads
Buy the Book
Imagine a time when the gods turn a blind eye to the agony of men, when the last of the hellions roam the plains and evil stirs beyond the edges of the map. A time when cities burn, and in their ashes, empires rise.

Alexander, Macedonia's sixteen-year-old heir, is on the brink of discovering his fated role in conquering the known world but finds himself drawn to newcomer Katerina, who must navigate the dark secrets of court life while hiding her own mission: kill the Queen. But Kat's first love, Jacob, will go to unthinkable lengths to win her, even if it means competing for her heart with Hephaestion, a murderer sheltered by the prince. And far across the sea, Zofia, a Persian princess and Alexander's unmet fiancée, wants to alter her destiny by seeking the famed and deadly Spirit Eaters.

Weaving fantasy with the salacious and fascinating details of real history, New York Times bestselling author Eleanor Herman reimagines the greatest emperor the world has ever known: Alexander the Great, in the first book of the Blood of Gods and Royals series.
**Author Guest Post**
10 Random Things You Didn't Know About
Legacy of Kings and its Author
Writing Legacy of Kings

1. Historical Fiction Fact: Human Nature Never Changes

If you look at a marble statue of Julius Caesar or a stylized painting of an ancient pharaoh, they seem larger than life, other-worldly, like they wouldn't have burped or snored or gotten lettuce stuck between their teeth. In writing about Alexander the Great and his family, I needed to remember the ingredients that make us all human: fear, love, worry, striving to find a path in life and fit in, anger, vengeance, self-sacrifice, kindness—as well as burping, snoring, and lettuce between your teeth.

2. Realistic Romance in Stricter Times

Princess Diana was probably the last would-be royal bride to actually undergo a virginity test, and that was in 1981. It was much worse in ancient times, when princesses were usually guarded by chaperones, eunuchs, or dragons. I wanted to infuse Legacy of Kings with the tension of illicit romance but still keep it real according to the era. So Princess Cynane of Macedon can fool around because she is a motherless Amazonian wild child whom King Philip ignores. Princess Zofia of Persia sneaks off to meet her lover with her old nurse's assistance. Katerina is an orphaned peasant girl so nobody really cares about her love life.

3. The Seduction and Repulsion of Ancient Smells

YA Lit is more odor-oriented than adult lit. And smells are powerful jolts to readers, who are used to non-stop descriptions of sights and sounds. The ancient world was much whiffier than the antiseptic modern one, which is redolent of fake pleasant smells with all the foul ones scrubbed away. So in Legacy of Kings, I pepper my scenes with wood smoke, sweat (human and horse), stale wine, onion breath, and unwashed bodies. Even though they didn't have soap or shampoo, there were good smells, too. Clean tunics pounded with stones in a flowing stream and sun-dried in fresh air. Flowers and their essences. Citrus cologne. Baking bread and roasting meat.

4. The Basic Stuff that Didn't Exist

I mentioned the ancient Greeks didn't have soap or shampoo. Deodorant and toothpaste you figure, right? But they also didn't have candles (they used oil lamps), peaches (native to China, came to Greece when Alexander opened up the connecting roads), stirrups (they just awkwardly dangled their legs), horse shoes (they wrapped their horses' hooves in leather bags when traversing rough terrain), glass (other than small perfume bottles), lemons (they had citrons, bumpy cousins of lemons), silk (which also came when Alexander opened up east and west), and tons of other things. I google at least ten things a day when writing this series.

5. Female Warriors were Real

One of my favorite characters is the bad girl, Cynane, Alexander's half-sister and would-be Amazon. She actually was a warrior woman who killed loads of men in battle. Certain parts of Eurasia had tribes where women could choose to fight or take on more traditional roles at home, and these fighting women, most of them from ancient Scythia (what is now Ukraine) were known as Amazons. For centuries they were believed to be mythological, but recently scientists have been reexamining the stored bones of Scythian "warrior kings," found in tombs with arrows and spear heads embedded in skulls and ribs, and surrounded by sacrificed war horses and weapons. Some 25% of these "warrior kings" were actually female!

About Me

6. My personal journey into the ancient world

When my first husband ran off with my friend, I found myself depressed and living alone. Suddenly evenings and weekends looked like vast voids of loneliness. So in my spare time, I delved into reading everything I could about the ancient world. I attended scholarly seminars. I went on archeological cruises. I visited most of the ancient sites. This lasted for seven years until I knew more than most of the lecturers. Then I stopped going. So, ex-husband, thanks! Sort of.

7. How a month in Africa made the ancient world click for me

To research my book King Peggy, I spent a month in a Ghanaian village with no running water and intermittent electricity. People did laundry outside, using paddles to push it around in steaming cauldrons as goats and chickens ran around free-range. They caught fish and smoked it to preserve it. They dug up or plucked off fresh fruit and vegetables and ate them immediately. They hand-planed wood. They hauled water from a well to bathe in. They used lanterns at night. They worshiped ancestors and nature gods. They had much closer human connections than we do, sitting in cars, typing on phones. One day it all clicked for me after all those years of research: this is how all humans have lived throughout time until fairly recently! This is my experience of living in the ancient world, the closest thing to time travel I will ever get!

8. I Believe in Magic

Have you ever had a dream that came true the next day? Thought about an old friend for the first time in years and the next second the phone rings and it's them? That, and weirder stuff, happens to me all the time. Which is how I can really get into the minds of the snake and earth bloods in Legacy of Kings. Some of my characters have innate magical abilities just as I believe some of us do.

9. If Reincarnation is a True Thing

I am such a non-violent person (nudging bugs out the window instead of smashing them) and such a girly-girl (who loves clothes, shoes, makeup, jewelry, purses, and did I say shoes?), that I was worried about writing the Blood Tournament and epic battle scenes. But once I got started, I was SO into them! Hack! Slash! Smash! And I've read everything written, ancient and modern, that I could get my hands on about ancient warfare. Why? I ask myself. I guess the only logical answer (though my engineer husband would remind me "Ellie, this is NOT logical) is that I am reincarnated from an ancient Greek or Roman general. Seems logical to me.

10. I Get a Rush from Ancient Stuff

I collect ancient stuff; jewelry, statuettes, weapons, oil lamps, and broken pottery and mosaic stones I find at ancient sites. To hold something in my hand that someone else held thousands of years ago gives me this incredible rush. When I visit an ancient site—Greek temples and classical cities, for instant—I tingle with joy. Weird, I know, but I guess that's why I wrote Legacy of Kings.
♥♥♥
***About Eleanor Herman***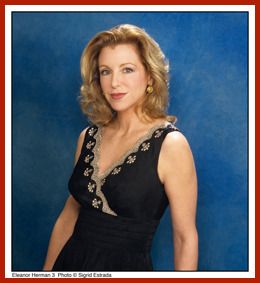 New York Times best-seller Eleanor Herman offers a rare combination of skills for a historian – her research is intensely scholarly, yet she writes the story in a colorful, witty manner.
"History is so fascinating that it never has to be presented in a boring way," she explains. "These were flesh and blood people, just like you and me, facing war and plague, falling in love, living among splendid art and gut-wrenching poverty. Sometimes people ask me if I plan to write novels. And I say, with all the things that really happened, who needs to make stuff up?"
Reviewers agree. The New York Times Book Review wrote that Eleanor writes "enlightening social history that is great fun to read."
The Boston Globe wrote, "Herman's writing sparkles off the pages."
The Washington Post called Eleanor Herman "A lot more fun than Danielle Steel or Dan Brown."
Eleanor calls herself a "Sherlock Holmes of history." To research Mistress of the Vatican, she traveled to Italy hot on the trail of documents related to Olimpia Maidalchini and Pope Innocent X, and found a cache of their letters. She visited Olimpia's palace in the Piazza Navona in Rome (now the Embassy of Brazil), her villa outside the city (now used by the prime minister of Italy for entertainment), and the papal palace of the Quirinale, (now the ceremonial palace of the President of Italy.) She visited Olimpia's birthplace in Viterbo, 50 miles north of Rome, her tomb in San Martino, the town she built for dowerless girls, and her country hunting lodge, gracefully falling to ruin.
Eleanor read countless diplomatic dispatches, letters, and contemporary records on life in seventeenth century Rome. Her fluency in French, German, and Italian has been invaluable in researching sources that have never been translated into English.
Mistress of the Vatican is Eleanor's third book. Sex with Kings – a history of royal mistresses – appeared in 2004, and Sex with the Queen – a history of queens who took lovers – was published in 2006. Eleanor is a frequent commentator in the media about royal scandals, and has hosted episodes for The History Channel's show, Lost Worlds, to air in the 2007-8 season. Born in Baltimore, Maryland, Eleanor graduated with a degree in journalism from Towson University, studied languages in Europe, and for thirteen years worked for NATO'S Nations & Partners for Peace magazine. She is married and lives in McLean, VA.
Find Eleanor Here:
Website | Facebook | Twitter | Goodreads
***GIVEAWAY***
Thanks to the amazing team at Harlequin Teen, each stop on the tour will be offering up a copy of THE LEGACY OF KINGS, so be sure and follow along for more guest posts, interviews and chances to win! To enter, please fill out the Rafflecopter form.

Giveaway is open to US/CA only.
a Rafflecopter giveaway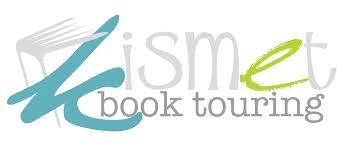 Good luck and be sure to check out the other stops from the Legacy of Kings Tour!
Related Posts