We're so excited to kick off the blog tour for The Dead House by Dawn Kurtagich. We picked this book up at BEA and could not wait to share it with you. This is one of the most unique tours we've ever been on because THE UK GETS THE DAY. THE US GETS THE NIGHT.
Each day, one blog from the US (that's us today ) and one blog from the UK will post the same feature—but one will be from Carly's sweet & innocent mind…and one will be from Kaitlyn's twisted & sinister mind. You get to meet Carly and Kaitlyn—and learn about these two personalities in one body! We've got an awesome playlist to share from Kaitlyn, and you can check out Carly's playlist over at Winged Reviews.
***Kaitlyn's Ultimate Playlist***
***About The Dead House***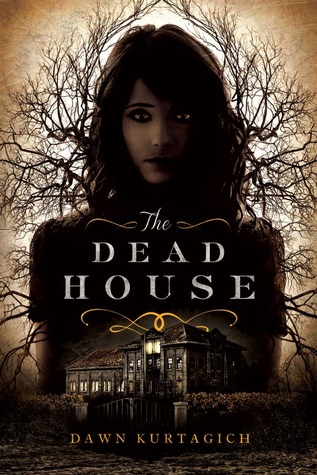 The Dead House
by
Dawn Kurtagich
Published by
Little Brown Books for Young Readers
on September 25, 2015
Genres:
Horror
,
Mystery
,
Thriller
Pages:
432
Goodreads
Buy the Book
Debut author Dawn Kurtagich is dead on in this terrifying psychological thriller!

Over two decades have passed since the fire at Elmbridge High, an inferno that took the lives of three teenagers. Not much was known about the events leading up to the tragedy - only that one student, Carly Johnson, vanished without a trace...

...until a diary is found hidden in the ruins.

But the diary, badly scorched, does not belong to Carly Johnson. It belongs to Kaitlyn Johnson, a girl who shouldn't exist Who was Kaitlyn? Why did she come out only at night? What is her connection to Carly?

The case has been reopened. Police records are being reexamined: psychiatric reports, video footage, text messages, e-mails. And the diary.

The diary that paints a much more sinister version of events than was ever made publicly known.
Read the first 17 chapters of The Dead House for free!
***About Dawn Kurtagich***
Dawn Kurtagich writes psychologically sinister fiction, where girls may descend into madness, boys may see monsters in men, and adults may have something to hide. She lives in Wales, but grew up all over the world, predominantly in Africa. She writes and blogs for YA Scream Queens and is a member of the YA League. THE DEAD HOUSE is her first novel.
Find Dawn Here: Website | Facebook | Twitter | Goodreads
Don't forget to check out the other stops on the blog tour for The Dead House by Dawn Kurtagich!
Related Posts