So many books come out each week making it hard to decide what to read. We want to make that a little bit easier on you by sharing our favorite release from the week and telling you our top 3 reasons why we think you'll love it too!
This week our selection is Arrows by Melissa Gorzelncyzk. Are you ready to hear more about this book and its author? Here we go…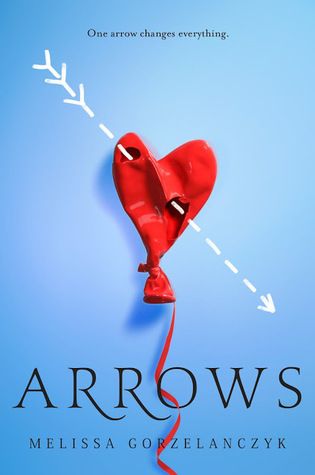 Arrows by Melissa Gorzelncyzk
Published by Delacorte Books for Young Readers, Random House on January 26th, 2016
Genres: Fantasy, Mythology
Pages: 256
Goodreads Buy the Book

A modern cupid story set in present-day Wisconsin combining the fantastical elements of Greek mythology with the contemporary drama of MTV's Teen Mom.

People don't understand love. If they did, they'd get why dance prodigy Karma Clark just can't say goodbye to her boyfriend, Danny. No matter what he says or does or how he hurts her, she can't stay angry with him . . . and can't stop loving him. But there's a reason why Karma is helpless to break things off: she's been shot with a love arrow.

Aaryn, son of Cupid, was supposed to shoot both Karma and Danny but found out too late that the other arrow in his pack was useless. And with that, Karma's life changed forever. One pregnancy confirmed. One ballet scholarship lost. And dream after dream tossed to the wind.

A clueless Karma doesn't know that her toxic relationship is Aaryn's fault . . . but he's going to get a chance to make things right. He's here to convince Danny to man up and be there for Karma. But what if this god from Mount Olympus finds himself falling in love with a beautiful dancer from Wisconsin who can never love him in return?

This fast-paced debut novel explores the internal & external conflicts of a girl who finds herself inexplicably drawn to a boy who seemingly doesn't reciprocate her feelings, touching on the issues of love, sex and responsibility, with a heroine struggling to control her destiny--perfect for fans of Katie McGarry's novels and MTV's 16 and Pregnant.
3 Reasons You Should Read
Arrows by Melissa Gorzelncyzk
We love finding new authors to gush about and Melissa Gorzelanczyk has given us a reason to do just that! Her writing is fresh, light and easy to read. We think you're going to really enjoy reading this book and anything else that comes out from her in the future!
There are many things to love about Karma. We love her personality and her toughness, but most of all we love that she is an awesome mom. Her love for her daughter is impossible not to admire. We can't wait for you to read more of their relationship!
Aaryn is the sweetest sweetie. When he gets sent back to earth as a human to fix his mistakes we couldn't help but immediately cheer him on. Then as we saw him interact with Karma we fell even more in love. We think you're going to fall for him too!
***About Melissa Gorzelanczyk***
Melissa Gorzelanczyk is a former magazine editor and columnist who believes love is everything. A dreamer for life, Melissa has been writing books since she was nine years old when she penned her first story about a beloved black horse. She is a member of the Class of 2k16, the SCBWI and The Sweet Sixteens. She lives in Green Bay, Wisconsin, with her husband and family.
Find Melissa Here:
Website | Twitter | Facebook| Goodreads
Related Posts