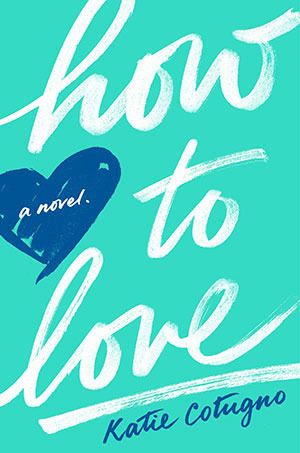 How to Love
by
Katie Cotugno
Also by this author:
99 Days
Published by
Balzer & Bray
on October 1, 2013
Genres:
Contemporary
Pages:
389
Goodreads
Buy the Book
Before: Reena Montero has loved Sawyer LeGrande for as long as she can remember: as natural as breathing, as endless as time. But he's never seemed to notice that Reena even exists…until one day, impossibly, he does. Reena and Sawyer fall in messy, complicated love. But then Sawyer disappears from their humid Florida town without a word, leaving a devastated—and pregnant—Reena behind.

After: Almost three years have passed, and there's a new love in Reena's life: her daughter, Hannah. Reena's gotten used to being without Sawyer, and she's finally getting the hang of this strange, unexpected life. But just as swiftly and suddenly as he disappeared, Sawyer turns up again. Reena doesn't want anything to do with him, though she'd be lying if she said Sawyer's being back wasn't stirring something in her. After everything that's happened, can Reena really let herself love Sawyer LeGrande again?

In this breathtaking debut, Katie Cotugno weaves together the story of one couple falling in love—twice.
The 411:
Reena Montero has always loved Sawyer LeGrande, but when she finally gets him it's not all that she thought it would be. Their love is messy and ends too quickly when Sawyer disappears. Years later he shows up again, but everything is different. Can they fix what happened between them? Or is the cycle of running away going to continue?

What We Loved:
There is so much about How to Love to, well, love. We've been gushing about this book for months now and we're going to try and articulate exactly what it is that captured us.
Here's our list:
Before/After Style– These two story threads were magically woven. Throughout each chapter we're looking at the same set of characters under two very different sets of circumstances. The whole story is told from Reena's POV, but the back and forth narrative shows so much growth and feeling. Readers get to "see" more with this style. If it had been told completely in the "now" with flashbacks to the "after", many of the link ups and interwoven heartbreak would have been lost. We can't imagine this one being written any other way
Real Issues– HtL is not a story with just one issue. In fact, it touches on a little bit of everything. It tackles drug use, teenage pregnancy, first love, family dynamics, friendship, and religion. It's raw, but more importantly, it's real.
Characterization– There is a pretty large cast of characters here. We've got our hero and heroine, their friends, and their large (often dysfunctional) families. There are plenty of them to love (Reena, Sawyer, Soledad and Shelby) and plenty of them to hate (Lydia, Roger, Leo, and sometimes Allie). But that's part of what makes them so great. You've got every kind of character all dealing with the same situation and dealing with it in their own way. Even when we didn't agree with how everyone was reacting, we loved that Katie Cotugno  allowed them to react and to become 'real breathing people'.
Love Story– We'll be the first to admit that this is not the typical sweet, fluffy romance that we love so much. This is a story of a couple meant to be together, but with everything in the world standing between them. It's the story of real love. It's not perfect or easy, but when it all comes together it is absolutely beautiful.

Um...Not So Much:
This section was hard. There were so many things that we wish these characters didn't have to go through, and so many times where we wanted to save them, but everything that happened was there for a reason. So as much as some things bothered us, we really don't think we would change them.
With that said, here are a few of the things that had us wishing we could reach through the pages and smack people around:
Lydia– We never really got to the bottom of why she wasn't there for Serena. Was it too painful because Hannah looked like Sawyer and was a constant reminder of what she'd lost? Was it more than that? To us, her and Roger's lack of help and understanding is completely unforgivable.
Leo– Okay, we get this one. No one wants to see their daughter go through the things that Serena went through. We just hate that it took so long (and something so awful!) for him to finally get the kick in the ass that he needed to come around.
Aaron– This one is more pity than anything. This poor guy didn't do anything wrong, and really probably could have been really good for Reena. His only fault? He wasn't Sawyer. Poor guy.

The Boys:
Sawyer LeGrande. Just his name screams swoon, right? Forgive us if this part gets a little long, but we've got a lot to get off our chests. The fact that this story is told in two different times means we get two very different versions of Sawyer. We've heard him take a lot of slack for his actions in "the Before" sections, but we want to take a minute to clear something up.
If you've ever loved someone, or even know someone, who has dealt with any kind of substance abuse or depression your opinion of Sawyer and his actions will greatly differ from someone without that history. It is easy to see how someone who has never been around that, never been hurt by it, maybe wouldn't understand where he was coming from. Would think he was mean or even toxic. But in reality Sawyer did more damage to himself than anyone else.
It's because of that very thing, that we just couldn't dislike him, even when maybe we should have. He didn't go about his leaving in the right way, but it wasn't without reason. If he had stayed does anyone honestly think he would have been able to be there for Reena and Hannah in a healthy way? Absolutely not. He would have continued to spiral out of control until perhaps something completely unforgivable happened.
His leaving is not something we like, and we aren't saying it would be right in every situation, but for him it is what had to happen for him to make the changes he needed to make. Add that to the act that he honestly didn't know about Hannah, and just like Reena we know that as much as you want to be mad at him, you just can't be.
*steps off soapbox*
Now, let's talk about "After" Sawyer. You guys. Seriously? After Sawyer exudes confidence. He's obviously still good looking, but now that he's got his life together he is just so different. He knows what he wants, and there's no way he's stopping until he gets it.
Just look at this:
"Testy," he says, sticking his tongue out. He turns around to grab the glasses, muscles moving inside his shirt in a way I do my best not to notice. I roll my eyes to cover, trying to sound as annoyed as humanly possible.

"You know," I tell him shrewishly, "if I were you, I'd be careful what I did with that tongue."

"That so?" His gaze flicks up and down my body, overt. "Where would be a safe place for it?"
and this…
"I would never, ever ask you not to go, Reena," he says softly. "Go do what you need to do. I already screwed up your plans once in this lifetime. I'm not going to do it again. But I guess I'm just telling you I'll be here when and if you decide to come back."
You don't even want to know how many times we've read those lines. Sawyer had his moments where he was an ass, but when you take a minute to really examine his character you find someone who is not just swoony, but also completely loveable.
Listen to Meg gush about Sawyer being her #1 contemporary boy on our podcast here.
You also get to listen to her talk about Sawyer calling Reena princess.
"What are you doing tonight?" he asked.

"Working?" I said.

Sawyer rolled his eyes at me. "Thank you, princess. I mean after that."
SWOOOON!

The Girls:
We loved Reena from the very first paragraph. Her voice is sharp, funny, and real. Being inside of her head gave the story so much depth and emotion. It was impossible not to love her.
Just look at this:
The hideous thing is this: I want to forgive him. Even after everything, I do. A baby before my 17th birthday and a future as lonely as the surface of the moon and still the sight of him feels like a homecoming, like a song I used to know but somehow forgot.
We can relate to many things about her. She's an over achieving, Catholic daughter, who guards her emotions but wears her heart on her sleeve. The events of her life have not always been fair, and actually many times are completely unfair, but she faces them with a strength well beyond her age. Even when the support she needed from others fell through,  she faced that and became an amazing mom to Hannah despite their obstacles.
We couldn't help but feel for her entire situation, but she handles it with such class that you don't have time to feel sorry for her. Instead we found ourselves in awe of her strength and in love with her snark.

Dream Cast:
Sawyer LeGrande was not an easy guy to cast. We loved him so much that we had to take a lot of time to think about who could possibly portray all the different levels of this guy. Now that we've found him though, we can't picture him any other way. Here he is:
Green Eyes? Check. Dark hair (that would also look good buzzed)? Check Olive skin? Check. Ridiculously good looking? Double Check.

What We Think Will Happen Next:
Oh, man. We like to think that Reena, Sawyer, and Hannah all got their happily ever after. They get to travel, finish school. and find jobs outside of the family restaurant that they can love. They get to discover each other again, and learn how to be a family. All three of them deserve that, and so much more.

Bottom Line:
A story about finding yourself, second chances, and undeniable love. How to Love is one of our favorite reads of 2013.

Verdict:
Rating Report
Cover
Characters
Plot
Writing
Swoon
Overall:
5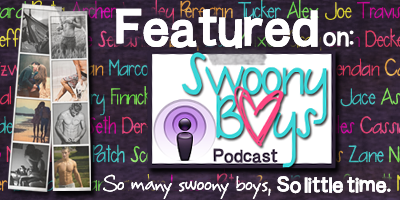 Related Posts