Emil Ostrovski is one of our most favoritist authors. Not only does he write amazing characters that pull on our heartstrings, he seems like such a nice guy. We him! We were thrilled to be invited to participate in the blog tour for his latest title, Away We Go, and we're so excited that Emil dropped by with his Top 10 Favorite Bookish Quotes. You're going to love his list! Next week, we'll be sharing our thoughts on Away We Go with you, and today we've got a fun giveaway to share with you. We'll get right to Emil's list:
***Emil Ostrovski's Top 10 Bookish Quotes ***
On Endings:

"I know this will come as a shock to you, Mr. Goldwyn, but in all history, which has held billions and billions of human beings, not a single one ever had a happy ending."

On Originality:

"Original thought is like original sin: both happened before you were born to people you could not possibly have met."

On Fate and Acceptance:

"People can't, unhappily, invent their mooring posts, their lovers and their friends, anymore than they can invent their parents. Life gives these and also takes them away and the great difficulty is to say Yes to life."

On Childhood Friendships:

"The companions of our childhood always possess a certain power over our minds which hardly any later friend can obtain."

On Fathers and their Role in Our Lives:

"I used to think my father had been assigned to us by the government. This was because he appeared to serve no purpose."

On Happiness:

"She bought a chocolate bar and it tasted surprisingly good – as if, without her knowing it, sitting here and eating this chocolate was the one thing she had wanted to do all day."

On Destinations:

"If you don't know where you are going any road can take you there."

On The Difference Between Love and Lust:

"Tomas came to this conclusion: Making love with a woman and sleeping with a woman are two separate passions, not merely different, but opposite. Love does not make itself felt in the desire for copulation (a desire that extends to an infinite number of women) but in the desire for shared sleep (a desire limited to one woman)."

On Categories, and How to Escape From Them:

"I want—I want somehow to get away with you into a world where words like that—categories like that—won't exist. Where we shall simply be two human beings who love each other, who are the whole life to each other, and nothing else on earth will matter."
She drew a deep sigh that ended in another laugh. "Oh, my dear—where is that country? Have you ever been there?"

On Dogs and Family (a poem about a narrator who adopts three dogs and names them after his sister, mother and brother):

"…see how
it's a breeze to be with your
whole family, to be the porch
they all sit on after dinner
and cake, with mugs in their hands
and wine in their mugs, and how they
life their noses into the wind
and sniff and look
to see if you are there, if you are going
to do what you promised to do.
if you are going to love and call them
sometimes and tell them you love them."
***About Emil Ostrovski ***

I'm twenty-five.
Rather than give you a witty, self-deprecating account of the trials and tribulations of my twenty-five year old, suburban, upper-middle class, went-to-a-girl's-liberal-arts-college life, I'll admit that I haven't really done anything much worth reading about.
So in lieu of providing you with my biography, I will recommend that you read Desmond Tutu's. Here.
Why Desmond Tutu?
Well, I've always liked his name.
Find Emil Here: Website | Facebook | Twitter | Goodreads
***About the Book***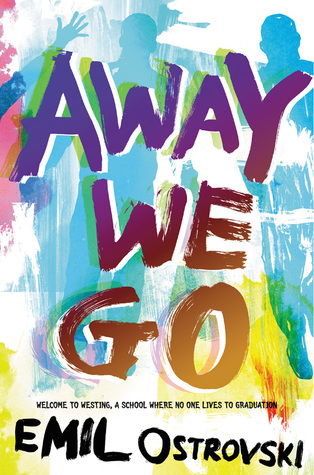 Away We Go
by
Emil Ostrovski
Published by
Greenwillow Books
on April 5, 2016
Genres:
Contemporary
,
LGBT
Pages:
270
Goodreads
Buy the Book
Westing is not your typical school. For starters, you have to have one very important quality in order to be admitted—you have to be dying. Every student at Westing has been diagnosed with PPV, or the Peter Pan Virus. No one is expected to live to graduation.

What do you do when you go to a school where no one has a future? Noah Falls, his girlfriend Alice, and his best friend Marty spend their time drinking, making out, and playing video games on awaywego.com. But when an older boy named Zach (who Noah may or may not be in love with) invites Noah and Marty to join his secret Polo Club, the lives of both boys change as they struggle to find meaning in their shortened existence.

With an innovative format that includes interstitial documents, such as flyers, postcards, and handwritten notes, Away We Go is a funny, honest look at first love and tragic heartbreak.
***GIVEAWAY***
Win one of three finished copies of Away We Go by Emil Ostrovski!
a Rafflecopter giveaway
Don't forget to check out the other books on the Blog Tour for Away We Go by Emil Ostrovski!
Week 1:
Week 2:
Which quote is your favorite? Good luck in the giveaway, Pretties!
Related Posts