We're thrilled to host author Martina Boone today. You might remember when we got to sit down and chat with her about Compulsion, the first book in The Heirs of Watson Island Series. Today, we're featuring Persuasion, the second book in the series. We've got an awesome giveaway to share with you, plus a real treat: we asked Martina for her Top Ten Favorite Things About Eight Beaufort, and here they are:
Hi, Meg and Kassiah! I'm so happy to be here with you today to share some favorite things about Eight. (I'd be happy to be here to talk about anything—so thanks for having me! But also, I love talking about Eight, so double thanks!!!!)
***Martina Boone's Top 10 Favorite Things about Eight Beaufort***
The way he loves Barrie and isn't afraid to show it, with big gestures like the tire swing and the red umbrella, or small ones.
He's strong, but he doesn't try to strong-arm Barrie into doing what he thinks she needs to do. He works hard to understand and accommodate her point of view.
Despite the magic that is pushing them apart, he trusts his own feelings for Barrie and is willing to risk his future on that. Listening to what other people want has given him a lot of clarity into what he wants.
Despite how hard research is for him, and despite everything else he's got going on, he quietly stays up late searching for all the answers to the questions that he and Barrie run into as they try to unwind the mystery of Watson Island.
The way he loves his sister Kate.
His general kindness.
His sense of humor.
His mix of confidence and humility.
His sense of honor.
His green eyes and general hotness.
::le sigh:: We Eight, too!
***About Martina Boone***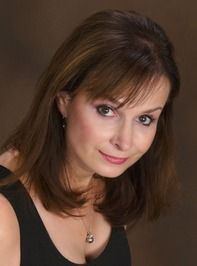 Martina Boone was born in Prague and spoke several languages before learning English. Her first teacher in the U.S. made fun of her for not pronouncing the "wh" sound right, so she set out to master "all the words"—she's still working on that! In the meantime she's writing contemporary fantasy set in the kinds of magical places she'd love to visit.
If you like romance steeped in mystery, mayhem, Spanish moss, and a bit of magic, she hopes you'll look forward to meeting Barrie, Eight, Cassie, Pru, Seven and the other characters of Watson Island.
Find Martina Here: Website | Facebook | Twitter | Goodreads
***About the Book***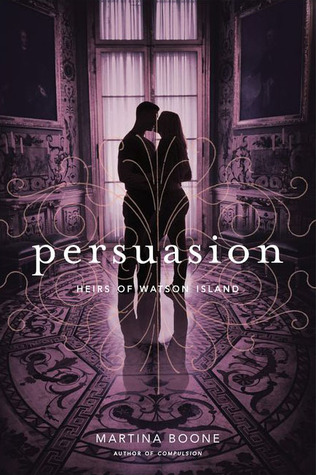 Persuasion
by
Martina Boone
Series:
The Heirs of Watson Island #2
Published by
Simon Pulse
on October 27, 2015
Genres:
Paranormal
Pages:
464
Goodreads
Buy the Book
Beautiful Creatures meets The Raven Boys in the spellbinding second novel in the Heirs of Watson Island trilogy that "skillfully blends rich magic and folklore with adventure, sweeping romance, and hidden treasure" (Publishers Weekly, on Compulsion).

Grieving the death of her godfather and haunted by her cousin Cassie's betrayal, Barrie returns from a trip to San Francisco to find the Watson plantation under siege. Ghost-hunters hope to glimpse the ancient spirit who sets the river on fire each night, and reporters chase rumors of a stolen shipment of Civil War gold that may be hidden at Colesworth Place. The chaos turns dangerous as Cassie hires a team of archeologists to excavate beneath the mansion ruins. Because more is buried there than treasure.

A stranger filled with magic arrives at Watson's Landing claiming that the key to the Watson and Beaufort gifts—and the Colesworth curse—also lies beneath the mansion. With a mix of threats and promises, the man convinces Barrie and Cassie to cast a spell there at midnight. But what he conjures may have deadly consequences.

While Barrie struggles to make sense of the escalating peril and her growing and forbidden feelings for Eight Beaufort, it's impossible to know whom to trust and what to fight for—Eight or herself. Millions of dollars and the fate of the founding families is at stake. Now Barrie must choose between what she feels deep in her heart and what will keep Watson's Landing safe in this stunning addition to a series filled with "decadent settings, mysterious magic, and family histories rife with debauchery" (Kirkus Reviews, on Compulsion).
***GIVEAWAY***
Win Persuasion and Compulsion! (US Only)
a Rafflecopter giveaway
Good luck and don't forget to check out the other stops on the blog tour for Persuasion by Martina Boone!
Related Posts