Today we're participating in the exclusive Cover Reveal for Blood Passage by Heather Demetrios. If you've been here before, you already know how much we love Heather and all of her books! Not only do we have one cover today, we also have the new cover for Exquisite Captive, a teaser, author Q&A, and an awesome giveaway! Are you ready to see the covers? Here they are:
Blood Passage
by Heather Demetrios Expected release date: March 1, 2015
A jinni who's lost everything.

A master with nothing to lose.

A revolutionary with everything to gain.

When Nalia arrives in Morocco to fulfil Malek's third and final wish she's not expecting it to be easy. Though Nalia is free from the shackles that once bound her to Malek as his slave, she's in more danger than ever before.

Meanwhile, Malek's past returns with a vengeance as he confronts the darkness within himself, and Raif must decide what's more important: his love for Nalia, or his devotion to the cause of Arjinnan freedom.

Set upon by powerful forces that threaten to break her, Nalia encounters unexpected allies and discovers that her survival depends on the very things she thought made her weak. From the souks of Marrakech to the dunes of the Sahara, The Arabian Nights come to life in this dazzling second installment of the Dark Passage Cycle.

***Exquisite Captive Cover***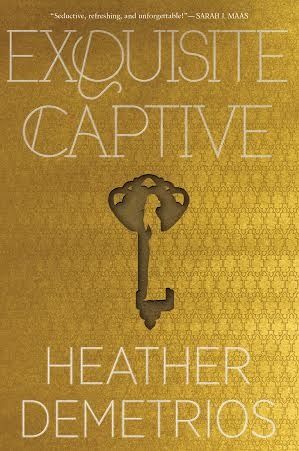 ***Author Q&A***
1. We're not ready to chose Team Malek or Team Raif yet (shocking, right?), but can we maybe get Malek calling Nadia "hayati" just one more time? **holy swoons**
Oh, yes, he will. Malek is actually a point of view character in Blood Passage. In many ways, this is his book. He takes center stage and you learn a lot more about him.
2. While writing you teased a certain swoony flying carpet scene in Blood Passage. Anything else you'd like to say about this?
Haha! I knew that would raise some eyebrows. I've tried really hard to incorporate jinn lore where I could – the jinni in the bottle, the 3 wishes. The magic carpet wasn't intentional at first – it was in response to something big that happens in the book and I needed a getaway vehicle. But then I realized…when that carpet is so high up where no one can see you…well, you can imagine what could happen on it.
3. If you could give us bits of the story from any other characters point of view, whose would it be?
I actually just finished Book 3 and it has some new POVs I'm really excited about. I'm afraid to answer this question because it would be a spoiler for both Book 2 and 3. It's really fun getting to be in the heads of so many different characters.
***Blood Passage Teaser***
Raif quickened his steps and threaded his fingers through Nalia's, rubbing his thumb against the scar around her wrist, where Malek's shackles had once been. She raised her other hand to the headscarf, self-conscious.

"I look silly, don't I?" she asked.

It was a lucky thing the women in this part of the world wore such clothing—it allowed Nalia to hide the identifying birthmark on her cheek that had helped Haran find her. The ghoul had killed six jinn before he got to Nalia, including her best friend, Leilan. He'd nearly killed Nalia herself.

Raif shook his head. "Not silly at all. Beautiful as always." He leaned in to kiss her, but Malek's voice stopped him.

"PDA isn't approved of in Morocco," he said. "You kiss her out here and you'll attract way more attention than you want."

"PDA?" Raif asked.

Nalia shot Malek a glare. "Human thing," she said, turning back to Raif. Later, she mouthed with a tiny, secretive smile. His breath caught a little as he thought of the room they'd share, just the two of them.

Raif pulled his eyes away from her mouth and cleared his throat. He had to stay focused. "No luck?" he asked, nodding at the street Malek was dragging them toward.

Nalia shook her head. "I don't know what's safer: staying in the square or walking through the medina. At least here it's open. Gods, why did the sigil have to be in the Crossroads?"

To jinn, Morocco was known as The Crossroads, the country on Earth with the highest concentration of jinn and the location of the portal between the human realm and Arjinna. Full of refugees, slaves on the dark caravan, and expatriates, the city was a hub of jinn activity. Raif knew it would be difficult to blend in with the human population. He was too recognizable as the face of the Arjinnan revolution and no doubt word had gotten out that the Ifrit had increased their efforts to capture him. The sooner they got out of here, the better.
***Meet Heather Demetrios***
When she's not traipsing around the world or spending time in imaginary places, Heather Demetrios lives with her husband in New York City. Originally from Los Angeles, she now calls the East Coast home. Heather has an MFA in Writing for Children and Young Adults from Vermont College of Fine Arts and is a recipient of the PEN New England Susan P. Bloom Discovery Award for her debut novel, Something Real. Her other novels include Exquisite Captive, the first in the Dark Caravan Cycle fantasy series, I'll Meet You There and the multiplatform serial novel, The Lexie Project. She is the founder of Live Your What, an organization dedicated to fostering passion in people of all ages and creating writing opportunities for underserved youth. Find out more about Heather and her books at www.heatherdemetrios.com, or come hang out with her on Twitter (@HDemetrios) and any number of social media sites.
Find Heather Here:
Website | Facebook | Twitter | Goodreads
***GIVEAWAY***
Must be 13+ To Enter | Open Internationally.
a Rafflecopter giveaway
Good luck and thanks for entering!
Related Posts