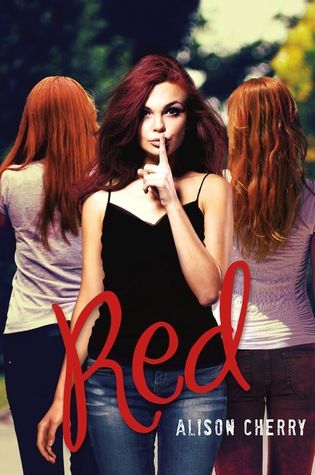 Red
by
Alison Cherry
Published by
Delacorte Books for Young Readers
on October 8, 2013
Genres:
Contemporary
Pages:
320
Goodreads
Buy the Book
Felicity St. John has it all—loyal best friends, a hot guy, and artistic talent. And she's right on track to win the Miss Scarlet pageant. Her perfect life is possible because of just one thing: her long, wavy, coppery red hair.

Having red hair is all that matters in Scarletville. Redheads hold all the power—and everybody knows it. That's why Felicity is scared down to her roots when she receives an anonymous note:

I know your secret.

Because Felicity is a big fake. Her hair color comes straight out of a bottle. And if anyone discovered the truth, she'd be a social outcast faster than she could say "strawberry blond." Her mother would disown her, her friends would shun her, and her boyfriend would dump her. And forget about winning that pageant crown and the prize money that comes with it—money that would allow her to fulfill her dream of going to art school.

Felicity isn't about to let someone blackmail her life away. But just how far is she willing to go to protect her red cred?
The 411:
The idea for this story is so awesome: the dystopian edge! the pageant! the gingers! Needless to say, we were so excited to get our hands on Red.
High-school junior Felicity St. John has just been chosen to compete for a chance to win her town's highest honor: the Miss Scarletville pageant. But Felicity has a secret that could destroy her reputation and cause everyone in town, including her friends and boyfriend, to shun her.
…unbeknownst to the adoring crowd, Felicity's hair color–that bright coppery red that made her so enviable in Scarletville–was completely artificial. There were only two other people in the entire world who knew her secret. One was her mom. The other was her stylist, Rose Vaughn.
Ever since Felicity was born, her mother has dyed her hair from her natural strawberry blonde to a deep, enviable red. Scarletville, the nation's only "redhead sanctuary," was formed to exalt red-haired citizens. There are a few who dye their hair, but it's all kept secret.
Of course, there wasn't anything illegal about hair dye, but it certainly felt that way in Scarletville. Being an artificial rehead–an "artie"–carried such a strong social stigma that everyone who colored their hair went to great lengths to keep it a secret.
No one suspects Felicity's secret, but everything comes crashing down when she gets a letter in her locker.
I know your secret, artie.
What follows is a series of demands, ranging from being nice to all of the brunettes at school to adding art work into the show to nominating someone she'd never have been friends with at all for prom queen. All throughout the story, Felicity deals with expectations from her mom, friends, and community, worried about what will happen if and when everyone finds out her secret.

What We Loved:
We loved the idea for this story and the realistic way Cherry explained the social hierarchy at their school.  We also thought the challenges Felicity was given by her blackmailer were amazing and definitely fit together to raise Felicity's awareness of what not being a redhead really meant.

Um...Not So Much:
Like we said, this was a great idea and we liked the story, but it didn't seem realistic to us.  Though it's got a dystopian-spin, with well-defined consequences for the people who don't fit into the mold and examples of those "evil-doers", Red  is contemporary and just falls a little flat in its execution.
There aren't other towns nearby that favor other hair colors, so we don't understand why the people who aren't ginger and live in Scarletville continue to live there.  The social stigma is so strong, it doesn't make sense to us at all.  Felicity runs into some girls in a nearby town while she's out shopping with her friends, and they are quick to point out to her that they aren't in Scarletville and don't follow those rules.  Also, dying your hair is definitely frowned upon in Scarletville but it's not illegal everywhere.  Why wouldn't they just go out of town to get their hair done without detection?  We would think coloring hair would be far more prevalent, and the officials in Scarletville would have some sort of way to test for that.
We also hated Felicity's mother, Ginger.  She was awful and told her daughter things like this:
It's the face you present to the world that matters, not how you feel inside.

The Boys:
Felicity's boyfriend, Brent, is the all-brawn, no-brains athlete that every mother in Scarletville wants her daughter to date. He's sweet and attentive, but he's just doesn't challenge Felicity intellectually at all.
Jonathan Lyons, artist extraordinaire, is curating the student art show with Felicity.
He was tall and wiry, and he wore glasses with thick dark frames, walking the fine line between nerdy and trendy.
We really liked him. He was sweet and gentlemanly and just awesome in general.
As Jonathan's gaze swept over her, his face changed, as if someone had lit a match behind his eyes.  "You look beautiful," he said.  "I mean, I love your dress."

The Girls:
We didn't really like Felicity all that much, even though we know that her actions were in direct response to peer pressure. Her mother didn't support her and was pretty awful, but still.  She was a terrible friend.  There were lots of things we didn't like about her, but we guess in the end we liked her more. She was okay.
Felicity's best friends, Hayley and Ivy, were pretty great, though, especially Ivy. She marched to the beat of a different drum, even when it wasn't the popular thing to do. And she was funny.
"You're kind of wise, you know?"

"That's me. Tiny and wise. Just like a Magic Eight Ball."

Dream Cast:

Bottom Line:
A great idea with a dystopian-twist, we liked Red and will definitely be checking out whatever debut author Allison Cherry comes up with next.

Verdict:
Rating Report
Cover
Characters
Plot
Writing
Swoon
Overall:
2.5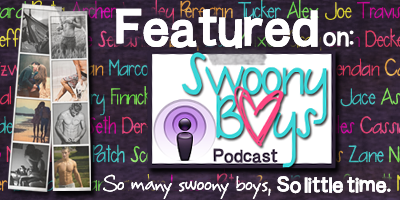 Related Posts