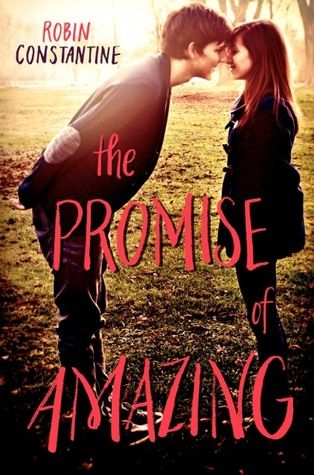 The Promise of Amazing
by
Robin Constantine
Published by
Balzer & Bray
on December 31, 2013
Genres:
Contemporary
Pages:
371
Goodreads
Buy the Book
Wren Caswell is average. Ranked in the middle of her class at Sacred Heart, she's not popular, but not a social misfit. Wren is the quiet, "good" girl who's always done what she's supposed to—only now in her junior year, this passive strategy is backfiring. She wants to change, but doesn't know how.

Grayson Barrett was the king of St. Gabe's. Star of the lacrosse team, top of his class, on a fast track to a brilliant future—until he was expelled for being a "term paper pimp." Now Gray is in a downward spiral and needs to change, but doesn't know how.

One fateful night their paths cross when Wren, working at her family's Arthurian-themed catering hall, performs the Heimlich on Gray as he chokes on a cocktail weenie, saving his life literally and figuratively. What follows is the complicated, awkward, hilarious, and tender tale of two teens shedding their pasts, figuring out who they are—and falling in love.
The 411:
After her guidance counselor informs her that she'll never get into Harvard, high school junior Wren Caswell decides that she wants to stop being so "ordinary" and stand out in some way.  She's working at her family's business when she meets Grayson Barrett–and saves him from nearly choking to death.  Grayson feels an instant connection to her, and though he grapples for a bit about his sordid past standing in his way of totally pursuing her, he ultimately decides to just go for it.
He's not interested when his oldest friend, Luke, tries to pull him for just one more adventure but is left with little choice when Wren gets dragged into the mix.

What We Loved:
We were so excited about the idea for this story.  Former king of the lacrosse team expelled from his exclusive prep school and exiled from his position of leader of the pack meets mediocre girl just waiting to find her reason to bloom into someone…dare we say amazing?  Sign us up for that story.
We really liked Grayson and the camaraderie he shared with his friend, Luke.  Even as messed up as their relationship got, we appreciated how sentimental they both were.  We know what it's like to miss old friends even if we recognize that things change.
His dark eyes were trained on something.  He was leaner, sharper, serious.  If I had any doubt whether I was still attracted to him or not, my body answered with an instant hormonal rush that left everything buzzing.  He was, in a word, smoking hot.  Okay.  Two words.
We loved the way Constantine so authentically captured the whole OMG everything is so important my world is falling apart feeling.  And we loved the 80s references–even if the characters didn't really seem to get them, we did, and we ♥.

Um...Not So Much:
Where do we begin?  We'll start with Wren.  She lacked character, was irrationally jealous and had a bad attitude.  There's something that happens with Gray and she gets bent out of shape about it, but when the tables are turned, she feels justified.  Suffice it to say that we weren't rooting for her.
The instalove.  We're all for instant connections, but we needed more here.  We got that they felt something right away–but what about after that?  There was no explanation for why either of them liked the other after the initial look.
"I feel like I know you, but I don't, I began.  "It's like we had this intense moment, but…it's over, isn't it?"

"It doesn't have to be," he said, "does it?"
Without being too spoilery, pretty much their entire relationship was glassed over.  We aren't asking for graphic make-out sessions (yes we are), but the total fade to black left us wondering what happened.  Add to that the fact that we missed out on all of the build-up that explained why they wanted to be together  and…fail.
There were some side stories that we got lots of info about (like her sister, Trevor, and stuff that was going on with her family's business) that just fizzled out.  Whether there was a clear resolution for them or not, we wanted more story and not just filler, and that's what it felt like we got.

The Boys:
Grayson's got dark hair and eyes, is a drummer and a little on the adventurous side.  He's a good guy and even if he goes about things the wrong way, we love that he's protective and (sometimes) swoony.
He was about to take a sip of his coffee, but he paused, the side of his mouth curling up, eyebrows arcing slightly. The gleam in his eyes made me blush.

"I could tutor you in anything you want," he answered, voice low.
And we loved when he said he "digs" stuff.
"You're sort of my boss–I dig it," he said, flashing that grin.
Luke Dobson was Grayson's childhood-best-friend-turned-nemesis.  Luke could have been so much more as a character, but we liked what we saw–even if he wasn't a "good" guy.
Eben was the maitre'd at Wren's family business.  He was funny and genuinely loved Wren.  We loved him.

The Girls:
Wren lacked character and direction, which may have been the point of the story.  We didn't identify with her at all.  She wasn't a great friend and definitely sucked as a girlfriend.  She told Grayson's secret to her BFFs for pretty much no reason at all.  Her late confession and newly-sparked gumption just weren't enough to make us like her.  Honestly, we would have liked this book a lot more if it had only been told from Grayson's point of view.
Jazz and Maddy were Wren's best friends.  They were okay 🙂
Ava was Wren's former BFF-turned-nemesis.  We got that relationship.

What We Think Will Happen Next:
This was a standalone, and be warned–we don't get much of a glimpse into the future for these two.  We'll just imagine things go the way we want 🙂  Since we think this story had a great idea behind it, we're looking forward to what debut author Robin Constantine comes up with next.

Bottom Line:
We might have liked Grayson, but neither of the main characters met their potential.  The Promise of Amazing lacked clear direction and didn't live up to its title promise, leaving us with something along the lines of The Promise of the Unexciting instead.

Verdict:
Rating Report
Cover
Characters
Plot
Writing
Swoon
Overall:
2.5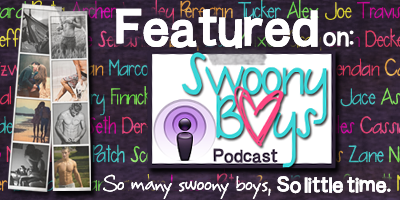 Related Posts