Blonde Ops
by
Charlotte Bennardo
,
Natalie Zaman
Published by
St. Martin's Griffin
on May 6th 2014
Genres:
Contemporary
,
Mystery
,
Romance
Pages:
288
Goodreads
Buy the Book
Expelled from yet another boarding school for hacking, sixteen-year-old Rebecca "Bec" Jackson is shipped off to Rome to intern for Parker Phillips, the editor-in-chief of one of the world's top fashion magazines. But when a mysterious accident lands Parker in a coma, former supermodel and notorious drama queen Candace Worthington takes the reins of the magazine. The First Lady is in Rome for a cover shoot, and all hands are on deck to make sure her visit goes smoothly.

Bec quickly realizes that Parker's "accident" may not have been quite so accidental, and when the First Lady's life is threatened, Bec is determined to uncover the truth. On top of that, Bec must contend with bitchy models, her new boss, Candace, who is just as difficult as the tabloids say, and two guys, a hunky Italian bike messenger with a thousand-watt smile and a fashion blogger with a razor-sharp wit, who are both vying for her heart.

Can Bec catch the person who's after the First Lady, solve the mystery of Parker's accident, and juggle two cute boys at the same time? Blonde Ops is a fun, action-packed romp through the hallways of a fashion magazine and the cobblestone streets of Rome.
The 411:
After being kicked out of yet another prep school, hacker Bec Jackson gets shipped off to Rome to do an internship with her mom's friend, Parker, who is the head of a fashion magazine. Shortly after Bec arrives, Parker is in a terrible accident that maybe wasn't so accidental. Parker's replacement is a Miranda Priestly-wannabe, and Bec is determined to find out what really happened to Parker. Throw in a couple of cute boys and some action-packed scenes, and you've got Blonde Ops.

What We Loved:
The pacing of this book was fine and toward the end there was a lot of action. Also, the setting was amazing, and we think the authors did a good job with that.

Um...Not So Much:
We were so excited for this book, and we don't know what took us so long to read it. But, unfortunately, we had it so hyped up in our minds, it just didn't deliver. We thought Bec was okay, but we weren't huge fans. She just wasn't a strong heroine, and we didn't feel her actions or intelligence reflected what we know about her–being a hacker who is supposedly pretty good. The romance aspect was almost distracting. Which we know sounds funny coming from us, but that's how we felt. We were hoping for a book similar to Also Known As by Robin Benway (a fave) but totally didn't get that.

Bottom Line:
Overall, we feel kind of meh about this book. The idea is great and the cover is pretty, but the delivery left us wanting.

Verdict:
Rating Report
Cover
Characters
Plot
Writing
Swoon
Overall:
2.5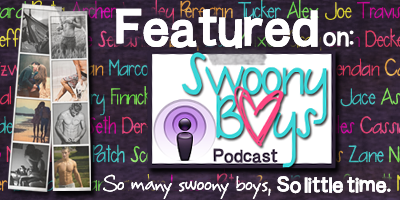 Related Posts