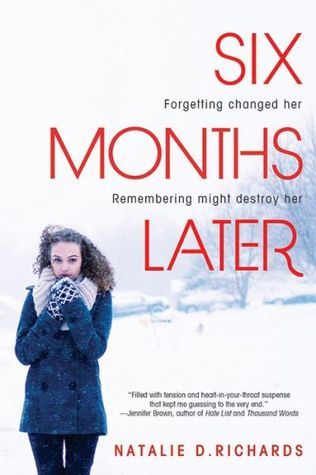 Six Months Later
by
Natalie Richards
Published by
Sourcebooks Fire
on October 1, 2013
Genres:
Contemporary
Pages:
336
Goodreads
Buy the Book
Chloe didn't think about it much when she nodded off in study hall on that sleepy summer day. But when she wakes up, snow is on the ground and she can't remember the last six months of her life. Before, she'd been a mediocre student. Now, she's on track for valedictorian and being recruited by Ivy League schools. Before, she never had a chance with super jock Blake. Now he's her boyfriend. Before, she and Maggie were inseparable. Now her best friend won't speak to her.

What happened to her?

And why can't she remember?
The 411:
While we were excited to participate in the tour for Six Months Later because we love supporting debut authors, we thought we'd be reading another run-of-the-mill YA book. We couldn't have been more wrong.
This. Book. Is. Famazing.
Right from the beginning, you'll find yourself sitting on the edge of your seat to know what's going on.
I'm sitting next to the fire alarm, and my best friend is going down in flames.
A junior in high school, slacker Chloe Spinnaker knows she needs to study more and bring up her less-than-stellar GPA if she wants to get into college. She wants to do better, but doesn't spend much time trying to do anything about it. So it's no surprise when she nods off during study hall one day in May. What is surprising is that she wakes up to find that six months have passed and it's now November.
She can't remember how she got where she is when she wakes up, or why her hands are dirty, or why her best friend, Maggie, doesn't answer the phone when she calls her. She doesn't understand when bad-boy Adam Reed is the one who comes to rescue her and is even more confused by the way she seems to feel about him.
"We can't keep doing this, Chloe," he says softly.

The words sting and I don't know why. I don't even know what he means, but I desperately want to argue with him. I want to shake my head and grab his hands and–this is crazy.

Way beyond crazy.
Chloe gets another shock when she practically falls into the arms of longtime-crush Blake Tanner. He's her boyfriend now and seems to be crazy about her.
Blake stands next to me in every last [picture], his arm around my shoulder and my head tipped toward him. It's the kind of pose that leaves no question to our status. We're together.

Unfreakingbelievable.

My memory decides to have some sort of massive file corruption and these are the months I missed? What about my years in braces? Or the summer my dog and grandmother died a month apart? No, I get to miss the six months that turned my life from train wreck into perfection.

Lovely.
Over the summer, Chloe apparently joined an elite study group and her grades and SAT scores skyrocketed. She's in with the popular crowd and has a perfect boyfriend. She has everything she's ever wanted, but there are only a few problems with her "new life":
She can't remember anything that happened over the last six months and knows there's something going on.
Her best friend refuses to talk to her–at all.
She can't stop thinking about Adam.
Chloe gets little flashes of her memory whenever Adam touches her, but there's more to it than that.  She has an overwhelming connection to him.
I'm completely defective with Blake, but I swear the whole room hums when I look at Adam's eyes.

He suddenly walks forward, coming close enough to steal the breath right out of me. Words continue to evade me, which is probably for the best. Nothing's coming out right anyway. And frankly, I'd rather stand here in silence than have him tell me to leave.
While trying to understand her feelings for Adam (and anti-feelings for Blake), Chloe finds little clues that let her know that she's not totally crazy and that she needs to get to the bottom of what happened to her. She has to follow her instincts to figure out who to trust, and she becomes even more determined when she finds out that one of her friends might need her help. The twists and turns in this fast-paced story will keep you on the edge of your seat.

What We Loved:
We loved pretty much everything about this book.  Chloe was a character that we were rooting for the whole time.  We cannot say enough about Adam, who will definitely be getting a spot in our top ten soon.  The plot was realistic and just…gah!  We want to tell you all the things, but don't want to spoil.  Trust us, you need to read this one.
One thing that we really loved was how believable the story was.  We are always wondering why most teens in books never go to their parents with what's going on.  Chloe did that, which we loved, and her parents' reactions were spot-on.

Um...Not So Much:
There's not a whole lot about this story that we didn't like.  Without giving away too much, we would have liked a little more information about what happens after the story, and of course, we want more Adam!

The Boys:
Ah, the boys. Let's start with Adam Reed. He's sweet and beautiful and genius-smart and eats oranges and gives us all kinds of swoonyflails.
He smirks again, and I think I understand why girls go for the bad boy. Or at least, the guys who appear to be bad boys. "I think it's all an act," I say, licking Twinkie filling off my finger. "This bad boy thing. You do it to pick up girls."

"Is it working?" he asks, leaning closer.
Here are some of our other favorite quotes, but don't worry; we're not going to quote the whole book like we want to:
"I'm not going to kiss you in front of him. But you'd better believe I'm thinking about it."
and..
"It's no use," he says. "You're going to look hot no matter what."

"I do rock the kissed-senseless look," I say. "So there were heated looks between us, huh?"

"Left scorch marks on our flash cards."
::le sigh:: We l♥ve him. Blake Tanner. Blake is the all-American prom-kind over-achieving guy that every parent wants their daughter to date. Even though Chloe's had a crush on him forever, she can't shake the feeling that it's just not right.
…before I can say anything, he's kissing me good-bye. And I can't remember what I wanted to ask him about now because this is Blake. Blake Tanner. Kissing me.

I've imagined him doing this for as long as I can remember. I never dreamed it would feel so horribly wrong.

The Girls:
We love Chloe. She's a bit of a dare-devil, and loyal and just genuinely awesome. She has a lot to deal with, and we loved the way she handled it all. We loved her best friend, Maggie, too. Though Chloe hurt her and they don't talk anymore, Maggie doesn't abandon Chloe when she really needs her. This pair have a history since they were little girls, and we love that. We love that they love each other.
"Do you have any idea what they're saying?" I ask in a whisper. Maggie holds up a hand to quiet me. She's always had the better hearing of the two of us. She says it's a side effect of her crap vision. There's been no celebration in our history that has yet to live up to The Day Maggie Got Contacts.

Dream Cast:

Bottom Line:
Six Months Later has it all: action-packed suspense, a believable main character who totally kicks ass, a sweet boy who'll have you swooning and flailing, and a BFF that we want to hang out with. We can't wait to find out what's next for author Natalie Richards.

Verdict:
Rating Report
Cover
Characters
Plot
Writing
Swoon
Overall:
5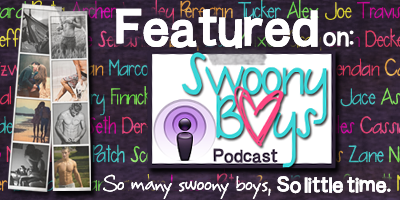 Related Posts