We are so excited to be participating in the blog tour for The Possibility of Somewhere by Julia Day today. This book hits shelves next week, on September 6, but we know you're going to love it! So go ahead and preorder right now. In the meantime, we've got the entire first chapter here for you to read, along with our thoughts on the book. Let's get right to it!
***About the Book***
The Possibility of Somewhere
by
Julia Day
Published by
St. Martin's Griffin
on September 6th 2016
Genres:
Contemporary
,
Romance
Pages:
320
Goodreads
Buy the Book
Together is somewhere they long to be.

Ash Gupta has a life full of possibility. His senior year is going exactly as he's always wanted-- he's admired by his peers, enjoying his classes and getting the kind of grades that his wealthy, immigrant parents expect. There's only one obstacle in Ash's path: Eden Moore—the senior most likely to become class valedictorian. How could this unpopular, sharp-tongued girl from the wrong side of the tracks stand in his way?

All Eden's ever wanted was a way out. Her perfect GPA should be enough to guarantee her a free ride to college -- and an exit from her trailer-park existence for good. The last thing she needs is a bitter rivalry with Ash, who wants a prized scholarship for his own selfish reasons. Or so she thinks. . . When Eden ends up working with Ash on a class project, she discovers that the two have more in common than either of them could have imagined. They're both in pursuit of a dream -- one that feels within reach thanks to their new connection. But what does the future hold for two passionate souls from totally different worlds?
***EXCERPT***
My normal dress code was designed to keep me invisible, but today I made an exception. I wore a teal shirt (stolen from my dad) over jeans that had only been owned by me. I finished off with my best sneakers, freshly bleached.
After yanking my hair into a ponytail, I grabbed my back- pack, charged out of my bedroom, and screeched to a halt in the den. The trailer smelled like toast and bacon. Why?
I crossed to the table and stared down at the plate of food waiting there.
My stepmom came out of the kitchen, holding two mugs of coffee. She offered one to me.
I took it as my backpack slid to the floor with a thud. "You made me breakfast?"
She laughed. "I've done this before."
"When I was nine, maybe." The bacon looked like it had been fried to crispy perfection. I parked my butt on the chair and snagged a slice. "What's the occasion?"
Her smile wobbled. "It's the first day of your last year of high school."
Oh, damn. She was going to get emotional on me. This day must remind her that I'd be gone in a few months. It wouldn't be a good idea to act all happy about escaping town soon. Better change the mood fast. "Breakfast is amazing. You can repeat it whenever you want."
"I'll keep that in mind." She set her mug on the table and pointed at my ponytail. "Can I do something special with your hair?"
Download the first chapter of The Possibility of Somewhere right here.
***About Julia Day***
Julia Day lives in North Carolina (mid-way between the beaches and the mountains) along with two college-age daughters, one husband, and too many computers.
When she's not writing software or stories, Julia loves to travel to faraway places, watch dance reality shows on TV, and dream about which restaurant gets her business next.
The Possibility of Somewhere is Julia's first YA contemporary romance. She also writes YA paranormal as Elizabeth Langston.
Find Julia Here: Website | Facebook | Twitter | Goodreads
***Our Thoughts***
The 411:
We knew right from the beginning of this book that The Possibility of Somewhere was going to be a favorite of ours. Ash and Eden are total opposites and both vying for valedictorian. You know what happens when they have to work together on a class project. Sparks fly. Trouble is, no one can know about it.

What We Loved:
We loved this whole storyline. Enemies to "lovers" is one of our favorite tropes and the way Day told this story was so awesome.
We also loved Ash and Eden. Both are strong characters, and he's pretty swoony. We loved that Eden was not a doormat and stood up for herself.
The pacing of this story is awesome, too, and when we got to the end, we just wanted more.

Bottom Line:
The Possibility of Somewhere reminds us why we love reading YA books. It's swoony and real, and we can't wait to read more from Julia Day.

Verdict:
Rating Report
Cover
Characters
Plot
Writing
Swoon
Overall:
4.5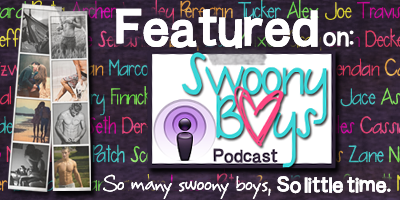 Related Posts