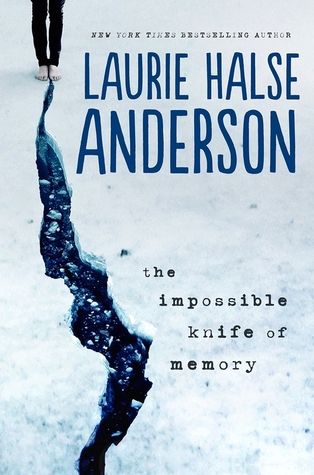 The Impossible Knife of Memory
by
Laurie Halse Anderson
Published by
Viking Juvenile
on January 7, 2014
Genres:
Contemporary
Pages:
372
Goodreads
Buy the Book
For the past five years, Hayley Kincaid and her father, Andy, have been on the road, never staying long in one place as he struggles to escape the demons that have tortured him since his return from Iraq. Now they are back in the town where he grew up so Hayley can attend school. Perhaps, for the first time, Hayley can have a normal life, put aside her own painful memories, even have a relationship with Finn, the hot guy who obviously likes her but is hiding secrets of his own.

Will being back home help Andy's PTSD, or will his terrible memories drag him to the edge of hell, and drugs push him over? The Impossible Knife of Memory is Laurie Halse Anderson at her finest: compelling, surprising, and impossible to put down.
The 411:
Seventeen-year-old Hayley Kincaid and her father have always relied on each other. They've just moved back to his childhood home after several years of being on the road. Traditional schooling isn't what Hayley expected. It doesn't help that issues at home have her preoccupied. Her father's military past haunts him and they struggle together, and separately, to keep afloat. Can Hayley find a new normal, protect her dad, maybe even find a way to live for herself? Find out in The Impossible Knife of Memory.

What We Loved:
Before we tell you about everything we love, and there was a lot, we have to give you a small disclaimer. We think that Laurie Halse Anderson is an outstanding writer, she tackles heavy subjects and does them with class, but we just weren't huge fans of Speak. We know how many of you loved it, but we have to admit it fell just a little short for us. Why are we bringing this up now? Our feelings towards something so loved made us cautious and a little concerned about what we would find in the pages of The Impossible Knife of Memory. We shouldn't have been hesitant because we were completely blown away. It left us feeling so many things, but most of all it showed us just how amazing Ms. Anderson really is.
We could go on forever, but instead we're going to give you the rundown of a few of our favorite things.
Realism– This story is heartbreaking. It's beautiful, but it's heartbreaking. This issue isn't something we can back away from. PTSD and all of its levels are more present now than ever before and stories like Hayley's are not just works of fiction. It doesn't just affect the soldiers, it affects their families and everyone who loves them
Style– TIKoM has some of the best prose we've ever read. It's written in a raw, desperate, and real way. We are mostly in Hayley's head, but we also get glimpses of Andy's (Hayley's dad) mind. We could feel both of their pain, but it's in his words that we get down to the root of the problem.
Odysseus had twenty years to shed his battle skin. My grandfather left the battlefield in France and rode home in a ship that crawled across the ocean slowly so he could catch his breath. I get on a plane in hell and get off, hours later, at home.
That's not to say that her words aren't just as powerful.
"Sleep tight, princess." Dad's face was half in shadow, angular and old-looking. I wanted to sit on the ground next to him and lean against his knee and have him smooth my hair back and tell me that everything was going to be all right, but the awful thing was, I wasn't sure it could be. He was sober, still drinking soda, surrounded by guys who understood everything he'd been through, but his good mood of the afternoon had vanished. He looked lost again, haunted.
Teenage Love– You all know how much we love a swoony teenage love story. We know that it wasn't the focus here, and it shouldn't have been. But we love that we still got one, and we got it in a sweet, awkward, and real way. It wasn't insta-love. Instead we were treated to nerves, acceptance of flaws, first kisses, and some super swoony flirting.

Um...Not So Much:
So now we've gone on and on about everything we love, we have to balance it out with some of the things we could have lived without.
Education bashing– We know that Hayley has had anything but a normal life. She has gotten most of her education from the school of life and it's taught her a lot. What we didn't like is just how much she hated on school. She ripped on the teacher, the work, the goals, all of it. We understand that most of it came from being scared and unsure, but we just hate how she handled the whole thing.
Trish– We don't want to say too much here, because we don't want to spoil. But we have to say that we would have liked to see a little more resolution with Trish's part in both Hayley and Andy's lives.
Gracie– She had her own issues going on, but the story left us wishing that we knew more of what happened with her.

The Boys:
Finn (Finnegan) Ramos. Even his name is swoony, right? There is almost nothing about this boy that we didn't love. He's a math nerd who uses math puns to flirt, he loves his car but isn't a "car guy", he's afraid of heights, AND he's a swimmer. As perfect as that sounds, he's not. He has his own issues, his own set of flaws, but he owns them and more importantly, he is willing to accept Hayley for all of her own issues.
He's a charmer. Almost every time he speaks we found ourselves filled with girly giggles. Just look at this:
"I'm not being obtuse," he said as he crossed his arms over his chest, "but you're acute girl."

"What's that supposed to mean?"

"It's a math joke."

I shoved my books into the locker. "'Math joke' is an oxymoron, Fishhead, like 'cafeteria food' or 'required volunteer community service'."

"I think we should take each other to the limit to see if we converge," Finn said.

"Shut up," I said.

"I'm flirting with you, Miss Blue, flirting in the perfect language of calculus. It's a sine I think you're sweet as pie. Get it?"
Come on. Could he be any cuter? They both had to work hard to get over their issues, and they also struggle figuring out how to grow together with everything they have going on personally. The development of their relationship happened realistically. It was bad, it was good, and it was ridiculously sweet.

The Girls:
Hayley is unique. Her life has understandably made her bitter. But they've also made her strong and resilient. We've seen some readers criticize her for her outlook on people, especially when she says things like this:
There are two kinds of people in this world:

1. zombies

2. freaks.

Only two. Anyone who tells you different is lying. That person is a lying zombie. Do not listen to zombies. Run for your freaking life.

Another lesson: everyone is born a freak.
Yes she labels people. But it's important to really think about what she is going through and how alone she feels. She's smart, she has a desire to fit in that she doesn't know how to handle, and she's filled with venom. But she's also scared and trying to keep not only her own life together, but her dad's as well.
"I hadn't planned on telling him the truth. It had become easier to lie about most things because it didn't hurt as much when he ignored me. In my defense, I hadn't planned on finding him clear-eyed and sober, either. It was hard to know how to play the game when the rules kept changing."
We feel like we understand who she is. More importantly, we feel like she's someone that we would want to know in real life.

Dream Cast:
Finn is so dreamy that we knew we had to get him just right. We actually started picturing our pick before we even finished reading. Here he is:

What We Think Will Happen Next:
Ack. We think that all of these characters have a long way to go. Do we think there will be a few setbacks? Sure, because that's reality. But we also think that they will be able to move on and find happiness. We think that Finn and Hayley can heal each other and by doing that, they can heal themselves.

Bottom Line:
The Impossible Knife of Memory is heartbreaking, dark, and gritty. It's the story of family, loyalty, and first love. You do not want to miss out on this one.

Verdict:
Rating Report
Cover
Characters
Plot
Writing
Swoon
Overall:
5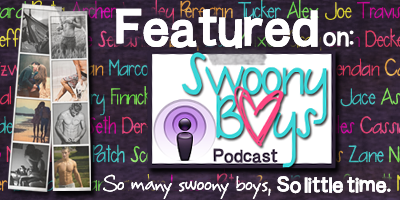 Related Posts