So many books come out each week that it makes it hard to decide what to read. We want to make that a little bit easier on you by sharing our favorite releases from the week and telling you our top 3 reasons why we think you'll love them too!
This week our selection is Lucky in Love by the amazing, Kasie West. Are you ready to hear more about this book and author? Here we go…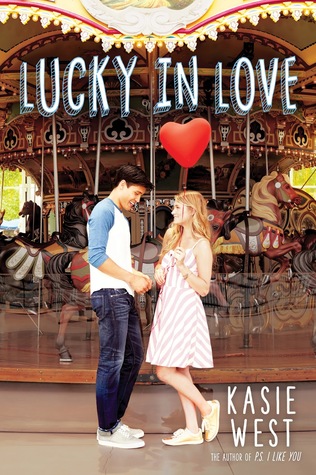 Lucky in Love by Kasie West
Also by this author: Pivot Point
Published by Scholastic on July 25th, 2017
Genres: Contemporary, Contemporary Romance
Pages: 333
Goodreads Buy the Book

Can't buy me love…

Maddie's not impulsive. She's all about hard work and planning ahead. But one night, on a whim, she buys a lottery ticket. And then, to her astonishment—

She wins!

In a flash, Maddie's life is unrecognizable. No more stressing about college scholarships. Suddenly, she's talking about renting a yacht. And being in the spotlight at school is fun…until rumors start flying, and random people ask her for loans. Now Maddie isn't sure who she can trust.

Except for Seth Nguyen, her funny, charming coworker at the local zoo. Seth doesn't seem aware of Maddie's big news. And, for some reason, she doesn't want to tell him. But what will happen if he learns her secret?
3 Reasons You Should Read…
Lucky in Love by Kasie West
When a Kasie West book is announced or released we know two things immediately. One, that we need it. And two, that it's going to be amazing. Lucky in love fits into both of those categories perfectly. We guarantee you're going to love it too.
One of the things that Kasie does best is give you a cast of characters that you fall for quickly and don't want to leave when their story ends. Maddie and Seth are no exception. You will laugh with them, cheer them on, and swoon for their romance.
Lucky in Love is a perfect contemporary summer read. It's light, funny, adorable and you won't want to put it down until you've finished it. We're so LUCKY we got to read this one! (See what we did there?)
Rating Report
Cover
Characters
Plot
Writing
Swoon
Overall:
5
***Meet Kasie West***
Kasie West writes YA. She eats Junior Mints. Sometimes she goes crazy and does both at the same time. Her novels are: PIVOT POINT and its sequel SPLIT SECOND. And her contemporary novels: THE DISTANCE BETWEEN US, ON THE FENCE, THE FILL-IN BOYFRIEND, PS I LIKE YOU, and BY YOUR SIDE. Her agent is the talented and funny Michelle Wolfson. She graduated from Fresno State University with a BA degree that has nothing to do with writing. She earned her masters in Junior Mint eating (which is awarded after eating your millionth King Size box… she's now working on her PhD). She loves sappy alternative rock ballads and reading way past her bedtime.
Find Kasie West Here:
Website | Twitter | Facebook| Goodreads
Save
Related Posts