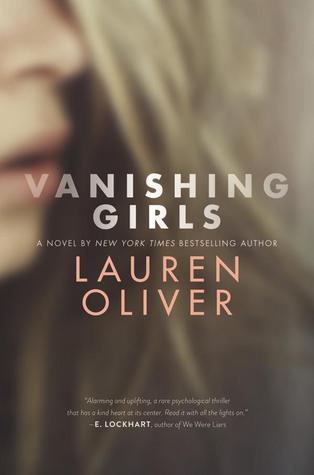 Vanishing Girls
by
Lauren Oliver
Published by
HarperCollins
on March 10, 2015
Genres:
Contemporary
,
Suspense
Pages:
357
Goodreads
Buy the Book
New York Times bestselling author Lauren Oliver delivers a gripping story about two sisters inexorably altered by a terrible accident.

Dara and Nick used to be inseparable, but that was before the accident that left Dara's beautiful face scarred and the two sisters totally estranged. When Dara vanishes on her birthday, Nick thinks Dara is just playing around. But another girl, nine-year-old Madeline Snow, has vanished, too, and Nick becomes increasingly convinced that the two disappearances are linked. Now Nick has to find her sister, before it's too late.

In this edgy and compelling novel, Lauren Oliver creates a world of intrigue, loss, and suspicion as two sisters search to find themselves, and each other.

The 411:
Dara and Nick are twin sisters who are very close; Dara is the youngest, but the more wild one, and Nick is quiet and safe.  The story starts off with the night everything changed: the accident that took one life and changed everyone else's. from there, it feels like everything is back to normal except that Dara and Nick are no longer talking, and the girls live in separate places: Nick with their dad and Dara with their mom. When Nick is sent back to live with her mom, she feels like a stranger in her own home.  Dara is avoiding her, and she has to work at an amusement park.
While all of that is going on, a little girl vanishes and that starts a whole snowball. Little would we know that her vanishing is somehow connected to Dara and Nick.

What We Loved:
We loved that Lauren Oliver switched back and forth between Dara and Nick's POVs.  We loved being in both of their minds.
We loved how everything eventually ties in with the night of the accident and the reason for it.  While we were thinking one thing is happening, we were totally blindsided by the truth in the end. Well done!

Um...Not So Much:
You know we're all about the swoon. We love good chemistry between the main characters. In Vanishing Girls, there is somewhat of a triangle (cue groaning). Nick, Dara, and Parker were BFFs until Dara and Parker start dating, and things change with their dynamic. Nick is jealous, but she doesn't admit it. Dara and Parker are on and off, and the jealousy Nick feels doesn't last, but still.

The Boys:
Parker is okay. We were so wrapped up in the main story, we were barely interested in him.  Which surprises us because we're usually all about (most of) Oliver's boys.

Bottom Line:
With an intriguing storyline that will keep you guessing until the very end, we couldn't put down Vanishing Girls by Lauren Oliver. It's a great read for anyone and everyone!

Verdict:
Rating Report
Cover
Characters
Plot
Writing
Swoon
Overall:
4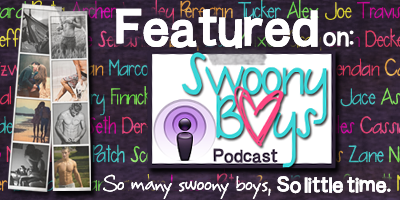 Related Posts