We haven't been featuring Flashback Friday posts here for some time, but when we realized our review of The Statistical Probability of Love at First Sight wasn't posted (it was on our old site), we had to post it! This is one of our favorite books ever, and if you haven't read it yet, we hope you'll grab it right away! It's a perfect way to kick off your weekend. Trust, you'll be feeling all the feels after getting to know Hadley and Oliver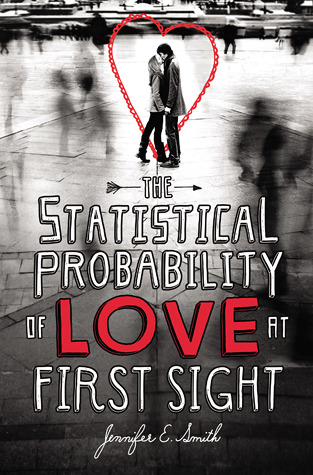 The Statistical Probability of Love at First Sight
by
Jennifer E Smith
Also by this author:
This is What Happy Looks Like
,
The Geography of You and Me
Published by
Poppy
on January 2, 2012
Genres:
Contemporary
Pages:
236
Goodreads
Buy the Book
Four minutes changes everything. Hadley Sullivan 17 misses her flight at JFK airport, is late to her father's second wedding in London with never-met stepmother. Hadley meets the perfect boy. Oliver is British, sits in her row. A long night on the plane passes in a blink, but the two lose track in arrival chaos. Can fate bring them together again?
***Our Review***
Pretty much everyone that we know who has read this book loves it. And when we got to only page nine of this adorable book, we knew that we would love it, too.
The 411:
This book takes place over a 24-hour period of time, but there are a lot of flashbacks and memories of what brought Hadley to where she is, which is on a plane, headed to London to her father's wedding. She misses her flight and meets Oliver, and then… prepare to swoon.

What We Loved:
The very first thing that we noticed about this book is the cover. Which, come on–some covers are absolutely horrible and/or don't have anything to do with the book. But not this one–this one is sweet and fun and perfect for this book (except Hadley is a blonde). We were so excited when we got this in the mail! We want to tell you everything that happens in this story and quote the whole thing to you, but we don't want you to waste your time with that. We just want you to read it.
We love, love, love the way that Smith wove her history into the story. She's a teenager, and has the appropriate emotions, but she isn't bratty at all. We love the way she reacts to everything, and how the memories she has seem to weave perfectly into the story.
There is a memory of her catching fireflies with her parents, and they tell her she should let the one she caught go:
"I think this guy would be happier, too, if you let him go."Hadley said nothing, though she hugged the jar a bit closer to her.

"You know what they say," Dad said. "If you love something, set it free."

"What if he doesn't come back?"

"Some things do, some things don't," he said, reaching over to tweak her nose. "I'll always come back to you anyway."

"You don't light up," Hadley pointed out, but Dad only smiled.

"I do when I'm with you."
We love the relationship that Hadley has with both of her parents, and the authentic reaction she has to her father, who broke up their family and is marrying another woman. We just love her personality. Hadley Sullivan is definitely one of our favorite characters, ever.
We Oliver. More on him in just a sec.
We were surprised with a couple of things that happen, too, and are so impressed with how much "meat" is in this quick read.

Um...Not So Much:
We wish there was more of them, but the parts that were there were sweet and we can totally picture them in fifty-two years.

The Boys:
Oliver. If we could sum him up in one word, it would be swooncity. We love him. We love that he calls Hadley out and makes her think before she reacts. We love that he's quirky, and funny, and did we mention he's British? You know how we feel about British boys. And when Oliver said "North Dakota," we clapped. Trust us, you will, too, when you get there.
"You," he says, laughing in spite of himself, "are mad as a hatter."

"Wait a second," Hadley says, looking at him with mock horror. "Is that a reference to a …cartoon?"

"No, genius. It's a reference to a famous work of literature by Lewis Carroll. But once again, I can see how well that American education is working for you."

"Hey," she says, giving him a light whack on the chest, a gesture so natural she doesn't even pause to think it over until it's too late. He smiles at her, clearly amused. "Last time I checked, you'd chosen an American college."

"True," he says. "But I'm able to supplement it with my wealth of British intelligence and charm."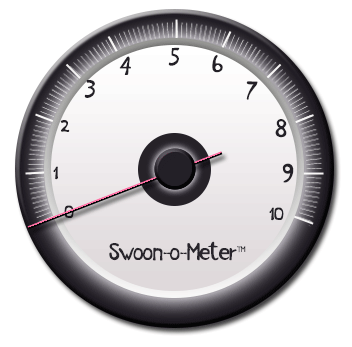 Dream Cast:
We've seen a few other blogs dreamcast Oliver, too, and we think this boy is perfect:
::le sigh::

Bottom Line:
This is definitely a book that you want to pick up if you want to read something that is romantic and sweet, along with having angst and real issues. We really love it, and we think you will, too.

Verdict:
Rating Report
Cover
Characters
Plot
Writing
Swoon
Overall:
5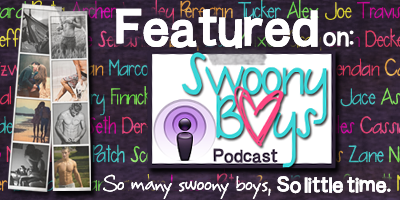 Related Posts