So many books come out each week that it makes it hard to decide what to read. We want to make that a little bit easier on you by sharing our favorite releases from the week and telling you our top 3 reasons why we think you'll love them too!
This week our selection is Everything But the Truth by Mandy Hubbard. Are you ready to hear more about this book and its author? Here we go…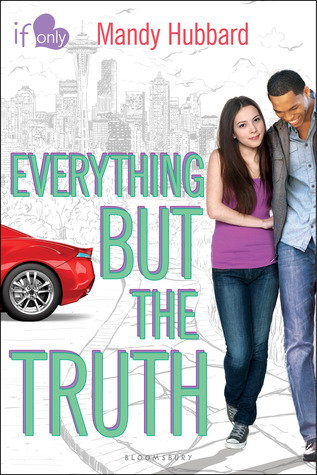 Everything But the Truth
by
Mandy Hubbard
Series:
If Only... #6
Also in this series:
Red Girl, Blue Boy
Published by
Bloomsbury USA Childrens
on November 17, 2015
Genres:
Contemporary
Pages:
288
Goodreads
Buy the Book
If Only . . . she wasn't pretending to be someone else! The If Only romance line continues in this fun rags-to-riches romance.

Holly Mathews' mom is the new manager of a ritzy retirement home, and they just moved in. But having super-rich retirees as her only neighbors isn't a total bust, because the gorgeous, notorious Malik Buchannan is the grandson of a resident. Just one problem: when they meet, Malik assumes Holly is there to visit her own rich relative. She doesn't correct him, and it probably doesn't matter, because their flirtation could never turn into more than a superficial fling . . . right? But the longer she lives in his privileged world, the deeper Holly falls for Malik, and the harder it is to tell the truth . . . because coming clean might mean losing him.

For anyone who has dreamed of their own Cinderella story, this romance shows that when it comes to true love, the best person to be is yourself!
3 Reasons You Should Read…
Everything But the Truth by Mandy Hubbard
We've had hit or miss luck with the If Only… series, but we can't stay away! We know we already really like Mandy Hubbard, so we wanted to check this one out, too.
We love mistaken identity stories (can you say Sleeping Beauty?) *le sigh*
Rags-to-riches stories are always fun, and we can't wait to see how Holly navigates through Malik's world.
***About Mandy Hubbard***
Mandy Hubbard is the author of PRADA & PREJUDICE and YOU WISH, both novels for teens now in stores. In 2011, her releases include BUT I LOVE HIM (written as Amanda Grace) and RIPPLE. She is also a literary agent for D4EO Literary Agency. For more information, visit her website.
Find Mandy Here:
Website | Twitter | Facebook| Goodreads
Related Posts