That's right, it's time for another fun Author Talk Podcast Episode, and this time we've got the extraordinary Katie McGarry on the show with us to talk about her latest title, Walk the Edge! Of course we've also got our favorite twinnies, Erin and Jaime from Fiction Fare here with us today as well. This episode is total epic win, so we won't waste another second of your time–go ahead and jump right on in, and don't forget to let us know what you think in the comments below.
While you're here, subscribe to our podcast in iTunes, and we're now on Google Play so you can subscribe on your android device! *jazzhands*
Podcast Notes
We chat with Katie about Walk the Edge and how she came up with the idea for the Thunder Road Series.
We talk a little about partying. 🙂
Katie lets us know what her not so typical writing day looks like and her writing and publication process. And she gives us a Pushing the Limits spoiler!
We are completely mesmerized by Katie explaining the inspiration for her swoony boys. For real.
We talk a little more about Katie's characters, and she gives us some insight into the couple we'll see in the next Thunder Road book.
Katie talks about some of the most powerful scenes in her books.
Katie gives us one of the most fun answers ever when she tells us who she'd most like to introduce to her characters.
Katie has some more fun with us and lets us know three things that might surprise her readers.
We accuse Katie and Erin of having a conspiracy when Katie reveals her most recent reads and what's on her TBR.
We fangirl with Katie over one of her favorite authors, Trish Doller!
Katie reveals her original book boyfriend, and we try to talk her into writing fanfiction.
We play a fun word association game with Katie before letting her go.
***Meet Katie McGarry***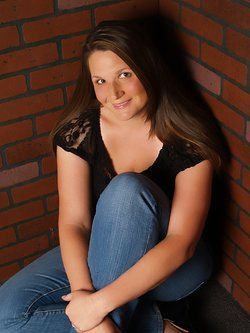 KATIE MCGARRY was a teenager during the age of grunge and boy bands and remembers those years as the best and worst of her life. She is a lover of music, happy endings, and reality television, and is a secret University of Kentucky basketball fan.
Find Katie Here:
Website | Twitter | Facebook | Goodreads
***About Walk the Edge***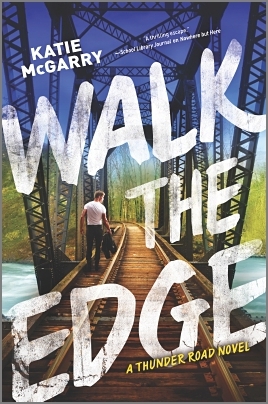 Walk the Edge
by
Katie McGarry
Also by this author:
Crash Into You
,
Long Way Home
Series:
Thunder Road #2
Also in this series:
Long Way Home
Published by
Harlequin Teen
on March 29, 2016
Genres:
Contemporary
,
Romance
Pages:
426
Goodreads
Buy the Book
One moment of recklessness will change their worlds.

Smart. Responsible. That's seventeen-year-old Breanna's role in her large family, and heaven forbid she put a toe out of line. Until one night of shockingly un-Breanna-like behavior puts her into a vicious cyber-bully's line of fire—and brings fellow senior Thomas "Razor" Turner into her life.

Razor lives for the Reign of Terror motorcycle club, and good girls like Breanna just don't belong. But when he learns she's being blackmailed over a compromising picture of the two of them—a picture that turns one unexpected and beautiful moment into ugliness—he knows it's time to step outside the rules.

And so they make a pact: he'll help her track down her blackmailer, and in return she'll help him seek answers to the mystery that's haunted him—one that not even his club brothers have been willing to discuss. But the more time they spend together, the more their feelings grow. And suddenly they're both walking the edge of discovering who they really are, what they want, and where they're going from here.
Let us know what you think! Ask Us a Question or Make Suggestions via our Handy Dandy Suggestion Form and tell us who's got you swooning here.
Thanks for listening, everyone!
Related Posts