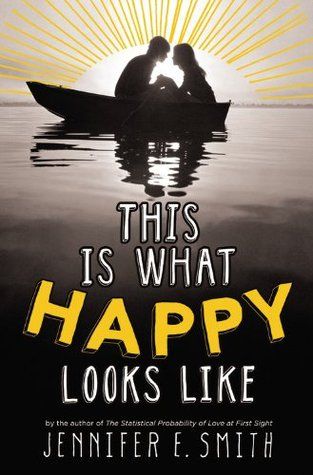 This is What Happy Looks Like
by
Jennifer E Smith
Also by this author:
The Geography of You and Me
,
The Statistical Probability of Love at First Sight
Published by
Poppy
on April 2, 2013
Genres:
Contemporary
Pages:
416
Goodreads
Buy the Book
<strong>If fate sent you an email, would you answer?</strong>

When teenage movie star Graham Larkin accidentally sends small town girl Ellie O'Neill an email about his pet pig, the two seventeen-year-olds strike up a witty and unforgettable correspondence, discussing everything under the sun, except for their names or backgrounds.

Then Graham finds out that Ellie's Maine hometown is the perfect location for his latest film, and he decides to take their relationship from online to in-person. But can a star as famous as Graham really start a relationship with an ordinary girl like Ellie? And why does Ellie want to avoid the media's spotlight at all costs?
The 411:
When he realizes that he spends more time thinking about email pen-pal Ellie O'Neill than even he cares to admit, movie star Graham Larkin decides to film a movie in her small town. The only trouble is that she doesn't know she's been corresponding with a superstar, and he's afraid she won't be able to see past his larger-than-life status to the boy who's been writing to her for months. Sparks fly when the pair finally meet, but she's determined to keep off the radar. After a summer of ups and downs, Graham and Ellie go on an adventure together and wind up falling even more than either thought possible.

What We Loved:
We loved the the whole set-up of this–mysterious pen-pals, sharing dreams and falling for each other anonymously, only to meet up and find out that one of them is a famous movie star? And he went to her town for her? **swooncity**
We loved reading their emails–the sweet words and little quirks that really allowed them to get to know each other. We liked the characters, especially Graham 🙂
We liked the swoon, even though there wasn't nearly enough:
"You know," he said, "before I left school my friends always joked I'd be voted 'Least Likely to Get Arrested,' and now I've almost done it twice in twenty-four hours."

"Really?" Ellie teased. "I'd have pegged you for 'Most Popular' or 'Best Smile' or something cheesy like that."

He laughed. "What would you be? 'Most Likely to Rebel Against the System by Stealing a Boat One Day'?"

She considered this a moment. "'Least Likely to Fall for a Movie Star'."

"Boy," Graham said, pulling her closer, "would they ever be wrong about that."
::le sigh::
We loved the descriptions and the way that Smith made us feel like we were summering in an idyllic small town on the coast of Maine. We already knew that we loved her writing, though, and we will definitely be picking up everything she writes.
The scene with the whoopie pie made us clutch our chests and smile so big and just wish that that moment didn't have to end. And therein lies the problem for us…

Um…Not So Much:
The ending left a lot to be desired. That doesn't mean it doesn't end with an HEA (or that it does–we're not spoiling!). It just means that we wanted more at the end. More kissing. More swooning. More definite plans. More information.
This book was really hard for us to rate. Ultimately we didn't love this as much as we hoped we would. There was a lot of wasted time in this book that we felt was unnecessary and made us not love the characters as much.
We understand that they are both young, and that the whole situation is pretty much unbelievable, but this is fiction! We loved their authentic reactions to what was going on around them and the feelings they were having, but we don't think that any of us (readers) would have been disappointed with a more epic sweeping romance. Also, the path of self-discovery that Ellie seemed to be on didn't reach the same conclusion that we did, and we're not sure how to feel about that. It felt anti-climactic.

The Boys:
Graham Larkin. How many times have we flailed about Graham Larkin? Bunches.
He's sweet and swoony and underneath all the superstar, he's still a guy who wants to be normal and fall in love and have his mom make him a sandwich. Okay, we made that last part up, but he would like to hang out with his parents without being reminded that things are so different in his life now. Aside from the fact that he lets Ellie get away with ignoring him, we think he's pretty damn awesome.
"…I don't actually know her," he explained, then added: "But I want to."
He's funny and has a pet pig and knows all kinds of seemingly unimportant trivia and goes out of his way to help the people that he cares about. Oh, and he used to play soccer. Here's what he had to say one afternoon when Ellie was running lines with him:
"You're supposed to kiss me," Ellie said, looking up at him with an unreadable expression. Graham's stomach dipped, and he stared across the table at her, unable to formulate a response. The room was quiet except for the ticking of the clock above the stove and the soft breathing of the dog, and it took a moment for Ellie to shake her head. When she spoke, her voice sounded very bright. "It's in the script," she said, pointing at the page without taking her eyes off Graham.
…
She was right, of course. He was supposed to kiss her. He was supposed to kiss her just a little while ago, when he arrived at the house. He was supposed to kiss her earlier today on the beach. And that day in town. And that first night, right outside on her porch.
…
"I think it's important," he said as he stood up, "to follow the script."

The Girls:
Ellie. We liked Ellie's personality at the beginning and throughout her correspondence with Graham but seriously questioned her in the middle of this book. She we liked her more toward the end of the book, but still….
Quinn. Ellie's BFF started out fun and supportive and quickly turned into a whining brat, as far as we're concerned.

Bottom Line:
Though we loved the writing and the story and really loved the boy, we felt there was something missing and we wanted a little more from the ending of this one.
Verdict: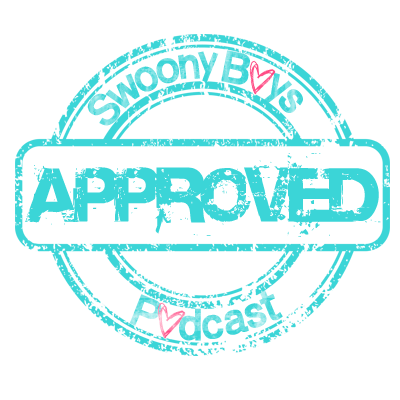 Dream Cast:
Tall with deep blue eyes and perfect hair and a thousand-watt smile, Graham is pretty dreamy. So is #zefron: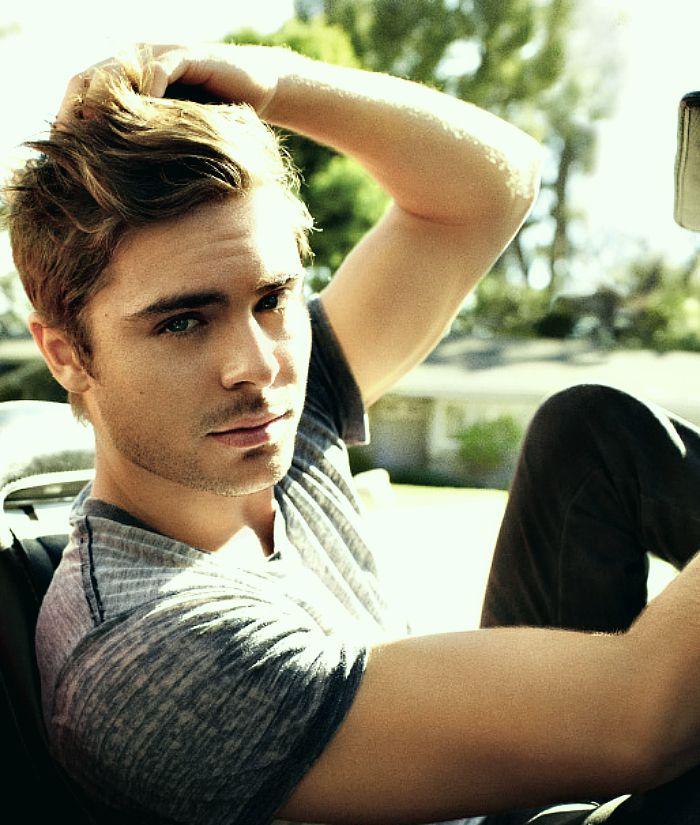 Other Books by Jennifer E. Smith:
The Statistical Probability of Love at First Sight, You Are Here, The Comeback Season, and The Storm Makers (middle grade).
Other This is What Happy Looks Like Posts:
Other Posts About Graham Larkin:
Rating Report
Cover
Characters
Plot
Writing
Swoon
Overall:
4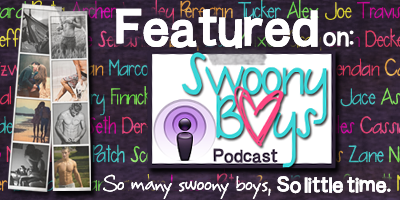 Related Posts