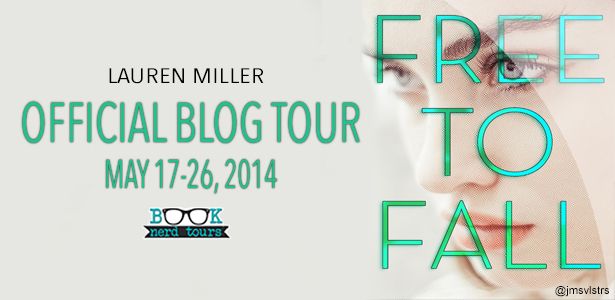 Welcome to Swoony Boys Podcast! This is our stop on the Free to Fall Tour hosted by Book Nerd Tours. We are THRILLED to be a part of this one and are looking forward to sharing a little more about why we loved FtF and its characters. While you're here, don't forget to enter the amazing giveaway at the bottom of the post! You don't want to miss it! And now, let's play:
This or That?
E-book or Printed Book?
Printed
Music or Silence?
Music
Morning or Night?
Morning
Kisses or Hugs?
Kisses
Scream or Cry?
Cry
Coffee or Tea?
Coffee
Paris or Rome?
Rome
Introvert or Extrovert?
Introvert
Board Games or Video Games?
Board Games
City or Country?
Country
Cake or Pie?
Neither! Cookies. Lots of cookies.
N'SYNC or Backstreet Boys?
N'SYNC
Eyes or Smile?
Eyes
Lipgloss or Nail polish?
Nail Polish
Rain or Shine?
Rain
Chocolate or Vanilla?
Chocolate
Drive or Fly?
Drive
Instagram or Twitter?
Instagram
Email or Snail Mail?
EMail
Classic or Current?
A little bit of both.
Free to Fall by Lauren Miller
Published by HarperTeen on May 13th 2014
Genres: Dystopian
Pages: 469
Goodreads Buy the Book

What if there was an app that told you what song to listen to, what coffee to order, who to date, even what to do with your life—an app that could ensure your complete and utter happiness? What if you never had to fail or make a wrong choice?

What if you never had to fall?

Fast-forward to a time when Apple and Google have been replaced by Gnosis, a monolith corporation that has developed the most life-changing technology to ever hit the market: Lux, an app that flawlessly optimizes decision making for the best personal results. Just like everyone else, sixteen-year-old Rory Vaughn knows the key to a happy, healthy life is following what Lux recommends. When she's accepted to the elite boarding school Theden Academy, her future happiness seems all the more assured. But once on campus, something feels wrong beneath the polished surface of her prestigious dream school. Then she meets North, a handsome townie who doesn't use Lux, and begins to fall for him and his outsider way of life. Soon, Rory is going against Lux's recommendations, listening instead to the inner voice that everyone has been taught to ignore — a choice that leads her to uncover a truth neither she nor the world ever saw coming.
What We Loved:
There is so much to love about Free to Fall that we're not even sure where to begin. It's smart, it's different, and it's full of awesome! Let's talk about a few of our favorite things:
The Characters– We were hooked from page one because of the characters. The heroine is a perfect depiction of a teenage girl. Not the perfect one, not the un-perfect one, just a girl that everyone can relate to. But there are also a whole cast of characters that will keep you guessing and falling in love on every page.
The Plot- If the characters made us fall in love, it wad the plot that kept our attention. This book may be 469 pages, but it reads like it's 100. We wanted to keep turning each page until we got to the end, and then we didn't want it to be over.
The Swoon– You guys! Seriously. The swoon. (More on that later.)
The Writing– Lauren Miller's writing is captivating, honest, and unique. We found ourselves rereading passages just to get more. She had us laughing, biting our nails, swooning, and basically feeling

all

the feelings.

The Boys:
Where do we even start? North is one of the swooniest, best written guys we've read in a LONG time. He's everything a boy on our favorites list should be. He's a patient, sweet, tattooed, mohawked, computer nerd who says things like this:
"A girl like you should have standards." He was wearing that amused smile again. "High ones." He'd stopped in front of the back entrance to Paradiso. There was another door right beside it, made of metal instead of glass. "That is, as long as said standards do not prevent you from having dinner with an older,  just-makes-coffee-for-a-living high school dropout in his empty apartment."
We'll just give you a minute…
We don't want to reveal too much about him, but we have absolutely no doubt that when you read this one you will want to fight us for him. Too bad that just won't happen. He's ours. (Make sure you tell us when you read page 297. It's full of cuteness.)

The Girls:
Rory is a badass. It's really that simple. Like most girls she doesn't think she's anything special, kind of the opposite actually. But she's so much more. We don't want to give away any major spoilers but what we can say is that you will root for this girl. It won't take you long to realize just how special she really is.

What We Think Will Happen Next:
We know that there's an epilogue and we got the ending we were hoping for… but that doesn't stop us from wanting more. Seriously, can we make this happen? We need to know more about Rory and North. More, more, more. Did we mention we want more?

Bottom Line:
Free to Fall is full of secrets, swoon, and conspiracies. It is perfection on every page.

Verdict:
Rating Report
Cover
Characters
Plot
Writing
Swoon
Overall:
5
***About Lauren Miller***
Lauren Miller is an entertainment lawyer and television writer. She lives in Los Angeles with her husband and daughter.
Find Lauren Here:
Website | Twitter | Facebook | Instagram | Goodreads
***GIVEAWAY***
The winner will receive an amazing Lauren Miller prize pack including: a signed hardcover copy of Free to Fall, a paperback of Parallel, Free to Fall buttons, and a Free to Fall iPhone 4/4s case!
a Rafflecopter giveaway
Good luck and don't forget to check out the other stops on the tour!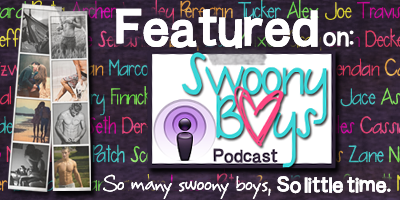 Related Posts