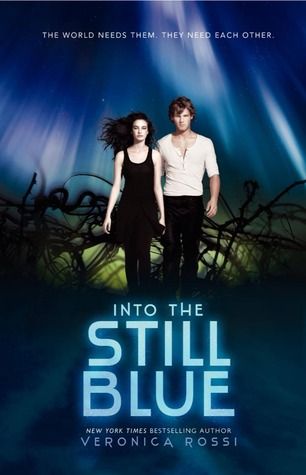 Into the Still Blue
by
Veronica Rossi
Also by this author:
Through the Ever Night
,
Roar and Liv
,
Under the Never Sky
,
Brooke
Series:
Under the Never Sky #3
Also in this series:
Through the Ever Night
,
Roar and Liv
,
Under the Never Sky
,
Brooke
Published by
HarperCollins
on January 28, 2014
Genres:
Dystopian
Pages:
400
Goodreads
Buy the Book
The earth-shattering conclusion to Veronica Rossi's "masterpiece" Under the Never Sky trilogy and sequel to the New York Times bestselling Through the Ever Night (Examiner.com).

Their love and their leadership have been tested. Now it's time for Perry and Aria to unite the Dwellers and the Outsiders in one last desperate attempt to bring balance to their world.

The race to the Still Blue has reached a stalemate. Aria and Perry are determined to find this last safe-haven from the Aether storms before Sable and Hess do-and they are just as determined to stay together.

Meanwhile, time is running out to rescue Cinder, who was abducted by Hess and Sable for his unique abilities. And when Roar returns to camp, he is so furious with Perry that he won't even look at him, and Perry begins to feel like they have already lost.

Out of options, Perry and Aria assemble a team to mount an impossible rescue mission-because Cinder isn't just the key to unlocking the Still Blue and their only hope for survival, he's also their friend. And in a dying world, the bonds between people are what matter most.

In this final book in her stunning Under the Never Sky trilogy, Veronica Rossi raises the stakes to their absolute limit and brings her epic love story to an unforgettable close.
We've tried to keep the spoilers down to a minimum here, but if you haven't read
Under the Never Sky
and
Through the Ever Night
,
you will be spoiled
on things that happen in those books. Proceed with caution.
The 411:
The perfect conclusion to an amazing, action-packed series, Into the Still Blue starts off with Aria waking up after being mostly unconscious and Perry strategizing with his team.
He looked at Reef, for once craving his advice.

But then Aria stepped into the chamber.

Perry lurched to his feet so fast that his chair fell backward.  He took the ten paces to her in a flash, bumping his head on the low ceiling, knocking his leg into the table, moving with less coordination than he had in his entire life.
The Dwellers and the Tides (and the other Outsiders) have to coexist in a way they never have before, and armed with the knowledge of its location, Perry and Aria have to try to make it to the Still Blue before Sable gets there first.  A lot of stuff happens as they attempt to lead their people to safety, including alliances and deceptions that you'll never see coming.  It's total epic nail-biting action all the way.

What We Loved:
There was so much to love. Veronica Rossi provided us with a perfect conclusion to this series. This is definitely one of our favorite series ever, and we are beyond happy that the ending was worthy–worthy of the story, the time, and the characters that we've come to know and fall in love with.
Here were a few of our favorite things:
Love story. These two. They make us feel all of the feelings. We love that they are so strong and so sure of each other. Just look at this:
"What brought you out here, Aria?" he asked.

She looked up, right into his eyes. "I needed to find you."

"I know," he said. "The second I left you, I felt the same way."
And when she puts her hand on her heart? *dies*
Writing. You already know that we think Veronica Rossi is a total genius. The writing in Into the Still Blue is nothing short of beautiful. Every word, every phrase just drags you into the world even more. (And now we want to go and read it again.)
Friendships & Bromance. This series has some of the best written friendships we've ever seen. There's Aria and Roar. Which we love. Roar and Perry. Which we LOVE. And even Aria and Soren, Brooke and Soren, and Brooke and Aria. Those are just a few of the pairings that had us feeling so many things right alongside Rossi's characters.
As they walked back to the cave, a piece of him that had been broken felt whole again. Nothing looked the same or smelled the same, and maybe the world was ending, but he and Roar would walk to that end side by side.
Plot. We just want to hug Veronica Rossi and thank her for staying true to her characters and story in this conclusion. (She even kept up the Dwellers' use of "champ" 🙂 ) We've imagined how this would end in so many ways, and we are thrilled with the outcome.
It's funny. This goes along with the writing and the plot and the Bromance and the staying true to character, but it's worth mentioning again. The characters are so real, and we love that about them.
"Perry, did you know your pants are falling down?"

Um...Not So Much:
We don't really have much to say here–it was pretty close to perfect.  There were a couple of things that we didn't love but we understood everything and why it happened.  (Even when it comes to our favorite bromance pair having fights.) Our only complaint, really, was that we wanted more at the end, but we admit that we would have wanted more no matter what!!

The Boys:
Perry. Perry, Perry, Perry. You already know he's one of our favorite guys ever. One of the things that we love about him in this book is that despite being under so much pressure, he handles it so well. Finally figuring it out what it means to lead, to not just care for himself or for Aria, but for everyone.
"You expected me to be more than a simple hunter. And because of you, I became more than that."
He has to deal with losing his sister and learn to be with Roar despite the huge chunk missing from both of their hearts. He tries to push away the pain, but knows he has to deal with all that they're going through, and find a normal with Aria.
He loves too fiercely, and that's one of our favorite things about him.
What I was trying to say," he whispered, "is that I see you in everything. There isn't a word for you that means enough, because you're everything to me."
He sacrifices. And by that we mean real sacrifice–none of that ick sacrifice that we've recently read from another series conclusion. He's the real thing and sacrifices with meaning, depth, love, and purpose.
And then there's this…
"You want to compare sizes, Sable? I bet I win."
Roar. Throughout most of this book, we just want to pick Roar up and hold him. He's learning to cope, and at first–not very well. We love that this trifecta (Perry, Roar, and Aria) are strong for each other and need each other.
"I can't let Sable get away with it. He has to pay. And I'm already dead."
Through all the pain, he finally comes back to being himself.
"I thought I'd gotten shot."

"So did I," Aria said. "You fell so dramatically."

Caleb nodded. "He did. He fell with a flourish."

Roar laughed. "What can I say? I'm just good at most things."
Soren. We don't want to spoil all the things, but Soren turns out to be a pretty awesome guy and friend, and that makes us happy.

The Girls:
Aria. No doubt about it–Aria is one of our favorite heroines, ever, and we love her in Into the Still Blue. She's stronger, more self-confident, and more settled. Having gotten through the crazy-are-we-aren't-we stuff with Perry and come out totally together, she has this strength about her that draws from their unity.
"I want to kiss you," he said. Forget pride. He wanted her too much. "Can I?"

She nodded. "You don't ever have to ask me that again. I'll always say yes."
It was like that was the last thing she needed to feel like she could do anything. She's still vivacious and hilarious, and we totally want to hang out with her.
Brooke. We were surprised by how much we didn't hate Brooke here. She's pretty handy to have around, and she's fierce in a way that we didn't appreciate before.
"I don't want to play; I want to win. But if you give me the rules, I'll take it from there."

Dream Cast:

Bottom Line:
Perfection. Into the Still Blue is action-packed, sexy, and a complete nail-biter. We laughed, cried, giggled, and swooned. The perfect conclusion to one of our all time favorite series.

Verdict:
Rating Report
Cover
Characters
Plot
Writing
Swoon
Overall:
5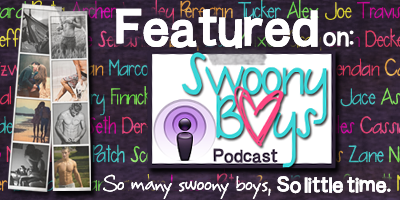 Related Posts