We loved this book and were so excited to be invited to participate in the tour. When we picked up Some Kind of Normal, we didn't realize that it was a companion to Boys Like You, which is one of our faves. Don't worry, if you haven't read Boys Like You yet, this is still a great choice for you and you won't be lost at all, but we think you should read that one, too, because it's awesome. 🙂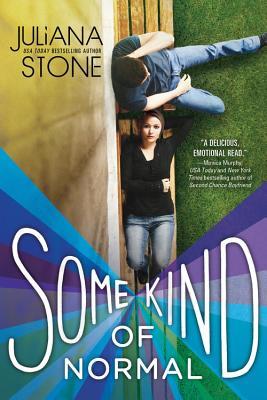 Some Kind of Normal
by
Juliana Stone
Published by
Sourcebooks Fire
on May 5, 2015
Genres:
Contemporary
Pages:
304
Goodreads
Buy the Book
What is Normal?

For Trevor normal was fast guitar licks, catching game-winning passes and partying all night. Until a car accident leaves Trevor with no band, no teammates and no chance of graduating. It's kinda hard to ace your finals when you've been in a coma. The last thing he needs is stuck-up Everly Jenkins as his new tutor—those beautiful blue eyes catching every last flaw.

For Everly normal was a perfect family around the dinner table, playing piano at Sunday service and sunning by the pool. Until she discovers her whole life is a lie. Now the perfect pastor's daughter is hiding a life-changing secret, one that is slowly tearing her family apart. And spending the summer with notorious flirt Trevor Lewis means her darkest secret could be exposed.
The 411:
Months after waking up from a coma, Trevor Lewis is dealing with lots of things–a traumatic brain injury, the fact he has to study for Government over the summer to graduate, worrying that he can't play music like he used to and what that means for his future. In order to graduate and continue with his plans to move to NYC with his best friend, Nathan, in the Fall, Trevor has to pass the Government test and is assigned a tutor: straight-laced preacher's daughter Everly Jenkins. They're not crazy about each other at all the first time they sit down to study, but luckily things change.
We'd never really clicked, she and I. Not since grade six when I'd kissed her in a closet at Jackson Breckman's house and told the entire class about it.
Everly's dealing with some things in her seemingly perfect family and is just trying to get by when she's surprised by her feelings for Trevor. Both of them have to deal with what is going on in their lives–separately and together. As the summer progresses, they find they have more in common than they thought and that maybe they're just right for each other.

What We Loved:
The characters. We loved these characters. Trevor is so realistic and his feelings are authentic. Though he accepts responsibility for what happened to him, he isn't happy about it and isn't always looking at the bright side. He gets sullen and mad and just…wants things to be like they were before. The way he felt about Everly was sweet, too. We just love him.
I'm not sure how long we sat there, but it was long enough for me to realize that I wanted to know this girl in a way I'd never felt before. This wasn't about partying and hooking up. It wasn't about sex either (though I'm not going to lie, I'd be all over that if she was willing).

It was about meeting someone who kind of knocked you on your ass. A girl who wasn't anything like I imagined. A girl who was hiding stuff, and just like me, she was hoping no one would notice.

So maybe we could hide together, or maybe we could fix each other.
Trevor's not your typical swoony guy, but dang. The boy is sweet.
The girl literally took my breath away.
He's an artist, a musician, and his favorite song is Simple Man.
Everly was great, too. She was likable and believable, and though she's not happy with her situation, she's not whiny about it. We loved that about her. We also loved how much she built Trevor up. She was vulnerable but she didn't let that stop her from living.
Suddenly, I didn't want to do the whole "I'm going to play games and be mad at you" thing.
We also loved Trevor's dad. He was strong and one of the best dads in YA that we've ever read. It surprises us that we feel that way about him after reading Boys Like You, but we totally got him and were proud of the way he supported his son.
It was great seeing Nathan and Monroe and we loved that Trevor liked Monroe so much. Even if we hadn't read Boys Like You, we would have still appreciated Trevor's relationship with his best friend.
The setting. The setting was perfect. One of us lives in Louisiana, and for sure Juliana Stone captures the weather, the culture, and the ambiance. From the camp at Tickfaw to the fourth of July festivities, we felt like we were right there. #win

Um...Not So Much:
There were a few things that we didn't like, but they're pretty spoilery. The stuff that happens with Everly's mom seemed almost glossed over, and we didn't like that. Also, we felt like some stuff was wrapped up in a neat bow that we didn't expect. And like with just about everything else, we wanted more at the end.

What We Think Will Happen Next:
Hopefully Stone is planning more in this universe–we could get behind a book featuring Trevor's sister, Taylor, or anything with Nathan, Monroe, Trevor, and Everly.

Bottom Line:
A quick read with something every contemporary YA lover will flail over, Some Kind of Normal has likable, swoon-worthy characters, a perfect setting, and a realistic storyline that should not be missed.

Verdict:
Rating Report
Cover
Characters
Plot
Writing
Swoon
Overall:
4
***EXCERPT***
"You got any?" he asked.
"Any what?"
"Tattoos?"
"Me?" I had to laugh at that. Wow. Before last year that would have been grounds for major punishment. Heck, up until my senior year, I hadn't been allowed to wear lip gloss. Now I wasn't so sure that my mom would even notice, and since I avoided my dad whenever I could…
"No," I said, shaking my head. "My skin is untouched."
His eyes widened a bit, and I felt heat creep up my neck. Great. Now I was blushing again.
"Untouched," he said with that lopsided smile that made my stomach dip. "I like that."
"You do?"
"Yep. A clean slate. There's something almost poetic about that, you know? Tragic too. How many people get a do–over?"
Trevor reached for my hand, and though my first instinct was to snatch it back, his long fingers enveloped mine before I had the chance. He turned my hand over so that my palm faced up and then traced the little blue lines that ran down my wrist.
I can't lie. It felt weird and good, and my heart took off once more, so fast that I was surprised he couldn't hear it.
"This is…kind of…like ink," he said, his words a little slow as if he was thinking hard. "But it's alive."
He glanced up again, and all I could do was nod before my eyes dropped to his hand. Mine was still there, small and pale next to his large palm and tanned skin. I saw the thin blue veins that ran down my wrist, the ones that carried blood from my heart, electrifying my cells and feeding my body.
His thumb rested just beneath my pulse, and I swallowed thickly. Crap, he was going to feel how fast it was, and that would be embarrassing.
"Your fingers are rough." I blushed harder and thought that there was no way I could sound any more like an idiot. Not even if I was trying.
"Yeah," he answered. "It's from playing guitar. I practice a lot so my calluses are nice and strong."
"I used to play piano."
Wow. Good comeback. I guess it was better than a clarinet or trombone, but really. Dork much?
…Had he always looked this intense?
"What?" he asked. He smiled again and I thought that on a scale of one to ten, his smile was a total eleven. "You're into the classics. That's cool. Didn't picture that."
"Really. What exactly did you picture?" Shoot. Did I really want to hear this?
"I don't know. PBS and that Jane Austen?"
Okay. First off, I was impressed that he knew who Jane Austen was, and secondly…he knew who Jane Austen was!
I dropped my eyes, because I was pretty sure that my cheeks were as red as the roses planted just outside the library. Trevor Lewis wasn't anything like what I thought he'd be. He wasn't stupid and he wasn't arrogant. He wasn't slow or weird.
He seemed pretty normal to me.
You know, for a guy with tattoos and blue hair.
***About Juliana Stone***
USA Today bestselling author Juliana Stone fell in love with books in the fifth grade when her teacher introduced her to Tom Sawyer. A tomboy at heart, she split her time between baseball, books, and music—three passions that carried over into adulthood. When she's not singing with her band, she's thrilled to be writing young adult and adult contemporary romance, and does so from her home in Canada.
Find Juliana Here: Website | Facebook | Twitter | Goodreads
***GIVEAWAY***
Win a Juliana Stone YA Book Bundle
a Rafflecopter giveaway
Good luck!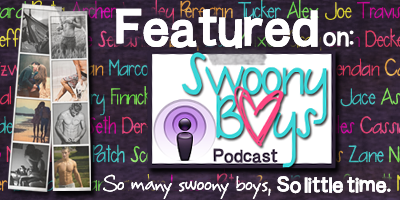 Related Posts