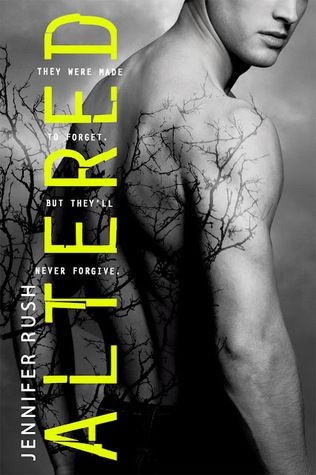 Altered
by
Jennifer Rush
Also by this author:
Erased
Series:
Altered #1
Also in this series:
Erased
Published by
Little Brown Books for Young Readers
on January 1, 2013
Genres:
Sci-Fi
Pages:
323
Goodreads
Buy the Book
When you can't trust yourself, who can you believe?

Everything about Anna's life is a secret. Her father works for the Branch at the helm of its latest project: monitoring and administering treatments to the four genetically altered boys in the lab below their farmhouse. There's Nick, Cas, Trev . . . and Sam, who's stolen Anna's heart. When the Branch decides it's time to take the boys, Sam stages an escape, killing the agents sent to retrieve them.

Anna is torn between following Sam or staying behind in the safety of her everyday life. But her father pushes her to flee, making Sam promise to keep her away from the Branch, at all costs. There's just one problem. Sam and the boys don't remember anything before living in the lab—not even their true identities.

Now on the run, Anna soon discovers that she and Sam are connected in more ways than either of them expected. And if they're both going to survive, they must piece together the clues of their past before the Branch catches up to them and steals it all away.
The 411:
Anna lives with her scientist father on their farm in New York. He runs a lab that researches genetically altered boys. Yep, that's right. There are four boys in Anna's basement, all in cells, all under laboratory scrutiny. Anna helps out with the research, which as far as she knows is monitoring them on their way to becoming super-soldiers.
The boys are all different and bring different characteristics to the table, and Anna enjoys spending time with almost all of them. Especially Sam.
There's a breakout and at the insistence of her father, Anna goes with the boys. What happens next and throughout the entire book is blockbuster movie-worthy action thriller. There were a few things that happened that gutted us, a few things that shocked the hell out of us, and a few things that made us swoon.
Add that all up and you get total epic win.

What We Loved:
We wanted this book bad the first time we went to BEA because we're total cover h00rs.  We quickly realized that there's so. much. more. to Altered than a pretty cover.  Just read the summary, and you'll be hooked.
We loved so much about this book that we can't even begin to tell you all the things.  We were surprised how much we liked all of the boys.  We loved the conflict that Anna constantly felt between following her head and following her heart. Really, we loved how (almost) everything played out.
Jennifer Rush gave us a story that grabbed our attention and made us read every last word until the final page was flipped. It's fast paced, action packed, filled with swoon kind of book- you've come to the right place.

Um...Not So Much:
We can't tell you anything that we didn't like about this book without giving away too much, so we'll just say that we wanted a little more information.  But we understand why we didn't get it 🙂

The Boys:
So, you know there are four boys in Anna's father's lab.  They're pretty mysterious, but we can say that we loved each of them.  Even though we only get to see them in a very controlled environment at first, their personalities are so different.
I couldn't picture Sam in the real world, buying a doughnut at a coffee shop, reading a newspaper on a park bench.  The others, maybe.  Cas was like any other party boy trolling for girls.  Nick was the epitome of an asshole jock, with the cockiness and pretty face to match.  And Trev once told me that if he ever got out, he'd want to go to school to study English literature.
Sam.  The leader of the pack.  We don't even have to tell you that he's super smart and super sexy.
I looked up and met his eyes.

An unremarkable green, like river water, his eyes were nothing to look at, but they were something else to be watched with.  Sam's gaze, at quiet moments like this, made my insides shudder.
He's protective and brooding.  And we pretty much died when he said this:
I will find you.
Plus, he drinks orange juice. So there's that. 🙂
Nick.  There's so much to Nick that we can't even articulate his personality.  He's loyal and a good person to have around, but he's obviously got some anger issues.
"Why did you do that?"

He cracked a knuckle.  "You think you have any right to my memories? To my life before this? You don't."
Trev. Anna's best friend.  Trev and Anna have a true friendship in the lab, even more so than the others.
"Come on.  Someday, you'll be free.  Just promise me you won't leave me for good."

There was a long pause, and I thought maybe he wouldn't answer.  His eyes were glossy, like some far-off thought had summoned forgotten emotions.  He blinked before I could ask, though, and whatever had been there disappeared.  "I promise."
Cas. The jokester.  We loved his personality, and the fact that he's always hungry.
He hooked an arm around my neck and messed up my hair.  "You're so cute when you're upset.  He let me go after I shrieked.

"God. You're so annoying!" I said between bursts of laughter.

"But charming."  He fell into step with me.  "Let it be known that if you're ever in need of a good make-out session, I happen to be available Tuesday nights."
We also have to mention Anna's dad, too.  He was pretty awesome, even when he wasn't.

The Girls:
Anna.  She's what every heroine should be.  Strong and ready to stand up for what she believes in, she still has a hint of vulnerability that we both admire and can identify with. If you love a good, strong female protagonist you'll find one here. There are so many reasons why she should have, or could have, given up. Instead she uses it as fuel.
We love the relationship that she has with each of the boys, and that surprised us. We both have our favorites, but we found ourselves craving scenes of Anna with each of them for different reasons.
The girl totally kicks ass, and we love her.

What We Think Will Happen Next:
There are so many things that we need answers to.  Though Altered doesn't end on an evil cliffhanger, we can't wait to read what else Rush has in store for these characters.

Bottom Line:
Jennifer Rush tells a good story.  Altered was non-stop, heart-palpitating, cannotbelievethatjusthappened action, and we think you'll love it.

Verdict:
Rating Report
Cover
Characters
Plot
Writing
Swoon
Overall:
4.5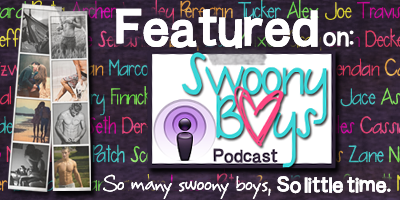 Related Posts