Welcome to Swoony Boys Podcast! This is our stop on the Accidental Highwayman Tour hosted by Jean Book Nerd. We are so excited to be a part of this one and are looking forward to sharing our thoughts on the book and helping you get to know the author a little better. While you're here, don't forget to enter the giveaway at the bottom of the post! You don't want to miss it! Here we go:
*****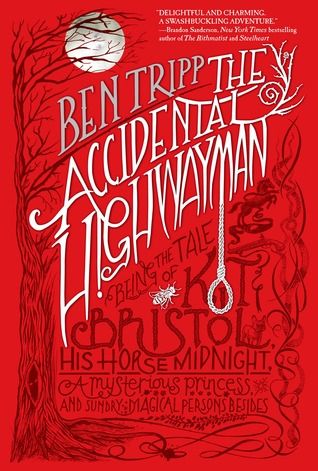 The Accidental Highwayman: Being the Tale of Kit Bristol, His Horse Midnight, a Mysterious Princess, and Sundry Magical Persons Besides
by
Ben Tripp
Series:
Adventures of Kit Bristol #1
Published by
Tor Teen
on October 14, 2014
Genres:
Adventure
,
Fantasy
Pages:
304
Goodreads
Buy the Book
The Accidental Highwayman is the first swashbuckling adventure for young adults by talented author and illustrator, Ben Tripp. This thrilling tale of dark magic and true love is the perfect story for fans of William Goldman's The Princess Bride.

In eighteenth-century England, young Christopher "Kit" Bristol is the unwitting servant of notorious highwayman Whistling Jack. One dark night, Kit finds his master bleeding from a mortal wound, dons the man's riding cloak to seek help, and changes the course of his life forever. Mistaken for Whistling Jack and on the run from redcoats, Kit is catapulted into a world of magic and wonders he thought the stuff of fairy tales.

Bound by magical law, Kit takes up his master's quest to rescue a rebellious fairy princess from an arranged marriage to King George III of England. But his task is not an easy one, for Kit must contend with the feisty Princess Morgana, gobling attacks, and a magical map that portends his destiny: as a hanged man upon the gallows….

Fans of classic fairy-tale fantasies such as Stardust by Neil Gaiman and will find much to love in this irresistible YA debut by Ben Tripp, the son of one of America's most beloved illustrators, Wallace Tripp (Amelia Bedelia). Following in his father's footsteps, Ben has woven illustrations throughout the story.
Author Interview
You're from New Hampshire but spent your childhood in the English countryside, where you got your inspiration for The Accidental Highwayman. How did growing up in several different settings affect the world building process?
I'm strongly influenced by places, and dwell on what makes them seem familiar or strange. The things that matter are often small details, sensory impressions. Think about how flavors, smells, or sounds can instantly transport you to another place and time. Ten years after a visit to the Colosseum in Rome, what you remember most vividly isn't the monument itself, but the smell of sun-warmed travertine, or the flavor of the gelato you got from a bicycle cart that same afternoon. Those impressions evoke the truth of a place, the difference between experiencing it and merely witnessing it.

England was the first distant land I got to know. Since then I've wandered much of the globe, but the home of my heart is that rainy island in the corner of Europe. This summer I went back to Devon, where we lived, and wandered the same boyhood paths. In childhood I filled that countryside with imaginary beings and had all sorts of adventures. The fantasies I'm writing now were germinated by the kid I was then. It's amazing how little has changed, except it's all gotten rather smaller now that I'm six feet tall. And of course I write the adventures down instead of forgetting about them by teatime.
So The Accidental Highwayman is based on some truth, as it were. Can you tell us a bit about the chest in your family that features in the Editors Note of The Accidental Highwayman?
There really is a locked sea chest that belonged to my ancestor. My mother uses it as a coffee table.The key was lost the better part of two hundred years ago, at which time somebody must have said "nobody opens that thing until we find the key!" We're a tradition-oriented family, so for eight generations we have steadfastly refused to call a locksmith. We took to guessing what is inside it. The Accidental Highwayman is my best guess. I'm pretty sure that's what's in there.
You also illustrated The Accidental Highwayman! Did scenes come to you first as images that you then put to words or did you create the scenes as you wrote, then drew what you found the most visually appealing?
It goes both ways. Typically I write things first, and then go back and decide which bits will make the most suitable illustrations. Sometimes, though, I'll work things out as illustrations simply because I have no idea how to describe them with words, and then –when I can see them in front of me — I can find the language. After all, I couldn't look up mantigorns on the internet.
You've designed rides for Disney and other amusement parks around the world which has led you on amazing travels. What was your favorite ride to design? Favorite place to visit?
My favorite project is the Kilimanjaro Safari at Disney's Animal Kingdom, for which I was honored to be the lead designer. It covers more than 100 acres, the largest fully-themed ride in the world. We built a model of the whole attraction at 1:32 scale — it was the size of a parking lot. The safari is full of real animals of several dozen species, and we designed it with many hidden behavioral enrichment cues built in so the inhabitants behave less like captives and more like their wild relatives. If the animals are happy, the guests will be happy, that was the thinking. I'm proud of the work everybody did on that.

In addition, the entire park plays a role in the Species Survival Plan Program, which is an international effort to maintain genetically diverse populations of critically endangered animals within accredited zoological facilities. Zoos and aquaria get a bad rap because some of them are still operated on outdated, exploitative models. These tend to attract attention for their inhumane practices. but there is a large and ever-growing network of facilities devoted to keeping biodiversity going — of helping all kinds of vulnerable species ride out the Anthropocene extinction event that's going on now. It's like a diffuse version of Noah's Ark.

My favorite place to visit? Everywhere.
The 411:
Sixteen year old Christopher "Kit" Bristol's life turns upside down when his master returns with a gunshot wound in the middle of the night. His has to take his master's place on a mission that leads him on an adventure where he encounter magical creatures of all kinds.


What We Loved:
We were a little worried when we read that The Accidental Highwayman was being compared to The Princess Bride. Since that's one of our favorite movies of all time the bar was set pretty high before we even read the first sentence.  Fortunately for all involved, this time we can see where the comparison came from. It is in the same genre of voice and also had the ability to make us giggle in a similar way.
This one is fast-paced and has no shortage of adventure. You get to dive into a world of fairies, goblins, witches, a fairy princess, and more. Ben Tripp gave us a book filled with amazingness from one cover to the next. You've got an amazing story, gorgeous illustrations, and notes in the margins that are both informative and hilarious. 
We thought that Kit and Morgana's relationship was an adorable roller coaster.We loved their bickering and what each of them brought to the table. You've got the loyal, slightly impulsive, and extremely loyal Christopher "Kit" Bristol and the defiant, stubborn, and spoiled Princess Morgana. It was so much fun to watch them both struggle and succeed at life's journey.


Um...Not So Much:
There's always got to be something here right? Here's what made the short list of things we could have done without:
Romance– We already told you we loved these two together, but sometimes the more mushy romance scenes felt a little too forced. However, the more natural scenes made up for it and far out-weighed the ones we could have done without.
Occasional Info Overload-  There were times when we were reading that we had to pause and enjoy some of the gorgeous illustrations and then flip back to where we were and keep reading! This is one of those books you can't read while multitasking! This is a sit down, clear your mind and read kind of books.
Not Enough– We don't want to wait for more. There we said it.

What We Think Will Happen Next:
We are so excited that this is just the beginning of Kit's adventures and we cannot wait to read what comes next. We're not even going to try and guess what we think will happen because in a world like this it could be ANYTHING.

Bottom Line:
The Accidental Highwayman is a fast-paced adventure that will take readers of all ages on a magical journey through its pages.


Verdict:
Rating Report
Cover
Characters
Plot
Writing
Swoon
Overall:
4
***About Ben Tripp***
After a childhood making art and a brief stint at the Rhode Island School of Design, BEN TRIPP worked as an experiential designer for over twenty years, creating theme parks, resorts, museums, and attractions worldwide. He is the author of the adult novels Rise Again, Rise Again: Below Zero, and the forthcoming Fifth Chamber of the Heart.The Accidental Highwayman is his first book for young adults.

Find Ben Here:
Website | Twitter | Goodreads
***GIVEAWAY***
Must be 13+ To Enter | Open Internationally

25 Winners will receive an Exclusive 11×17 Poster, Envelopes
and Bookmarks by Ben Tripp.
a Rafflecopter giveaway
Good luck and make sure you check out the other stops on the
The Accidental Highwayman Tour
!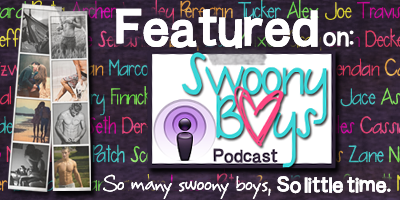 Related Posts