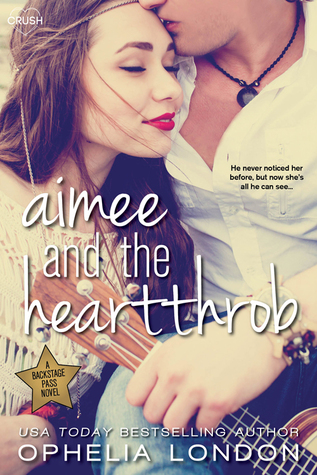 Aimee and the Heartthrob

by Ophelia London
Series: Backstage Pass #1
Also in this series: Mia and the Bad Boy, Daisy and the Front Man, Anya and the Shy Guy, Abby and the Cute One
Published by Entangled: Crush on April 14, 2015
Genres: Contemporary
Pages: 223
Goodreads

Buy the Book

He never noticed her before, but now she's all he can see…

Miles Carlisle is every teen girl's fantasy. His rugged good looks and exotic British accent have helped catapult his boy band, Seconds to Juliet, to super-stardom. But after two disastrous and very public breakups, Miles isn't interested in dating just any girl; he wants The One. And the only girl he's interested in is not only his best friend's little sister―and off-limits―but won't even give him the time of day…

As a kid, Aimee Bingham had a huge thing for Miles…until he made fun of her for always tagging along. Now that she's outgrown both him and her pigtails. the prospect of spending two weeks on tour with the childhood crush who broke her heart isn't exactly enticing. Except now Miles seems interested. Very interested. And no matter how hard Aimee tries to resist him, her crush is definitely making a comeback.

But everyone knows that falling for a heartthrob is a backstage pass to heartbreak…
This book sounds like it was written for us. Boy band? Foreign accent? Falling for best friends little sister? And it's written by an author we already love? Yasssss.
This book checks so many of our most-loved boxes, we could barely wait to dive in. For some crazy reason, we didn't read it until months and months after it was out. We wish we hadn't wasted so much time because we really liked it!
The 411:
Aimee's going on tour with Miles Carlisle's band, Seconds to Juliet, for two weeks. She's known him since before he was famous and always had a crush on him. She's Nick's (Miles's best friend) little sister, so she's forbidden, but will they be able to resist the pull between them now that she's all grown up and they'll be on tour together?

What We Loved:
This story was so cute, and you know how we feel about musicians. (We ♥ them). There's some angst and teenage drama, but mostly it's just fun with a swoony guy and the girl who's been crushing on him for reasons other than his celebrity status. We loved Miles–yes at first, he was kind of a jerk, but you know that's always the guy we love the most.
I haven't been able to stop thinking about you for the past five days. When I'm in a band meeting…" He kissed her eyebrow. "When I'm onstage." He kissed the bridge of her nose. "When I'm trying to bloody fall asleep at night, that's the worst. And the best."

Um...Not So Much:
We did think these characters seemed kind of young for their age, and we're not sure if that's because most of the YA we seem to read is on the mature side or if they actually were more like middle schoolers. We definitely think Miles was immature, considering he's a huge superstar. We also wish this book had been told in first person.

Bottom Line:
If you love music-centric stories with fun characters and a great storyline and teenage drama, Aimee and the Heartthrob is the story for you.

Verdict:
Rating Report
Cover
Characters
Plot
Writing
Swoon
Overall:
3.5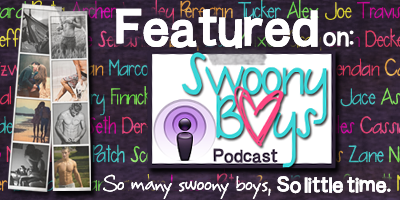 Related Posts