We haven't brought back the official Flashback Friday feature, but we sure are having fun reviewing titles that are at least two years old. Katie is back with another review today, this time for Stolen by Lucy Christopher.
Stolen
by
Lucy Christopher
Published by
Chicken House Books
on May 4, 2009
Genres:
Contemporary
,
Suspense
Pages:
301
Goodreads
Buy the Book
It happened like this. I was stolen from an airport. Taken from everything I knew, everything I was used to. Taken to sand and heat, dirt and danger. And he expected me to love him.

This is my story.

A letter from nowhere.

Sixteen year old Gemma is kidnapped from Bangkok airport and taken to the Australian Outback. This wild and desolate landscape becomes almost a character in the book, so vividly is it described. Ty, her captor, is no stereotype. He is young, fit and completely gorgeous. This new life in the wilderness has been years in the planning. He loves only her, wants only her. Under the hot glare of the Australian sun, cut off from the world outside, can the force of his love make Gemma love him back?

The story takes the form of a letter, written by Gemma to Ty, reflecting on those strange and disturbing months in the outback. Months when the lines between love and obsession, and love and dependency, blur until they don't exist - almost.
***Our Review***
We've been so curious about this book since we first heard of it. Stolen: A Letter to My Captor, the title definitely holds its own air of intrigue, though the pieces of the book that you glimpse on the back and inside cover made us question whether or not we would like it. Well, we really loved it. This book was so different from anything else we have read lately, or ever maybe.
The 411:
Sixteen-year-old Gemma was at the airport heading off for a family vacation when she goes off on her own to grab a coffee. That's when a handsome stranger pays for her coffee and they sit down for a chat. Not what you'd typically except when you think crazy kidnapper, right? But that's exactly what he is.
Before she knows what's happening she's being drugged and stolen. She finds herself stuck in the middle of what appears to be nowhere and so begins the struggle to find her freedom. The story is written as a letter to the kidnapper and details every grueling thing that happens from the moment their eyes meet at the airport.

What We Loved:
We loved that Lucy Christopher had us hooked from the first sentence of this book. And the feels start right away because obviously the storyline is something so real in the world today. We also loved that we got to see two sides of a crazed kidnapper and realize that maybe there are different kinds of crazy.
We loved that this book had us questioning things that I always thought were just a simple as black and white. After we finished reading, we just had to sit there, staring at the wall, and let our minds finish riding the roller coaster of emotion that came with this book.

Um...Not So Much:
This is where it gets hard because we loved pretty much everything about this book. It would have been nice if we learned more about Gemma's parents and what happened after they realized that she was abducted.

The Boys:
Ty MacFarlane. He's tall, slim and muscular with bright blue eyes and shaggy blond hair….we guess it's only fair to list it as swoony boy. Except, you know, he's a kidnapper. We seriously don't even know how to feel.

Dream Cast:

Bottom Line:
Stolen by Lucy Christopher was able to perfectly balance the bitter and the sweet and left us wanting more.

Verdict:
Rating Report
Cover
Characters
Plot
Writing
Swoon
Overall:
4.5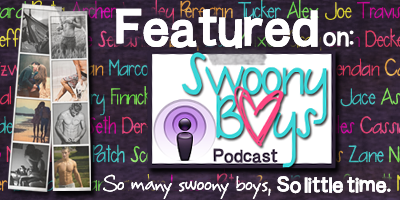 Related Posts