Hey, guys! Today we are spilling the beans on our thoughts about I'll Give You the Sun by Jandy Nelson. We are beyond excited about this one and we can't wait to talk all about it! So excited that we've decided we have to have a giveaway to go along with our thoughts! Make sure you enter at the bottom of the post! You don't want to miss it!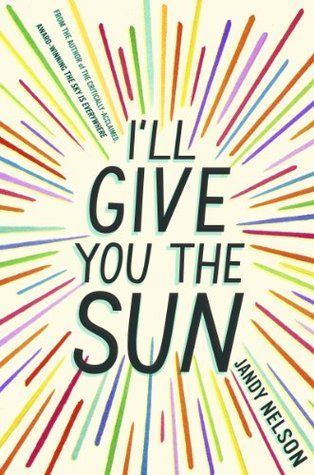 I'll Give You the Sun by Jandy Nelson
Published by Dial on September 16, 2014
Genres: Contemporary
Pages: 384
Goodreads Buy the Book

A brilliant, luminous story of first love, family, loss, and betrayal for fans of John Green, David Levithan, and Rainbow Rowell

Jude and her twin brother, Noah, are incredibly close. At thirteen, isolated Noah draws constantly and is falling in love with the charismatic boy next door, while daredevil Jude cliff-dives and wears red-red lipstick and does the talking for both of them. But three years later, Jude and Noah are barely speaking. Something has happened to wreck the twins in different and dramatic ways . . . until Jude meets a cocky, broken, beautiful boy, as well as someone else—an even more unpredictable new force in her life. The early years are Noah's story to tell. The later years are Jude's. What the twins don't realize is that they each have only half the story, and if they could just find their way back to one another, they'd have a chance to remake their world.

This radiant novel from the acclaimed, award-winning author of The Sky Is Everywhere will leave you breathless and teary and laughing—often all at once.
What We Loved:
We've got to be honest. We were a little scared to crack the cover of this one. We fell in love with Jandy Nelson and her words when we read The Sky is Everywhere. Really, really in love. Joe Fontaine tops so many of our swoony boy lists and every single word of the story lives on epically in our hearts and minds. So how could another book live up to those standards? Would there be enough swoon? Would the words captivate us the same way? Would we love it as much? The answer to all to those questions is a big huge YES. It would take us forever to tell you all the reasons we love I'll Give You the Sun, but we have to share a few of our favorite things:
Set-up/Voice– We loved getting not only two different points-of-view, but two different timelines as well. It sounds like it might be confusing, but it's not. The set-up gives the story more depth, and the reader more explanation, than you would have from a single point of view looking back on the events of their life. Instead we get one story told from two voices years apart and it's perfection.
Characters– We fell in love with this entire cast of characters. It happened for us in TSiE and was confirmed with IGYtS. Jandy Nelson has crazy good character developing skills. The personalities ooze off the page and leaving you not only feeling like you know each and every one of them, but also like you've gone on a journey with them. That is without a doubt one of our very favorite aspects of this story. There were so many people to love and we loved them all. Even when we wanted to smack them around a little.
The Writing– Ms Nelson what can we even say? You cannot be human. We think perhaps you have come to earth from a colony that eats, sleeps, and breathes beautiful words. Every page made us love you more. Every word made us desperate for more. And more. And more. How else can you react to things like this:
"Maybe we're accumulating these new selves all the time." Hauling them in as we make choices, good and bad, as we screw up, step up, lose our minds, find our minds, fall apart, fall in love, as we grieve, grow, retreat from the world, dive into the world, as we make things, as we break things."
The Swoon– We already told you that we were really hoping for swoon. And boy did we get it. Lot's of it. Sometimes from unexpected sources, and sometimes from exactly the person we were hoping it would come from. There was a lot of it. . . and it was good!
"Maybe some people are just meant to be in the same story."

Um...Not So Much:
There's not much to put here. We could talk about the thing that a certain characters does with another person in the first person's bedroom, but we'd rather pretend it didn't happen. Other than that, our only other complaint is that there wasn't more, more, more, more. No, seriously. Can we please have more?

The Boys:
Usually we focus on one boy in this section, but we just can't bring ourselves to do that this time. So instead we are just going to talk a little about all our favorites. Here we go: First up is Noah. We're pretty sure that we fell in love with him on page 1. We love his awkwardness, his creativeness, his too big heart, his word vomit, and even the moments when he said nothing at all. Noah took us on a roller coaster from the very first to the very last page and we are so glad that we were along for the ride.
"I love you," I say to him, only it comes out, "Hey." "So damn much," he says back, only it comes out, "Dude." He still won't meet my eyes."
Now let's talk about Brian. From the second our hero laid eyes on him we couldn't look away. We  couldn't get enough of his love for the stars, but the thing that we were most captivated by was the sizzle between him and Noah. The connection between these two was intense, and that's putting it lightly.
"Stare much? he says quietly so only I hear. Practically the first words he ever said to me, all those months ago. His lips curl into the half smile. I catch his tongue poised on the precipice between his front teeth.
Oscar, OSCORE, Oscar. Where do we even start? Leather jacket? Check. Mess of emotion? Check. James Dean lean? Check. British accent? Check. Impulse control problem around Jude? Double Check.  We could go on and on, but just know that it would involve a lot of things we love and lots of checks and double checks. He is beyond swoony and has quickly made his way into our hearts and onto all of our swoony boys lists. Plus, he says things like this:
"Per your request and his, this is how it's going to be from now on. When I want to ask you to abandoned buildings or kiss those lips of yours or stare into your otherworldly eyes or imagine what you look like under all those baggy drab clothes you're always hiding in or ravish you on some grimy floor like I'm desperate to this very minute, I'll just bugger off on my Hippity Hop. Deal?"

The Girls:
Before we jump in and start talking about our heroine, we have to make a quick mention about how much we loved the appearances by mom and grandma throughout the story. Their presence was always known, almost always appreciated, and such a strong part of every inch of the story. We loved them both.
Now let's talk about Jude. She's a smart, artistic, daredevil who is lost in a mess of emotion and grief. We love her boy-boycotting ways and the fact that we could hear ourselves saying so many of the things that came out of her mouth. Like this:
"No hot guy should be allowed to have an English accent and drive a motorcycle. Not to mention wear the leather jacket or sport the cool shades. Hot guys should be forced into footie pajamas."
We loved watching her grow and being along for her adventure.

What We Think Will Happen Next:
We love that at the end of IGYtS Jandy gave us hope within all the storylines. It wasn't a 'too perfect tied up with bows ending', instead it gave us just the right amount of closure.We turned the last page knowing that the characters we had fallen in love with are going to be okay. A lot happened to each and every one of them, but we are confident that they are all on the road to their own happily-ever-afters.

Bottom Line:
I'll Give You the Sun is a story about loss, first love, broken hearts, and growing up. Its pages are filled will love, healing, laughter, and swoon. It is the kind of book you will want to shout about from the rooftops and read over and over again.

Verdict:
Rating Report
Cover
Characters
Plot
Writing
Swoon
Overall:
5
a Rafflecopter giveaway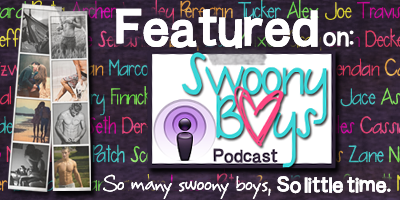 Related Posts