Where the Stars Still Shine
by
Trish Doller
Also by this author:
Something Like Normal
Published by
Bloomsbury USA Childrens
on September 24, 2013
Genres:
Contemporary
Pages:
308
Goodreads
Buy the Book
Stolen as a child from her large and loving family, and on the run with her mom for more than ten years, Callie has only the barest idea of what normal life might be like. She's never had a home, never gone to school, and has gotten most of her meals from laundromat vending machines. Her dreams are haunted by memories she'd like to forget completely. But when Callie's mom is finally arrested for kidnapping her, and Callie's real dad whisks her back to what would have been her life, in a small town in Florida, Callie must find a way to leave the past behind. She must learn to be part of a family. And she must believe that love--even with someone who seems an improbable choice--is more than just a possibility.

Trish Doller writes incredibly real teens, and this searing story of love, betrayal, and how not to lose your mind will resonate with readers who want their stories gritty and utterly true.
The 411:
Everything changes in an instant for Callie. She's thrown into a new life. A life she deserves, but never thought she'd have. The combination of a loving dad, a huge Greek family, and a real relationship seems too good to be true. The question is, what price will she pay to have everything she's always wanted?

What We Loved:
We read lots of book, and we love a lot of them too. But sometimes we come across something special. When that happens, we insist on telling everyone we meet how awesome that something is. That's how we felt about Something Like Normal by Trish Doller. It's been over a year since its release and we still think about Travis and Harper more than is probably healthy.
Immediately after reading SLN, we knew that whoever created those characters had to be pretty amazing and we weren't disappointed. She deals with our stalkerish ways, and our claiming of all of her boys (even those that haven't been written). Add that to the fact that she's got some mad writing skills and you've got the winning combination for one of the few authors on our "Drop Everything and Read" list.
We've been excited about WtSSS since she announced she was working on another book. Every detail that she's released only built our excitement and when Meg won a contest to be one of the first people to find out the boys name we could hardly contain ourselves. But that's where it got scary. We love SLN and Trish so much that we weren't sure anything could possibly live up to our expectations. We were wrong. With the release of Where the Stars Still Shine, she has proven that she's a force to be reckoned with.
So let's talk about all the things we loved.
The Characters– WtSSS has an awesome cast. It has all kinds of different characters coming together in some pretty awesome ways. They all have different back stories, different "issues", and even with only 304 pages, they are each given depth and purpose.
Pure contemporary– Lately it seems like there has been a lack of pure contemporary.  This is the genre that drew us to books when we were younger, and it's the genre that we believe still resonates with most young readers. The thing that we love about Trish Doller is that she joins the ranks of authors like Louise Rennison, Judy Blume, and Phylliss Reynolds Naylor, who write about real life issues. They take on things that others shy away from and face them head on. We wholeheartedly believe that this is one of the greatest things about books. Why? Because it teaches acceptance and empathy, it allows others in similar situations to see that there are solutions to problems, and that they aren't alone in their struggles. Trish Doller is that kind of writer and WtSSS is that kind of story. Callie isn't perfect, her family isn't perfect, there are lots of issues there. What we love is watching her rise above them. We think you'll enjoy it too.
Love story- It will come as no surprise to you that we love a good love story. One that's realistic, natural, and of course filled with LOTS OF KISSING. You get all of that here, and with ribbons of swoon to tie it all up.

Um...Not So Much:
So now you know everything we loved, so it's only fair that we share some of the things that we could have done without. Here they are:
There were a couple of "themes" in the story that we thought would have been a bigger deal. The difference in age between Alex and Callie, and her lack of education. We have a feeling that this might be a cultural thing or an exception under the special circumstances that has been Callie's life, and we're okay with that, but we would have liked to have seen both issues addressed just a tiny bit more.
The ending. We're not really lovers of open endings, and even more so when it comes to the romance portion. With that said, the way this one ended makes sense for the characters. That doesn't stop us from wishing it was different.
Lastly, and this one goes with the first point, there wasn't enough. We say that about a lot of things, but we really, really mean it here. We want more. We want to see a few years down the road. To see if things worked out the way we think they did. (Hear that Trish? *hint hint*)

The Boys:
Alexandros (Alex) Kosta. A beautiful name for a beautiful boy. First and foremost we'd like to know why this boy doesn't exist in real life. With a description like his, we're pretty sure he could provide world peace just by letting people run their fingers through his curls. We don't even think he'd mind. Because he's awesome.
He's not just pretty though. He's also extremely hard working, dedicated, and loyal. Plus, look at these words:
"I've been in a boat in the Gulf of Mexico for five days with another dude." He returns to the bed. "I've thought about this a lot."
and these…
"I have a feeling I'm not very good at being a girl."

He leans over and his scruffy face tickles my neck, making me squirm. His voice is low as he says, "You- are exceptionally good at being a girl."
So swoony! Lucky for us, and a shame for all of you, Trish humored Meg in her insistence that Alex belongs to her. She won't give up Travis (which we continue to ignore!), but we now have our own Greek god.

The Girls:
Somehow Trish Doller always finds a way to write girls that we can't help but love. The kind of girl that we just know we'd be friends with if they popped off the pages of their book. Callie is that kind of girl. She's not without her problems, and really who isn't? With her background it would have been easy to feel sorry for her, and there were times we did, not in a pitiful way, in a 'we just want to hug her' way. She's strong, smart, and real. She's got a refreshing "voice" and we found ourselves instantly attached to her.

Dream Cast:
So beautiful it makes your chest ache? Check. Great hair? Check. Eyes you could get lost in? Double Check. We're pretty sure we got this one right. Here's our Alex:

What We Think Will Happen Next:
We see Callie getting comfy with huge family dinners, tickle fights with her brothers, girls nights with Kat, lunches with her grandma, and quality time with her dad. We'd also like to think that eventually her mom sticks with the meds and the help that she needs. We're not sure on that one, but we can dream, right? Most importantly, we think that Alex and Callie get their happily-ever-after. It might not always be an easy go for them, but these two belong together. We might be wrong, but if we are we don't want to know.

Bottom Line:
Beautiful, real, and deliciously swoony. A cannot be missed sophomore novel.

Verdict:
Rating Report
Cover
Characters
Plot
Writing
Swoon
Overall:
5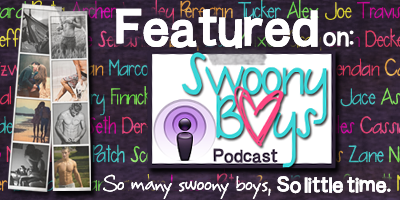 Related Posts