The Secret Life of a Dream Girl
by
Tracy Deebs
Series:
Creative HeArts #4
Also in this series:
Ten Things Sloane Hates About Tru
,
How Willa Got Her Groove Back
,
Crazy, Stupid, Fauxmance
Published by
Entangled: Crush
on June 27, 2016
Genres:
Contemporary
,
Romance
Pages:
219
Goodreads
Buy the Book
Disclaimer: This Entangled Teen Crush book contains adult language, references to drinking and drugs, and a kiss so steamy it'll fog up your ereader.

Hiding in plain sight is harder than it looks…

Dahlia Greene—aka international pop superstar Cherry—is undercover as a normal high school student. She just wants to experience what real life is like, so when she overhears hottie Keegan Matthews nervously talking about liking a girl, she sees the perfect opportunity to live a real life and play a little matchmaker. What was not part of the plan was falling for a guy she can never tell the truth.

Keegan Matthews has been secretly crushing on Dahlia ever since she started at his school. Sure, Dahlia thinks he's crushing on some other girl—not realizing his Dream Girl is actually her—but he figures, play along with her tips to woo someone else, let her get to know him, and then make his move. But with so many secrets in the mix, their romance is doomed from the start…
Okay, you might not know this about us but we ♥ Tracy Deebs. We especially love her alter-ego Tracy Wolff (or maybe Deebs is the alter-ego, we're not sure how these things work) because she consistently brings crazy hot characters with swoon and banter and fresh storylines. So we have to admit that we were most looking forward to this book in the Creative HeArts series. And it's our fave so far!
The 411:
International pop sensation Dahlia is undercover at NextGen Academy as a regular student (at a performing arts high school). Think Hannah Montana, here, but slightly less kooky and without Billy Ray. She's on a mission to take control of her own life and wants to get emancipated from her overbearing father/manager. She overhears hottie Keegan talking about a girl he's been crushing on and decides to help play matchmaker, not knowing she's the object of his affections. As the lines between Dahlia and Keegan blur, can they fess up to their secrets before they crash and burn?

What We Loved:
We really liked this book. We loved the quick pacing and the banter. We loved Keegan and thought he was such a sweetie.
"Okay, so as we were saying… You just walked Dream Girl to the door and she smiles up at you, bats her eyes a little." She does an exaggerated eyelash bat that is both ridiculous and incredibly endearing all at the same time. "What do you do?"

Her hair had fallen over her left eye and he reached up, smoothed it back so he could see her face. As he did, he brushed his palm against her cheek just to feel the softness of her skin.

"That's–" Her voice broke and she cleared her thraot a couple of times before continuing, "That's good. That's really good. Now you should tell me I'm beautiful. I mean, Dream Girl. You should tell Dream Girl that she's beautiful."

He cupped her cheek in his hand, ran his thumb gently over her full lower lip. "you're so beautiful." His voice ached with sincerity.

…

He waited for her next instructions, but they were more than a little slow in coming, so he finally asked, "Now what?"

She looked up at him with dazed eyes that had heat spreading through his whole body. She swallowed again, took a couple of deep, shaky breaths. And then whispered, "Now you kiss me."

"Just like that?"
::le sigh:: We love these two. We also loved having Finn (and the whole Creative HeArts gang) here. From the first moment we see Finn (which is early on), we were so excited. We don't know why we love him so much, but we can't get enough.
"Everyone will be so busy staring at me that they won't even notice you."

"Wow." I burst out laughing. "Arrogant much?"

"It's not arrogant if it's the truth. I'm Mia McCain's son. Right now, I'm the hottest ticket in this place."

Bottom Line:
Our favorite of the series, The Secret Life of a Dream Girl is a fast, fun read with characters you won't be able to get enough of.

Verdict:
Rating Report
Cover
Characters
Plot
Writing
Swoon
Overall:
4.5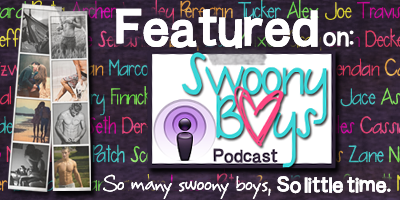 Related Posts