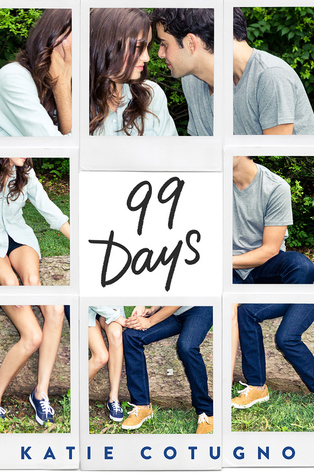 99 Days
by
Katie Cotugno
Also by this author:
How to Love
Published by
Balzer & Bray
on April 21, 2015
Genres:
Contemporary
Pages:
384
Goodreads
Buy the Book
Day 1: Julia Donnelly eggs my house my first night back in Star Lake, and that's how I know everyone still remembers everything—how I destroyed my relationship with Patrick the night everything happened with his brother, Gabe. How I wrecked their whole family. Now I'm serving out my summer like a jail sentence: Just ninety-nine days till I can leave for college, and be done.

Day 4: A nasty note on my windshield makes it clear Julia isn't finished. I'm expecting a fight when someone taps me on the shoulder, but it's just Gabe, home from college and actually happy to see me. "For what it's worth, Molly Barlow," he says, "I'm really glad you're back."

Day 12: Gabe got me to come to this party, and I'm actually having fun. I think he's about to kiss me—and that's when I see Patrick. My Patrick, who's supposed to be clear across the country. My Patrick, who's never going to forgive me.

***REVIEW***
The 411:
Seventeen year-old Molly Barlow is back home after running away from her problems and spending her senior year at a boarding school. She cheated on her long time boyfriend with his older brother and her own mom was the person who told the world about it. Now she has to spend the summer before college in a town where everyone hates her. At least, almost everyone.

What We Loved:
You guys already know that we have a ridiculous amount of love for How to Love and Sawyer LeGrande. I mean, he's in our header graphic. That says it all. As soon as we heard about 99 Days we already knew that we needed to get our hands on it as quickly as possible. Then the cover reveal happened and we became desperate to read this story. It's always a little scary when one of your favorite authors releases another book. You want so desperately to love it, but you're also scared that it won't live up to the hype you've built up in your head. We didn't need to worry about that here. Katie Cotugno has once again proven her genius. Let's talk about a few of the things that we loved the most:
Real Life Topics– There's a lot going on here. Broken parental relationships, first loves, friendship, cheating, slut-shaming, running away from your troubles, LGBTQ issues, and so much more. Teenage angst is real. And so much of it is shown in 99 Days.
The Writing– It's good. Like, really good. We've now realize that Katie Cotugno will never disappoints in this area. Her choice of words make for something beautiful. Her descriptions and set-up grab your attention. She keeps you turning page after page and unwilling to put down what you're reading.
The Characters- We'll talk more about these guys a little further down, but for now we'll just say this. They are real, complex, flawed…they are human. That's the way a book about teenagers should be.
The Romance– Oh, yeah. That's there too. We definitely found ourselves swooning, even when we weren't sure we should be. However, with everything that happens with these characters we also found myself on a very specific side of the divide for the entire book. Our opinion on that still hasn't wavered.
"For what it's worth, Molly Barlow," he says, "I'm really glad you're back."
****
This isn't a clean, easy, fluffy read. It's messy. There will be things you don't like and times you want to grab the characters and smack some sense into them. Underneath all of that, what we say was a raw kind of realness. We think the book world needs more of that. Needless to say, if you haven't already picked up a copy of this book, you need to put it on your to-do-list immediately.

Um...Not So Much:
There's only one big thing that should go here, and we can't even tell you what it is. Why? Because if we did it would be the biggest spoilers of all spoilers. We will say this though- you will know what it is when you read it. As much as we hate it, it's hard to be too mad because Molly is already hard enough on herself. But we still don't like it. At all. Was that vague enough? UGH!!!
Are there other things we could have done without? Sure. But again, we think that everything happened for a reason. The story that was set out to be told was told.
(Sidenote: If cheating is a hard limit for you, just know that it is a major theme in this book.)

The Boys:
This is a tough section for us. We have a clear favorite, but they both do things that made us mad. With that said, let's talk boys.
Patrick Donnelly–  He's Molly's first love and the guy whose heart she broke. We're not going to lie. We hate him. For lack of  a better word, he's a dick. Actually that's the perfect word. Did she hurt him? Sure. But the glimpses of him that we get from "before" didn't exactly make him any better. It felt like they thought they should be together because of how close they were, not because they really should be. We was manipulative and controlling and that part won't ever sit well with us. Basically, ew.
Gabe Donnelly– Gabe stole our heart starting with his very first scene. He's a bit of a black sheep within his family, and we're okay with that. Not only is he gorgeous, he is one of the smoothest-talking boys we've come across in a while. Exhibit A…
Gabe laughs. "'Cause I like you. I've always liked you, and now you're a social outcast, so I'm figuring you're free."
And Exhibit B…
"Is this a date? I mean, like, right now? You and me?"

"I don't know, Molly Barlow. Do you want it to be?"
The thing we like most about him is that he knows what he wants and has no problem admitting to that and going after it. Now don't get us wrong, this guys isn't perfect. There is a certain thing he says towards the end of the book that still irks us, but overall we just couldn't help falling for him. We feel your pain Molly. We really, really do.

The Girls:
Julia Donnelly– She's Patrick and Gabe's sister and one of Molly's former besties. Needless to say she doesn't handle what happens between Molly, Gabe, and Patrick very well. Who would? She has her own issues going on which also doesn't help the situation. She definitely does some unforgivable things, then she almost redeems herself, and then she goes right back to being awful. She's that character you love to hate. Although we might have hated her a bit more than we loved her.
Tess– Poor Tess. No seriously. We feel for this girl. When Molly returns to Star Lake, Tess is dating Patrick. Despite that, and despite what she's heard about Molly, she befriends her. Even when no one else seems to want to. Then that thing happens that we don't want to talk about because, spoilers, and well, yeah. Poor Tess.
Imogen– Molly hurt a lot of people when she up and ran away moved away. Out of everyone, we think it might have hurt Imogen the most. When everyone else turned their backs on her, Imogen was right there by her side. She feels betrayed and abandoned. When Molly returns to Star Like, Imogen is kind of slow to warm up. Who can blame her? By the end, they talk it out and Imogen is exactly the kind of friend we would want.
Molly– Oh, Molly Barlow. She drove us crazy. But for some reason, we can't help but feel for her. Were there times when she's incredibly selfish, indecisive, and self-centered? Definitely. But here's the thing, she's seventeen years old. We would love for you to introduce us to a seventeen year old who didn't act that way at least once at that age. That's real. She doesn't make the best choices, she runs away from her problems way more often than any person should, and so many of her problems are consequences of her own actions. That's a rough realization to come to. Add all of her friend and boy drama to the fact that she has a very broken relationship with her mom and you are bound to have a girl with some issues. Even when we disliked what she was doing, we couldn't stop feeling sorry for her.
"I didn't know how to let you go."

Dream Cast:
We thought about dream-casting both Patrick and Gabe, but in the end we decided to just go with the one who made us swoon. Otherwise we might have let our emotions get in the way and you would have ended up with Peter Pettigrew as Patrick. Anyway here's our Gabe…

What We Think Will Happen Next:
This is tough. We know what we want to see happen, we know who we'd like to see end up with a happily-ever-after, we're just not sure if it will work out. In our minds, although they have a long road of healing and a lot of family issues to work through, these two will figure it out and keep it together. The biggest thing they need to conquer is communication. Everything else will fall into place.

Bottom Line:
If you are looking for a contemporary read that you won't want to put down, one that will put you through a wringer of emotions, and one that will have you begging for more from it's amazing author, then 99 Days should be at the top of your list.

Verdict:
Rating Report
Cover
Characters
Plot
Writing
Swoon
Overall:
4.5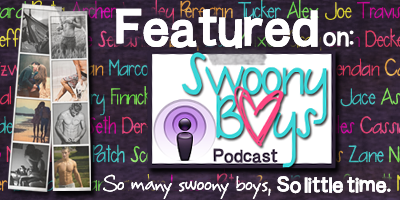 Related Posts