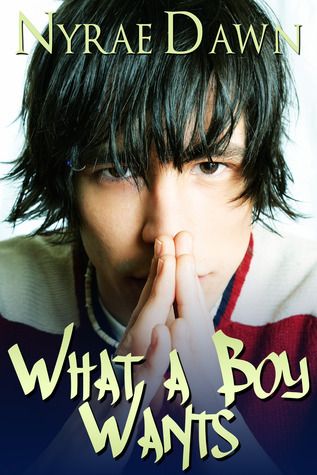 What a Boy Wants
by
Nyrae Dawn
Also by this author:
Façade
Series:
What a Boy Wants
Published by
Self-Published
on April 6, 2012
Genres:
Contemporary
Pages:
248
Goodreads
Buy the Book
Courtesy of watching his mom's relationships, Sebastian Hawkins knows what girls need to do to get a guy. He has what he considers a PHD in hooking up. When he needs extra cash for a car, Sebastian starts up an online venture as The Hook-up Doctor, to anonymously help girls land the guy of their dreams. Of course, his services don't offer a happily-ever-after guarantee. He's seen firsthand getting together never means staying together.

And then he falls in love…

With the last girl he would expect…

Totally not in his game plan.

Suddenly, Sebastian finds himself muddled in the game he's always prided himself on. He can't even pick up girls at parties anymore! Why would anyone want to be in love when it turns you into a stuttering, screwed-up, mess with really lame stalker tendencies? Stalking? Totally not his gig.

But the Hook-up Doctor won't let himself go down easily. He's always known how to give a girl what she wants and now it's time to figure out what a boy wants… and he definitely plans on getting it.
The 411:
A few years ago, we were browsing on Amazon and stumbled across this little gem for only 99 cents and thought what the heck? It's only 99 cents!, so we grabbed it and started reading.
If this book were a full price $17.99 hardcover, we would still tell you guys to run out and get it. Right now. We loved this book!

What We Loved:
We love best friends to more stories, and though you already know what's going to happen, we really liked the twists and turns that we take to get there. We like the journey that Sebastian takes as a character, and we love everyone else, too. The other characters are awesome; he's been friends with Aspen, Jaden, and Pris forever. They rely on each other and we love their dynamic.
The thing we love most about this book is that it's so real. We also love that even though there is a minimal amount of angst, there's fluffy sweetness that made us want more, more, more!

The Boys:
Sebastian Hawkins. We ♥ Sebastian! His voice is authentic.
Everyone at my table turned to look and I realized my mistake. Pris and Aspen hadn't seen the guys eyeing them and now they obviously did. I mean, I knew I was the shit, but that didn't mean I wanted to introduce Aspen to anyone who might be my competition. Not that they really would be my competition anyway.
He deals with real-life stuff, tries to be a good friend, and is a good son to his single mother. We love that he's sweet and swoony.
"Who would have thought pillow hair could be so sexy? I don't know if I want to kiss you, or hand you a brush."

Her mouth tilted up into a smile. I couldn't help but return it. "You're such a nutcase." She tossed a pillow at me, but I grabbed her hand when she swung, pulling her toward me.

"Definitely kiss you."
When he screws up, he really screws up.

Bottom Line:
You really can't go wrong with this fun, romantic story. We cannot tell you how much we loved this book, and we think you will love it, too.

Verdict:
Rating Report
Cover
Characters
Plot
Writing
Swoon
Overall:
4.5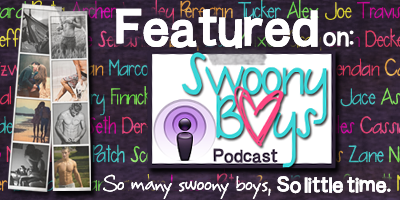 Related Posts