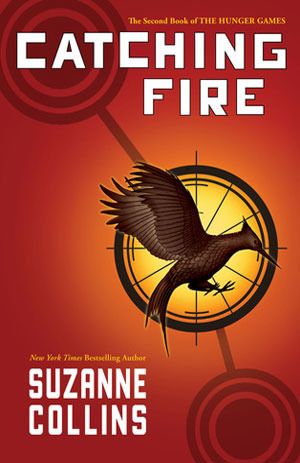 Catching Fire
by
Suzanne Collins
Also by this author:
The Hunger Games
Series:
The Hunger Games #2
Also in this series:
The Hunger Games
Published by
Scholastic Press
on September 1, 2009
Genres:
Dystopian
Pages:
400
Goodreads
Buy the Book
Sparks are igniting. Flames are spreading. And the Capitol wants revenge. Against all odds, Katniss has won the Hunger Games. She and fellow District 12 tribute Peeta Mellark are miraculously still alive. Katniss should be relieved, happy even. After all, she has returned to her family and her longtime friend, Gale. Yet nothing is the way Katniss wishes it to be. Gale holds her at an icy distance. Peeta has turned his back on her completely. And there are whispers of a rebellion against the Capitol - a rebellion that Katniss and Peeta may have helped create. Much to her shock, Katniss has fueled an unrest she's afraid she cannot stop. And what scares her even more is that she's not entirely convinced she should try. As time draws near for Katniss and Peeta to visit the districts on the Capitol's cruel Victory Tour, the stakes are higher than ever. If they can't prove, without a shadow of a doubt, that they are lost in their love for each other, the consequences will be horrifying. In Catching Fire, the second novel in the Hunger Games trilogy, Suzanne Collins continues the story of Katniss Everdeen, testing her more than ever before...and surprising readers at every turn.(
The 411:
At the beginning of Catching Fire, Katniss is still recovering from the events of The Hunger Games. She and Peeta are back home in District 12 after their win, but everything has changed. When the time comes for the Victory Tour, Katniss knows that to protect everyone she loves she and Peeta will have to convince everyone that they are still madly in love. The games are supposed to be behind them, but in reality they are only just beginning.

What We Loved:
We have to start this review off by saying that we read all three books in the series together after Mockingjay was released. So while, the ending of Catching Fire made us instantly grab for MJ, we didn't have the excruciating wait like many of you. That may or may not have affected our thoughts.
Catching Fire is, without a doubt, our favorite in the series. We got more of all of our favorite things from The Hunger Games. More Peeta, more Katniss, more Haymitch, more Effie, and more Cinna. But there is a lot of new to enjoy too. The cast of characters that we are introduced to here are even better than before. We found ourselves wanting to know everything about them, and picking out our favorites right along with Katniss and Peeta.
The world-building is once again a work of art. During the Victory Tour we get so see more of Panem and the districts, which we loved. But it was the arena that really got to us. Suzanne Collins' once again shows off her genius. Very few authors could reuse a similar plot device from a first book and make it feel completely new, and surprisingly terrifying, in a sophomore novel.
The other thing that we have to mention (because who would we be if we didn't?) is the romance. While we didn't like that the "triangle" was made a little more obvious, we did appreciate how it was done. We were treated to some amazingly swoony lines, and some kissing scenes that we could read over and over.

Um...Not So Much:
Catching Fire was able to avoid most of the pitfalls that middle books in a series sometimes experience. A lot of the things we complained about in our review of The Hunger Games had even disappeared. With that said, there were still something that we just didn't like.
Our problem is Gale. That's a little harsh, but he was the root of the problem. It's no secret that we aren't fans of love triangles, and the one here is certainly no exception. What bothered us most is that Katniss wasn't real with herself. She was so set on not being with anyone, of not even surviving, that she couldn't even see what was in front of her. There were 'ah-hah' moments for everyone else. Things that they saw that let them know how she really felt about Peeta, and even about Gale. But she just didn't get it. At least until the end, and then it was too late. We really wish she would have seen it sooner.

The Boys:
We told you a lot about our Peeta love in our review of The Hunger Games, but after reading Catching Fire our Peeta love grew exponentially. He was sweeter, stronger, bolder, smarter, and of course swoonier.
Just look at this:
So I only say, "So what should we do with our last few days?"

"I just want to spend every possible minute of the rest of my life with you," Peeta replies.
and this…
By late afternoon I lie with my head in Peeta's lap making a crown of flowers while he fiddles with my hair claiming he is practicing knots. After a while his hands go still.

"What?" I ask.

"I wish I could freeze this moment, right here, right now, and live in it forever," he says.

Usually this sort of comment, the kind that hints his undying love for me, makes me feel guilty and awful. But I'm so relaxed and beyond worrying about a future I'll never have, I just let the word slip out.

"Okay," I say.

I can hear the smile in his voice. "Then you'll allow it?"

"I'll allow it."
Is there anything better than that? The answer is- no.
We would be absolutely crazy if we didn't talk about Finnick here. Who doesn't love FInnick Odair? How could you not? He's gorgeous, smart, and a perfect blend of sweet and deadly. We love him so much that it's hard to put into words all the things that we think make him amazing. What else needs to be said except this:
"Sugar cube?"
Then there's Gale. We make no secret about the fact that we don't have anything nice to say about him. So instead, we asked our friend MJ from Steamy Guys After Dark to tell us about her love for Gale. Here is what she had to say:
I choose Gale for Katniss, although the series wasn't about the love triangle for me. With Gale, she's so much more herself; she's more passionate and open; and she doesn't ever feel obligated to protect or coddle him. I felt they were equals and their times together gave me that little quiver in my belly that I don't get often!
The best quote from Catching Fire that encompasses my thoughts on Gale/Katniss is:
"Gale is mine. I am his. Anything else is unthinkable."
Lastly, we have to mention Haymitch. In The Hunger Games we loved to hate him. But in Catching Fire we were introduced to the many layers that make him up. He is so much more than the angry drunk that you first couldn't help but feel something for. Plus, he says things like this:
"They'll still be one hundred percent as stupid as usual, so I figure my odds will be roughly the same."
and this…
"So it's you and a syringe against the Capitol? See, this is why no one lets you make the plans."
Catching Fire is filled with swoony boys! There's one for everyone. Just remember, Peeta is ours.

The Girls:
Katniss is back, and better than ever. Throughout The Hunger Games there was very little character growth for our heroine. There wasn't a need for it. She was who she was, and that got her through. But in Catching Fire she goes from broken and angry, to something so much more. Just when we thought we had seen all of her layers, we got more.
When it came to the boys, we didn't always agree with her actions, but when she had a moment of clarity we couldn't help the smiles on our faces.
"I don't want you forgetting how different our circumstances are. If you die, and I live, there's no life for me at all back in District Twelve. You're my whole life." Peeta says. "I would never be happy again. It's different for you. I'm not saying it wouldn't be hard. But there are other people who'd make your life worth living."

"No one really needs me," he says, and there's no self pity in his voice. It's true his family doesn't need him. They will mourn him, as will a handful of friends. But they will get on…. I realize only one person will be damaged beyond repair if Peeta dies. Me.

"I do," I say. "I need you."
Even with the "boy drama", she's still the fierce strong competitor that we all fell in love with in the first book. Her attitude and sass are perfectly intact, and we get amazingly strong lines like this:
"At some point, you have to stop running and turn around and face whoever wants you dead.The hard thing is finding the courage to do it."
Then there's our other favorite girl of Catching Fire. You don't get a lot of her, or at least not as much as we wish you did. But Johanna Mason is definitely a standout character for us. She's tough like Katniss, and filled with the same amount of crazy layers.
Just look at this:
"They can't hurt me. I'm not like the rest of you. There's no one left I love."
We weren't always sure about her, but lines like this solidified our love for her.

Dream Cast:
We don't always love casting done for movies, and we aren't going to lie and say we loved this from day one. But after seeing the movies it became very clear that Josh Hutcherson is Peeta. He just is.
We're skipping the Gale casting this time, but you can still see him here. Instead we're going to talk Finnick. Here the movie casting. What do you think? Is Sam Claflin your Finnick? We can't wait to see him bring one of our favorites to life.

What We Think Will Happen Next:
Like we said at the end of The Hunger Games review, we are writing these after finishing the series so we can't really say much. But we will say this. Thank goodness we waited until after these were complete. The end of Catching Fire would have left us kicking and screaming during the wait! (See our Mockingjay review here!)

Bottom Line:
Within the pages of Catching Fire you will find acts of courage, oppressed people finding their voices, and a captivating romance. Our favorite in the series.

Verdict:
Rating Report
Cover
Characters
Plot
Writing
Swoon
Overall:
5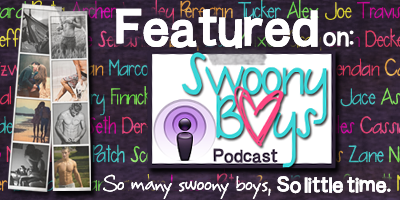 Related Posts