Daisy and the Front Man
by
Rebekah L. Purdy
Series:
Backstage Pass #3
Also in this series:
Aimee and the Heartthrob
,
Mia and the Bad Boy
,
Anya and the Shy Guy
,
Abby and the Cute One
Published by
Entangled: Crush
on June 16, 2015
Genres:
Contemporary
,
Romance
Pages:
290
Goodreads
Buy the Book
Hell hath no fury like a fangirl scorned…

When Daisy Morris finds out she's spending the summer with her dad, bodyguard for Seconds to Juliet—the hottest boy band around—she knows it couldn't be more perfect. But not because she's a fan. Oh, no. Because ever since front man Trevin Jacobs completely humiliated her by standing her up for homecoming, Daisy is out for a little revenge. Yup, Trevin Jacobs is goin' down...

When one of his bandmates bets Trevin he can't make Daisy—the gorgeous but surprisingly ice-cold daughter of their bodyguard—fall in love with him, it's a bet he can't resist. Sure, Daisy won't give him the time of day for reasons he can't understand, and her dad's hell-bent against his little girl spending time with a superstar. But the terms are set, and Trevin is determined to make Daisy fall…hard.

But every front man should know never to trust a girl with a pretty face…

This Entangled Teen Crush book contains adult language, sexual situations, and seriously hot boys. It may cause swoony daydreams involving a certain super-cute front man.
Okay, so every one who knows us knows Kassiah's favorite fic of all time has to do with a bet. So of course, when we found out that Daisy and the Front Man was going to be about a bet and have characters who have a history, we couldn't wait to get our hands on it.
The 411:
Lead singer Trevin Jacobs makes a bet with his bandmates that he'll get their bodyguard's daughter, Daisy, to fall in love with him. She won't give him the time of day because he stood her up for homecoming, humiliating her in the process.  There were circumstances we don't know about at first that caused that, but whatever.

What We Loved:
We liked this storyline and we liked these characters.  We loved the interaction they had with the other members of the band.

Um...Not So Much:
Daisy and Trevin had some chemistry, and even though it was told in third person, it was hard to tell when things were real because they were both playing games. We will say that we felt that both of them experienced more growth as characters than the previous two books, but this one wasn't our favorite, like we thought it would be. We guess no one else can be Scotchward (or Ginsper, for that matter), so we need to not make the comparison because really there was none.

Bottom Line:
A sweet story featuring one of our favorite bands (*grin*), YA lovers should definitely check out this series.

Verdict:
Rating Report
Cover
Characters
Plot
Writing
Swoon
Overall:
3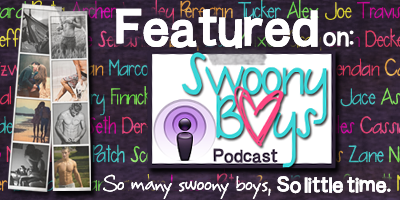 Related Posts