For some reason we just couldn't get our schedules to align this month, but we love the topic so much that we couldn't just not do it, so we came up with something a little different this time! Are you ready to talk about the "Boys We Want to Be Stranded on a Deserted Island With?"
Erin: Josh Bennett (The Sea of Tranquility by Katja Millay) – First, he is spreadsheet official so I have to bring him. Second, the boy can build just about anything so I'm positive that I'll be needing him on my island for that… plus the swoons you know. Definitely the swoons.
Cassidy Somers (What I Thought Was True by Huntley Fitzpatrick) – He is a strong swimmer and can probably fish – he grew up on the coast and even though I don't eat fish, I would still want him there…eventually I might cave.
Daniel Sheridan (the Something Strange & Deadly Series by Susan Dennard) – Daniel is an inventor and his creativity might be an added bonus on the island.
Kass, who is on your list?
Kassiah: Hmmm I think I'm going to go with Four (the Divergent Series by Veronica Roth), Perry and Roar–they count as one, right? (the Under the Never Sky Series by Veronica Rossi), and maybe Noah (Locked by Parker Witter). None of them are spreadsheet official for me, but I feel like they'd be my best chances at survival (and entertainment). Okay, Jaime! Who made the list for you?
Jaime: I have to go with TJ (On The Island by Tracey Garvis-Graves), Matt Finch (Open Road Summer by Emery Lord) and D'arcy Benoit (Plus One by Elizabeth Fama) — all super swoony and TJ has the stranded on an island thing covered, Matt Finch can entertain us with singing and guitar playing, and D'arcy is the perfect addition with his medical training!!
Meg, who are you taking to the "Island" with you?
Meg: I have to go with Four (the Divergent Series by Veronica Roth), Perry (the Under the Never Sky Series by Veronica Rossi), and Darrow (Red Rising by Pierce Brown). These guys have the skills, the protectiveness, the swooniness, and the ability to not only help me survive, but to also keep me calm. What more could you ask for?
★ ★ ★
Erin: Okay, so we've covered the boys, but if you were lucky enough to get to pick the supplies you were stranded with what 5 things would you take with you?
Kassiah: I would bring Erin, Jaime, Meg, Tony Chachere's, and nutella. Because…obvs.
Meg: Sunscreen, Tampons, Shampoo, Firestarter, Machete. I am pretty sure that all of my items are pretty self explanatory. Since I'd already have the swoony boy with me, I didn't add him to the list, but he's definitely an essential. Plus between the books Jaime is packing and the other super smart things Erin and Kass will have we will be set. Wait… we will all be stranded together right? RIGHT?
Jaime: Wow, you are bringing handy things…I hope we're all stranded together because then I can use all your things and instead bring us a copy of The Sea of Tranquility by , a copy of My Life Next Door by Huntley Fitzpatrick, a copy of The Sky Is Everywhere by , a Copy of Boomerang by , and a copy of Isla and The Happily Ever After by … we'll be so busy reading amazing things that no one will care that we're stranded!
Erin: Ok, so I would bring sunscreen, soap, first aid kit, a blanket, and a leatherman…all very practical and considering Jaime is bringing the books, I think we are set if we all get stranded somewhere.
★ ★ ★
Kassiah: So now we've got the boys and the supplies, but where would you want to be stranded?
Jaime: Greece? I mean, the water… the weather… the views!! Yeah, I think definitely Greece!
Meg: Oh, man. I wouldn't really want to be someplace cold. Or someplace hot. Or someplace wet. Is Disney World an option? No? Damn. I'll get back to you…
Erin: I echo Jaime's vote for Greece but every time I find pictures of the Maldives and I could probably make it work.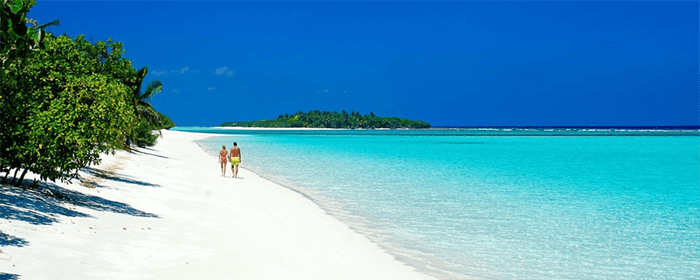 Kassiah: I mean, it's going to be some place beautiful and tropical, right? As long as we're together, then I'm fine.
★ ★ ★
Jaime: So we've got supplies, boys, and location, but here's the real question. How long do you think you'd last playing survivor?
Meg: 1 day. hahaha. Okay, if I had everything above and I was roughing it with a swoony boy I could totally tough it out. But that doesn't mean I would like it.
Erin: not long at all….though I would definitely be motivated to stay especially if I am on the beach above and have all my boys with me.
Kassiah: I would totally last the longest. ::flexes guns::
Jaime: I like to think that I will probably last at least a week… I mean with all my books I'm bringing, all the supplies you girls are bringing and the swoony boys? I'll probably be occupied and not mind at all for at least that long!
Thanks for stopping by today! We will be back later this month with out next Book Bangin' podcast. Between now and then we have TONS of things going on, both on Swoony Boys Podcast and Fiction Fare, so make sure you check everything out! See you next time! ♥
Related Posts