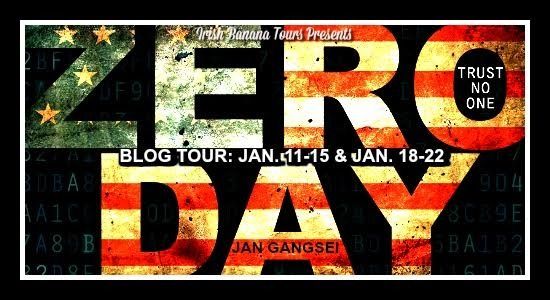 Welcome to Swoony Boys Podcast! This is our stop on the Zero Day Tour hosted by The Irish Banana . We have an awesome character interview and giveaway to share with you today and we can't wait for you to get to know more about this book, its characters and author, Jan Gangsei! Ready to go?
*****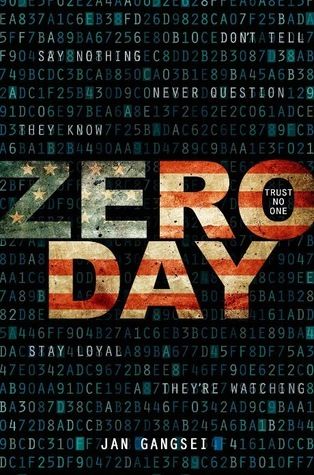 Zero Day
by
Jan Gangsei
Published by
Disney-Hyperion
on January 12th, 2016
Genres:
Mystery
,
Thriller
Pages:
368
Goodreads
Buy the Book
Eight years ago, Addie Webster was the victim of the most notorious kidnapping case of the decade. Addie vanished—and her high-profile parents were forced to move on.

Mark Webster is now president of the United States, fighting to keep the oval office after a tumultuous first term. Then, the unthinkable happens: the president's daughter resurfaces. Addie is brought back into her family's fold, but who is this sixteen-year-old girl with a quiet, burning intelligence now living in the White House? There are those in the president's political circle who find her timely return suspicious.

When the NSA approaches Darrow Fergusson, Addie's childhood best friend and the son of the president's chief of staff, he doesn't know what to think. How could this slip of a girl be a threat to national security? But at the risk of having his own secrets exposed by the powerful government agency, Darrow agrees to spy on Addie.

It soon becomes apparent that Addie is much more than the traumatized victim of a sick political fringe group. Addie has come with a mission. Will she choose to complete it? And what will happen if she does?
***Character Interview***
Thanks for joining us, Darrow! We are so excited for our readers to get to know you a little better today. We promise to try and go easy on you, let's get started…
What was running through your head the first time you saw Addie again after eight years?
Oh, wow. So many things—relief, fear, happiness, worry. And of course, she took my breath away the moment I saw her—she was so beautiful, yet so haunted at the same time. I just wanted to scoop her up in my arms and never let go.
So much about you is a mystery, both to the reader and to Addie. Is there anything about you that you think is misunderstood and you'd like to clear up?
That's a tough one. I'm sure it was difficult for Addie to understand some of my choices—my relationship with Elinor, the fact that I spied on her. But none of those decisions came from a place of malice. Elinor and I were friends, and eventually we bonded over the empty space that Addie left behind. I think we'll always have a connection. And I almost felt like I had no choice but to spy on Addie—not because someone was making me, but because I needed to know the truth. I knew I couldn't live with myself if anything happened to her again.
If Addie had to describe you in three words, what do you think those three words would be?
I hope they'd be: loyal, brave and trustworthy.
What did you find most difficult about spying on Addie for the NSA?
This feeling that I was betraying her. I'd spent so many years blaming myself for her disappearance, that it was hard not to feel guilty.

Also, just trying to spy on Addie wasn't easy, period! She's smart and definitely not easily fooled, (something I've known since we were kids—seriously, don't ever challenge her to a game of any sort unless you're prepared to lose.)
Do you think Jan is going to give us another book and more of your story? (Please say yes!)
Sorry, this is where I'm going to have to get all dark and mysterious… but let's just say, I definitely wouldn't mind sharing more of my story!
***The Swoony 5***
(These are the five questions we ask all our swoony boys!)
Boxers or Briefs? (We know it's cliche', but that doesn't mean we don't want to know!)
Boxer briefs. The best of both worlds.
Do you think you're a good kisser? What's the best kiss you've ever had?
Well, I'd like to think so. Should I demonstrate? Ha, just kidding. Okay… the best kiss I've ever had? No question, up against the wall with Addie in Harper's studio, whoa… (Though in a lot of respects, that might qualify as the worst, too… Might have to get back to you on this. Do future kisses count?)
What's your favorite book?
The Absolute True Story of A Part-Time Indian by Sherman Alexie. Even though I know I look the part, I can totally identify with the feeling of not fitting in somewhere.
If Addie wanted to make you breakfast in bed, what would you want on the menu?
Wait, Addie's making me breakfast in bed? Well then, I'm not really all that interested in breakfast… (Sorry, am I allowed to say that?). Okay then, pancakes. With real maple syrup and bacon on the side. And fresh strawberries. And a gallon of orange juice, too. (And thanks for that, because now I'm hungry!)
Okay, last question. Since we're all about the swoon here at Swoony Boys Podcast, we have to ask. What do you think makes you swoony?
The Versace tux, obviously. Kidding. (I thought you said these were supposed to be easy questions!) Am I swoony? Can't say I've thought much about it. I've always considered myself more of a slow burn, grow-on-you sort of guy (that will take a bullet for you if need be, of course). But hey, if that's swoony, who am I to complain…? *flexes bicep and winks*

And on that note, thank you so much for having me today here at the Swoony Boys Podcast! It's been awesome (and I'm off to find myself some pancakes now…)!
♥♥♥
***About Jan Gangsei***
Jan Gangsei grew up in small-town Vermont, reading Nancy Drew mysteries, putting on backyard shows with her best friend and dreaming about exploring the world. After college, she landed a job as a newspaper reporter covering politics and the police beat, and was astonished to discover she could actually get paid to write and tell stories. Since then, she's lived in Key West, New York City, DC and Barbados. She's now settled with her family in northern Virginia, where she writes full time with a cup of hazelnut coffee in one hand and a Jack Russell terrier named Watson curled under her legs. Her debut young adult novel, ZERO DAY, publishes with Disney-Hyperion in January, 2016.
Some random facts about Jan:
Soon after she learned to walk she was stuck on a pair of skis (Vermont law), which she promptly removed and watched as they slid down the mountain solo — likely explaining her future love of physics (and staying safely in the lodge).
She's a graduate of the DIA's attache program for spouses, where she learned how to properly set a table, wear an evening gown, and disable an attacker with a few well-placed kicks. She suggests you don't ever sneak up on her in a dark alley, especially if she's wearing heels.
She has tons of favorite authors, but some of her biggest influences growing up include: Judy Blume, Margaret Atwood, Edith Wharton and Kurt Vonnegut. (Also, whoever wrote the copy for the back of her Cheerios box, which she's pretty sure she'd memorized by third grade.)
She loves meeting new people, and interacting with other readers and writers. Drop her a note and say hello here or on Twitter!
Find Jan Here:
Facebook | Website | Twitter | Goodreads
***GIVEAWAY***
3 Lucky Winners Will Receive A Finished Copy Of Zero Day
Open to US residents only
a Rafflecopter giveaway
Good luck and happy swooning!
Check out the other stops on the tour by below:
Week 1:
Week 2
Related Posts