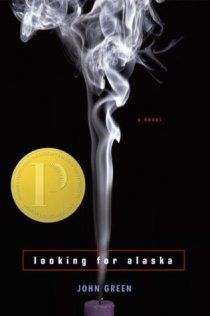 Looking for Alaska
by
John Green
Published by
Dutton Juvenile
on March 3, 2005
Genres:
Contemporary
Pages:
221
Goodreads
Buy the Book
First prank
First friend
First girl
Last words

Before. Miles "Pudge" Halter's whole existence has been one big nonevent, and his obsession with famous last words has only made him crave the "Great Perhaps" (François Rabelais, poet) even more. Then he heads off to the sometimes crazy, possibly unstable, and anything-but-boring world of Culver Creek Boarding School, and his life becomes the opposite of safe. Because down the hall is Alaska Young. The gorgeous, clever, funny, sexy, self-destructive, screwed-up, and utterly fascinating Alaska Young, who is an event unto herself. She pulls Pudge into her world, launches him into the Great Perhaps, and steals his heart.

After. Nothing is ever the same.
The 411:
Miles Halter doesn't really fit in with any of the kids at school and begs his parents to let him go to away to his father's alma mater in Alabama. His parents are reluctant to let him go, especially his mother. After throwing him a going away party that only two of his classmates briefly attend, his mother asks him if that's why he wants to go to go to boarding school.
"Francois Rabelais. He was this poet. And his last words were 'I go to seek a Great Perhaps.' That's why I'm going. So I don't have to wait until I die to starting seeing a Great Perhaps."
So, they let Miles go. At school, he gets friends, including his roommate, the Colonel, who nicknames him "Pudge" (because he's skinny), and the girl who changes his life: Alaska Young.
…I barely heard him because the hottest girl in all of human history was standing before me in cutoff jeans and a peach tank top. And she was talking over the Colonel, talking loud and fast.
A lot of stuff happens. There's drinking and smoking and a weird blow job and holding hands under the covers and making out and a boy who truly finds himself and realizes maybe the destination wasn't quite as important as the journey. And that's really what this book is about–the journey.
Also, there's a mysterious countdown that marks the time: one hundred and twenty-six days before, eighty-four days before, two days before, and so on. You don't know what it's counting down to–just that it's something and that it is huge. If you don't already know what this is counting down to, don't look! It's mysterious for a reason. That's all we can say about that.

What We Loved:
It's authentic. The words, thoughts, and experiences that shape Miles and his friends into the people they become seem so real. The words. The way John Green describes things. It's magic and is just one of the many reasons at least one of us is slightly obsessed with him.
And now is as good a time as any to say that she was beautiful. In the dark beside me, she smelled of sweat and sunshine and vanilla, and on that thin-mooned night I could see little more than her silhouette except for when she smoked, when the burning cherry of the cigarette washed her face in pale red light. But even in the dark, I could see her eyes–fierce emeralds. She had the kind of eyes that predisposed you to supporting her every endeavor. And not just beautiful, but hot, too, with her breasts straining against her tight tank top, her curved legs swinging back and forth beneath the swing, flip-flops dangling from her electric-blue-painted toes. It was right then, between when I asked about the labyrinth and when she answered me, that I realized the importance of curves, of the thousand places where girls' bodies ease from one place to another, from arc of the foot to ankle to calf, form calf to hip to waist to breast to neck to ski-slope nose to forehead to shoulder to the concave arch of the back to the butt to the etc. I'd noticed curves before, of course, but I had never quite apprehended their significance.
It's as hilarious as it is real. Here are a few of our favorite quotes:
I wouldn't have cared if my girlfriend was a Jaguar-driving Cyclops with a beard–I'd have been grateful just to have someone to make out with.
If there's one thing I know, it's when I've just stepped in another man's piss.
"So Friday? Do you have plans for Friday?" And then I laughed, because the Colonel and I didn't have plans for this Friday, or for any other Friday for the rest of our lives.
There are times when it is appropriate, even preferable, to get an erection when someone's face is in close proximity to your penis.

This was not one of those times.

Um...Not So Much:
This is the only time in the history of forever that you'll hear us say this, but this story was wrapped up a little too nicely.  There's some information that Miles finds out in the end that we honestly wish he hadn't.  Other than that, this book is perfection.

The Boys:
Miles.  We loved the realistic way he felt about everything and the way it went down–before, during, and after.  Most of us have been there, right?  Pining for someone or something we can't have?  Searching for "real friends and a more-than-minor life."  We can't tell you how much we loved this boy and his courage and how he grew as a person.  We just loved him.
His friends, the Colonel and Takumi were very important characters–to the story and to Miles's experiences. We pretty much loved them, too.

The Girls:
Alaska. This enigmatic girl is amazing and awful and everything in between. Eternally almost-but-not-quite unattainable, she represents so much for Pudge. And for us. Regardless of what we think of her, what really matters is how Pudge felt.
From a hundred miles an hour to asleep in a nanosecond. I wanted so badly to lie down next to her on the couch, to wrap my arms around her and sleep. Not fuck, like in those movies. Not even have sex. Just sleep together, in the most innocent sense of the phrase. But I lacked the courage and she had a a boyfriend and I was gawky and she was gorgeous and I was hopelessly boring and she was endlessly fascinating. So I walked back to my room and collapsed on the bottom bunk, thinking that if people were rain, I was drizzle and she was a hurricane.
Even though she's a crazy whirlwind that completely changes Pudge's life, she knows things.
"Don't you know who you love, Pudge? You love the girl who makes you laugh and shows you porn and drinks wine with you. You don't love the crazy, sullen bitch."

And there was something to that, truth be told.
Lara. Lara is a girl that Pudge dates (and does other stuff with). We liked her, but she was no Alaska Young. Then again, who is?

Dream Cast:
We think tall, lanky Andrew Garfield makes a perfect Pudge.

Bottom Line:
Looking for Alaska embodies the spirit of a teen-angst-filled caterpillar that culminates of into a true coming-of-age butterfly, spreading its wings and flying directly into the heart of everyone who crosses its path.  With it's heart-wrenching authenticity, we promise that you'll be a changed person after reading.
We think that we are invincible because we are.

Verdict:
Rating Report
Cover
Characters
Plot
Writing
Swoon
Overall:
5
***GIVEAWAY***
We've got a very special World Book Night Edition of Looking for Alaska to giveaway!
a Rafflecopter giveaway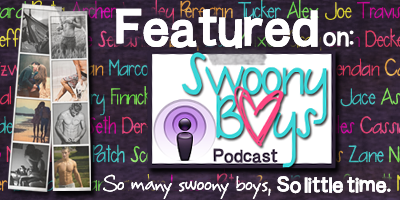 Related Posts