How Willa Got Her Groove Back
by
Emily McKay
Series:
Creative HeArts #2
Also in this series:
Ten Things Sloane Hates About Tru
,
Crazy, Stupid, Fauxmance
,
The Secret Life of a Dream Girl
Published by
Entangled: Crush
on February 22, 2016
Genres:
Contemporary
Pages:
258
Goodreads
Buy the Book
When your life feels like a bad movie, rewrite the script.

When Willa Schofer's father comes home from a business trip with an über-famous new fiancée, Willa's senior year blows up in paparazzi-fueled flames. Overnight, she has a new house, a new car, and a new soon-to-be stepbrother—the unbelievably hot, unbelievably arrogant, Finn McCain. Thank god he's constantly pushing her buttons, or she might do something irresponsible. Like fall for the jerk.

Just when Willa's decided to avoid him for, oh, ever, Finn lands in the center of her senior project team. Seriously—how hard is it to shake a guy? At least her work on the project snagged the attention of the (second) hottest guy in school. He might only be into her because of her famous stepmom, and he's not quite as exciting as a certain annoying housemate, but at least she's allowed to crush on the guy.

Because crushing on your annoying stepbrother? So not cool.
One of our favorite books has a similar storyline (falling for your future step-brother), so we were pretty dang excited to see this Entangled Crush book, How Willa Got Her Groove Back. Despite the icky title.
The 411:
Willa is shocked to find out that not only is her dad dating, he's planning to marry one of the most famous actresses in Hollywood. Her new family comes complete with a brand new stepbrother: the crazy hot, though arrogant, Finn McCain. Despite their initial dislike for each other, they can't help the sparks that are flying between them.

What We Loved:
This was a cute, fast read, if not a bit juvenile. We don't know if it's because we've been reading more New Adult than Young Adult, so everything seems that way to us. We wanted more swoon and more …something for sure.
We ♥ Finn. He can easily be a favorite book boyfriend in the upcoming books in the series, for sure.
As far as Willa goes, she was kinda bratty to us, but geez. We totally get it. We definitely think Willa was handling all the crazy changes in her life better than we would be able to.
It was pretty cool to get to see Tru and Sloane from Ten Things Sloane Hates About Tru here.

Um...Not So Much:
We didn't like Willa's dad, or his fiancée, and Her dad was a jerk, and we're not a fans of his for sure.
This is supposed to be a sort of retelling of Pride and Prejudice, but we didn't really see that at all. *shrugs* This is also a series, and unlike most contemporary series, this is not a standalone story. You will have to read the next book to find out what's going to happen with Finn and Willa. We wish we had waited until that was released to read this one.

Bottom Line:
With an interesting storyline and characters that we could love, How Willa Got Her Groove Back is a promising start to a new contemporary YA series.

Verdict:
Rating Report
Cover
Characters
Plot
Writing
Swoon
Overall:
3.5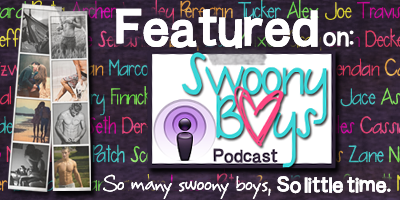 Related Posts