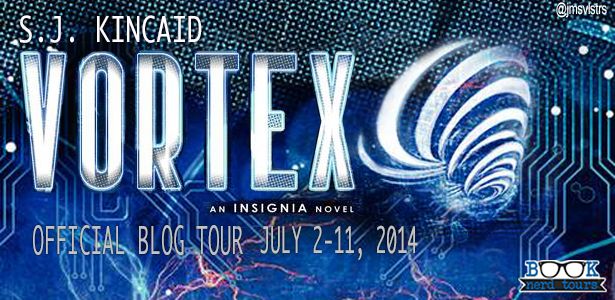 Welcome to Swoony Boys Podcast! This is our stop on the Vortex Tour hosted by Book Nerd Tours. We are ridiculously happy to be a part of this one and can't wait to share our thoughts on Vortex and its characters. While you're here, don't forget to enter the awesome giveaway at the bottom of the post! Are you ready? Here we go:
**Author Interview**
Thanks so much for dropping by Swoony Boys Podcast today to let our readers get to know you! We're so excited to have you! Tell us a little about Vortex. Was it fun to write? What is your favorite scene?
Vortex was absolutely awful to write. Have you heard of 'second book syndrome'? It was my second ever published book, the second book of the series, so there was a whole new level of pressure. I also needed to set up everything in the third book, so the second book required a lot of planning. I actually scrapped a 98k long draft (for context, INSIGNIA was 120k) and started over. At one point, I began sleeping every other night. It was crazy, but I was glad with the results. Plus, all that obsessing really helped me when it came to CATALYST. I knew exactly what was going to happen already.
If you only had six seconds with a stranger in an elevator, how would you pitch this book?
VORTEX is a World War III friendship story that will make you laugh. Not in a that-is-so-bad-I-can't-believe-it kind of way, I don't think. In a funny way. Read INSIGNIA first, though!
What kind of research did you do to make the story seem believable?
A lot of stuff about technology, like quantum computers, and theoretical faster than light communications. Actually, the latter is considered by physicists to be impossible so the entire basis of my story is apparently not actually possible… I try to ignore that part. I also have to research the military so I don't do anything too ridiculously implausible with regards to that. Although I skirt by with some things because the characters are technically wards of the military and not part of it, it would still be really easy to make a mistake without realizing it.
How would you introduce Tom to readers at a party?
This is Tom. He's a lot of fun when you get to know him, but sometimes you will want to punch him in the face. The great thing is, he won't hold it against you, though, and may find it funny. If you become a friend to him, he'll run through fire for you.
What's the best piece of advice you've ever received from another author?
I've already answered this question at another segment of the blog tour, since it's Aprilynne Pike's advice that, "This [career] is a marathon, not a sprint." But there is so much amazing advice I've received from other authors, so I'll cover something I received indirectly due to a post on a message board long before I got published. I think the advice was along the lines of, "The only way you're guaranteed to fail is if you quit." I kept this in mind when I wrote manuscript after manuscript that didn't get published. I wrote about six of them with no success, until my seventh, INSIGNIA, finally received a contract.
Do you have any future projects you can tell us about?
I've written a MG scifi. It's younger than INSIGNIA but a lot of fun for me. I am not sure what will happen with it, so I won't speak at length about it. The thing is, I'm not a point where getting a contract is a guarantee so it may never see the light of day. I also have an idea for an adult manuscript, but I'm going to wait until I'm studying next year for my MA in Creative Writing to give a crack at that one.
Is there ever anything that you always wish someone would ask you in an interview, but they never do?
Is a glass half-empty or half-full? I've always been a half-empty person, but the last year or so I'm trying to see things more as half-full and so far, succeeding. We shall see.
Which character makes you swoon the most? (It can be one of yours or someone else's!)
This is going to make me seem deranged, but there's something oddly swoony about gruff, unpleasant, cantankerous Mr. Rochester from Jane Eyre. Not for me, though, but more for Jane, and only for me via Jane. In real life, I would never go for him.
Vortex by S.J. Kincaid
Series: Insignia
Published by HarperCollins, Katherine Tegen Books on July 2nd, 2013
Genres: Sci-Fi
Pages: 390
Goodreads Buy the Book

The impossible was just the beginning. Now in their second year as superhuman government weapons-in-training at the Pentagonal Spire, Tom Raines and his friends are mid-level cadets in the elite combat corps known as the Intrasolar Forces. But as training intensifies and a moment arrives that could make or break his entire career, Tom's loyalties are again put to the test.

Encouraged to betray his ideals and friendships for the sake of his country, Tom is convinced there must be another way. And the more aware he becomes of the corruption surrounding him, the more determined he becomes to fight it, even if he sabotages his own future in the process.

Drawn into a power struggle more dramatic than he has ever faced before, Tom stays a hyperintelligent step ahead of everyone, like the exceptional gamer he is—or so he believes. But when he learns that he and his friends have unwittingly made the most grievous error imaginable, Tom must find a way to outwit an enemy so nefarious that victory seems hopeless. Will his idealism and bravado cost him everything—and everyone that matters to him?

Filled with action and intelligence, camaraderie and humor, the second book in S.J. Kincaid's futuristic World War III Insignia trilogy continues to explore fascinating and timely questions about power, politics, technology, loyalty, and friendship.
What We Loved:
We met and fell in love with S.J. Kincaid at BEA a few years ago. We got our hands on copies of Insignia and the moment we flipped the last page we wanted more of Tom and his story. We waited not so patiently for Vortex, and we were not disappointed.
If you know us, you know that it takes a lot to get us to love Sci-fi. Not because we don't like it, but because we have big expectations and maybe we're a little hard to impress. This series is anything but a disappointment. We can't say much without giving away major plot points, but we will tell you about some of our favorite things:
Tom- Who wouldn't love this guy? He's just so…boy. He's stubborn, takes crap from no one, but underneath that tough exterior he has a heart of gold. He's growing up, he's making mistakes, and he's winning our hearts along the way.
Friendship- This is one of our favorite parts about this series. It's got that feel good Harry Potter style friendship. You've got this group of kids who are thrown together. They are all different, they are all amazing, and hilariousness ensues. No really, we found ourselves actually laughing out loud at this one.
Sci-Fi, Technogology, and Nerd-ery in general– These are a few of our favorite things. Put them all together and you've got a recipe for success.
"…then Tom was about to give them an inferno."

Verdict:
Rating Report
Cover
Characters
Plot
Writing
Swoon
Overall:
4
***About S.J. Kincaid***
S.J. Kincaid was born in Alabama, grew up in California, and attended high school in New Hampshire, but it was while living beside a haunted graveyard in Scotland, that she realized that she wanted to be a writer. Her debut, Insignia, came out in July of 2012. The second book in the series, Vortex came out in July of 2013. The final book in the INSIGNIA trilogy will come out in Fall of 2014.
Find S.J. Here:
Website | Twitter | Facebook | Goodreads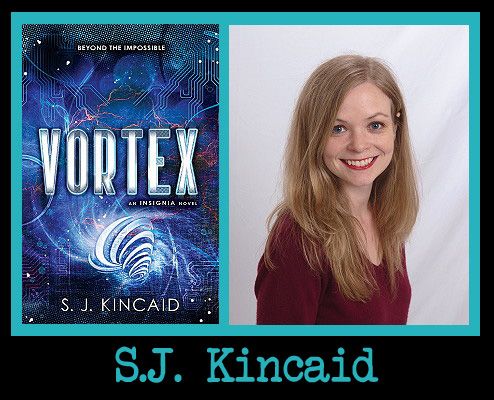 ***GIVEAWAY***
-Giveaway US Only. | Must be 13+ to Enter
3 Winners will receive a Signed Copy of INSIGNIA or VORTEX (Winners Choice) +Swag by S.J.
a Rafflecopter giveaway
Good luck and don't forget to check out the other stops on the tour!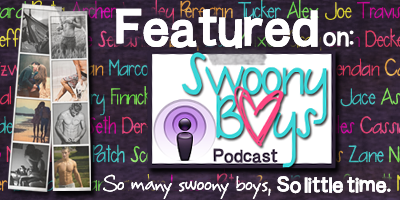 Related Posts