Resisting the Bad boy

by Lisa Brown Roberts
Also by this author: Playing the Player, The Replacement Crush
Published by Entangled: Crush on July 25, 2016
Genres: Contemporary, Romance
Pages: 235
Goodreads

Buy the Book

Disclaimer: This book contains a villain pretending to be a hero, a hero pretending to be a villain, a disco-dancing heroine, two overprotective sidekicks, a little bit of bad language, and a whole lot of swoony kissing.

Spirit committee leader Mandy Pennington is secretly in love with her best friend, Gus, but when he hooks up with her archenemy at a party, she decides to win him over once and for all. She just doesn't know how. But who better to help than hot loner Caleb Torrs?

Caleb's got his own problems, but when he sees Mandy pining over Gus at a party, he thinks she's finally smoked the spirit stick and lost her mind. Maybe he has, too, because he just asked Mandy to be his fake girlfriend.She'll get her loser friend's attention, and he'll get his stalker ex off his back.It's a win-win.

But soon one fake date blends into the next and before he knows it, he actually wants to kiss Mandy. For real. Too bad their plan is working, and Gus is finally noticing the one girl Caleb just might be falling for…
We were so excited to read this book as soon as we saw the cover. We mean, this boy is leaning up against lockers. We had to read it, right?
We're so glad we didn't put off reading it.
The 411:
When Mandy's BFF and object-of-her-affection, Gus, invites her to a party, she's crushed when he hooks up with her nemesis. (FTR, so were we.) Bad boy Caleb offers to give Mandy a ride home and comes up with a plan–they'll fake a relationship to get Gus to notice her and his crazy ex off his radar.
"I've got a stalker ex I need to get off my case. You've got a dork you're trying to seduce. It's a win-win."
What neither of them expect is for their fake relationship to start heading into real territory. This is a case of opposites totally attracting, and it isn't long before both of them are wanting more than they ever imagined.

What We Loved:
We loved this story. We loved the characters and the friendships and how non-angsty it was. We love the cover and thought Caleb was pretty dang swoony.
Of course, it's cliché and totally predictable. And we didn't get Mandy most of the time. *shrugs* But Caleb made up for that for us.

Bottom Line:
Fluffy and swoony, Resisting the Rebel features a flailworthy guy and a sweet girl that you'll be rooting for.

Verdict:
Rating Report
Cover
Characters
Plot
Writing
Swoon
Overall:
4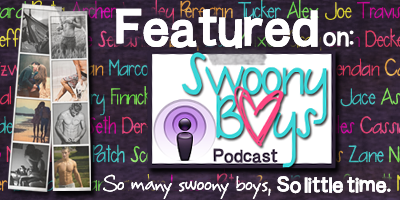 Related Posts