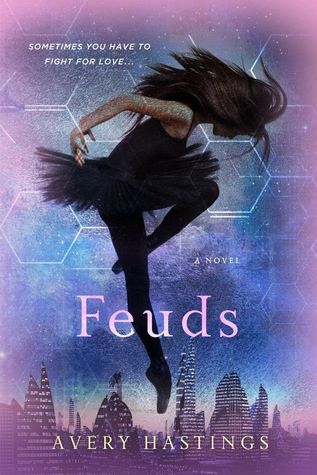 Feuds by Avery Hastings
Series: Feuds #1
Published by St. Martin's Press on September 2, 2014
Genres: Dystopian, Sci-Fi
Pages: 272
Goodreads Buy the Book

In this breathless story of impossible love, perfection comes at a deadly cost.

For Davis Morrow, perfection is a daily reality. Like all Priors, Davis has spent her whole life primed to be smarter, stronger, and more graceful than the lowly Imperfects, or "Imps." A fiercely ambitious ballerina, Davis is only a few weeks away from qualifying for the Olympiads and finally living up to her mother's legacy when she meets Cole, a mysterious boy who leaves her with more questions each time he disappears.

Davis has no idea that Cole has his own agenda, or that he's a rising star in the FEUDS, an underground fighting ring where Priors gamble on Imps. Cole has every reason to hate Davis—her father's campaign hinges on the total segregation of the Imps and Priors—but despite his best efforts, Cole finds himself as drawn to Davis as she is to him.

Then Narxis, a deadly virus, takes its hold--and Davis's friends start dying. When the Priors refuse to acknowledge the epidemic, Davis has no one to turn to but Cole. Falling in love was never part of their plan, but their love may be the only thing that can save her world...in Avery Hastings's Feuds.
The 411:
All sixteen year old Davis Morrow has ever wanted is to win the Olympiads as a ballerina like her mother. A Prior, she's genetically altered to be perfect and strictly forbidden from having any fraternization with the imperfect Genesarians (or "Imps").  She's training for the trials when she meets and pretty much instantly falls for Cole, a mysterious boy who she believes to be one of her kind but turns out to be a forbidden Imp.
Cole's a fighter in an underground system, using his winnings to support his family and hoping to eventually get out of Columbus.  When he's approached by the Prime Minister to get to know a Prior girl, he has no choice if he wants to stay in the fights.  Things change for him after he meets Davis, though, and the two cannot deny the force that seems to be pulling them together.
All the while, a mysterious illness is sweeping through Columbus, affecting only Priors, who should be impenetrable to disease and illness.  As Davis and Cole are trying to find out what's going on, they fall into each other more and more, but what will happen when Davis finds out who Cole really is? Or if anyone finds out about their forbidden relationship?
This book reminds us in a way of Landry Park by Bethany Hagen.  There's the sort of historical-yet-futuristic vibe to it and the citizens of the town have wealth and comfort at the expense of the working class.  Like with Landry Park, we think the world could have used a little more building, but the romance was there more in Feuds for us.  So of course we liked this way more.  There's also a bit of Elizabeth Richards's Black City in this as well, with the way the society is split and the differing parts of town, so if you liked those books, we think you'll enjoy this one, as well.

What We Loved:
Feuds had a lot of potential to be amazing, and we liked the whole idea for this book. Star-crossed lovers, with a dystopian kick? Action-packed suspense? Sounds like our kind of story. We loved the Romeo and Juliet-y ness of it, and believe us, there's a lot of that. There's more than just the forbidden love aspect–just wait until you get to the end!
We also really loved the cover–it's gorgeous!

Um...Not So Much:
First of all, we didn't know this was a series when we started reading it. When we got to the end…well, let's just say we weren't happy. At all. we think the characters and the world could have used a little more development, and we wonder if Hastings knew it was going to be a series from the beginning.
We're definitely not ones to scoff at insta-love. We're all for love at first sight, and the way Cole and Davis connect is instantaneous. We didn't really have a problem with that, we just wanted to feel more from them as time went on. Yeah, you met someone who got your blood racing, but what else? Why can't you stay away? Why should we care? Overall, we just needed more to this story.

What We Think Will Happen Next:
We can't tell you what we think will happen next without giving too much away, but let's just say we're hoping for lots more Cole.

Bottom Line:
The forbidden romance of Romeo and Juliet with a dystopian vibe? We're all about it.  Though we wanted more from the characters and the world in Feuds by Avery Hastings, we liked it and will definitely be back for more.

Verdict:
Rating Report
Cover
Characters
Plot
Writing
Swoon
Overall:
3.5
***About Avery Hastings***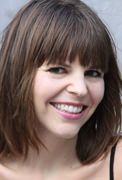 Avery Hastings is an author and former book editor from New York City. Avery grew up in Ohio, graduated in 2006 from the University of Notre Dame and earned her MFA from the New School in 2008. When she's not reading or writing, Avery can usually be spotted lying around in the park with her affable dog. Like her protagonists, she knows how to throw a powerful right hook and once dreamed of becoming a ballerina. In addition to New York, Avery has recently lived in Mumbai and Paris, but is happy to call Brooklyn home (for now).
Find Avery Here: Twitter | Goodreads | Wattpad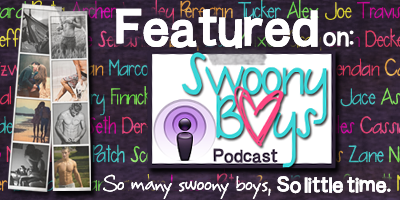 Related Posts