Lying Out Loud
by
Kody Keplinger
Published by
Scholastic Press
on April 28, 2015
Genres:
Contemporary
Pages:
304
Goodreads
Buy the Book
Kody Keplinger returns to the world of The DUFF in this brand-new companion novel!

Sonny Ardmore is an excellent liar. She lies about her dad being in prison. She lies about her mom kicking her out. And she lies about sneaking into her best friend's house every night because she has nowhere else to go.

Amy Rush might be the only person Sonny shares everything with -- secrets, clothes, even a nemesis named Ryder Cross.

Ryder's the new kid at Hamilton High and everything Sonny and Amy can't stand -- a prep-school snob. But Ryder has a weakness: Amy. So when Ryder emails Amy asking her out, the friends see it as a prank opportunity not to be missed.

But without meaning to, Sonny ends up talking to Ryder all night online. And to her horror, she realizes that she might actually like him. Only there's one small catch: he thinks he's been talking to Amy. So Sonny comes up with an elaborate scheme to help Ryder realize that she's the girl he's really wanted all along. Can Sonny lie her way to the truth, or will all her lies end up costing her both Ryder and Amy?

If you know us at all, you know that we love Kody Keplinger lots, and the The DUFF (and Wesley Rush) will always have a special place in our hearts. Though all of her YA books have a connection to The DUFF, Lying Out Loud is the only one that is labeled as a companion. We think they probably did that because of the movie, but we're not complaining. This book focuses on Sonny, who is the BFF of Amy Rush. That's right–Wesley's little sister.
The 411:
After constantly covering up some not-so-pleasant things going on in her life, Sonny becomes a habitual liar. It's like second nature to her to lie to everyone–her bosses, her teachers, her friends and their parents, and herself. This all comes crashing down on her when she lies to her best friend and the boy she's fallen in love with.
New guy Ryder Cross is preppy, snobby, and a wannabe hipster. He's also totally crazy about Amy. So when Ryder sends Amy a message asking her out, Sonny composes a mean email to respond, never intending to send it. Of course, it gets sent inadvertently, leaving Amy and Sonny feeling guilty for being so mean. Taking Amy's laptop, Sonny talks to Ryder via IM, apologizing. It isn't until they're about to sign off that Sonny realizes that Ryder thinks he's been talking to Amy all along. The problem is that Sonny felt a real connection to him and continues to chat with him online or through texts–and she doesn't tell Amy. It's obvious that Ryder and Sonny like each other as they share secrets with each other and their messages become more intimate, but Ryder has no idea that his dream girl is actually Amy.
"When we're texting or talking online, she's so…She's great. She's funny and smart and it's so easy to talk to her. The virtual Amy is incredible. … I just wish the Amy I saw in real life was more like that."
When Amy finds out what's been going on, Sonny promises to come clean. But how can she when she's falling for Ryder?

What We Loved:
We loved this story, which is sort of a retake on Cyrano de Bergerac. The characters were all realistic, and there's no doubt that Kody Keplinger is a true voice of the teen generation. We her!
We loved the characters' interactions with each other and their banter. We love the history that's thrown in here, both between Amy and Sonny (and Sonny with Amy's family), as well as with the characters from Keplinger's other books that we've come to know and love. It was great to see or hear about Whitley and Nathan, Lissa and Cash, Casey, and of course Bianca and Wesley.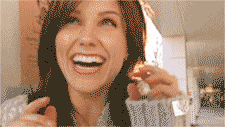 This book covers a lot of the school year, and Wesley is home for Christmas and Spring Break, and we love it. We love the banter between him and Bianca (and everyone, really) and the history that's woven throughout the story.
Wesley smiled. "I am rather fond of handwritten letters."

"You write letters?"

"I wrote a couple in the past."
::grin forever::
One of the things that we didn't like about Shut Out was that we thought there was a huge plot hole in the fact that the MC basically lies to us before something huge is revealed. We won't get into that here, but we only mention it because we were so happy that that didn't happen here. The reveal about Sonny is predictable, even without the clues that lead up to it, but we really appreciated that there was some foreshadowing here. It's just another example of how far Kody Keplinger has come as a writer.

Um...Not So Much:
We have very few complaints about this book. We guess the biggest one is that there was no Harrison Carlisle here. He was mentioned, but we wanted him to be there. Also, regarding Harrison, Wesley mentions that he hasn't heard from him in ages. We were surprised by that, but we're not gonna be mad about it.
Also, we didn't like that Sonny always brought back the reason that Ryder couldn't really like her is because she wasn't beautiful or rich enough. Ryder didn't give any indication of being like that in their chats, and though he was pretentious in class, Sonny knew the reasons behind his bitterness at having to move there. It just…rubbed us the wrong way. The only other problem we really had was the ending. We wanted MORE. A lot more.

The Boys:
We liked Ryder Cross a lot. He wasn't a doormat, and he definitely said and did some things that made us swoon.
"Make you a deal," he said, kissing just beneath my ear. "I'll add some better make-out music to my collection, if you drop it for the moment…."

The Girls:
Sonny. There were definitely times we wanted to shake Sonny and ask her what the hell she was doing, but we thought her character was genuine and every decision she made seemed true. We loved the relationship that she had with Amy and could tell that they really loved each other.
Who cared if I was half his size? Hell hath no fury like a girl defending her bestie.
Amy. NGL, we expected more from Wesley Rush's sister. She was a doormat a lot of the time, and though we get it, we hoped she had some of Wesley's charisma. Kudos to her for eventually standing up for herself, though.

Dream Cast:
This was tough for us because no one we could find was hipster enough. We pictured a young Michael Ealy while reading but we think this guy will do just fine:

Bottom Line:
Authentic with likable characters, Lying Out Loud by Kody Keplinger is a fast, fun read that should not be missed.

Verdict:
Rating Report
Cover
Characters
Plot
Writing
Swoon
Overall:
4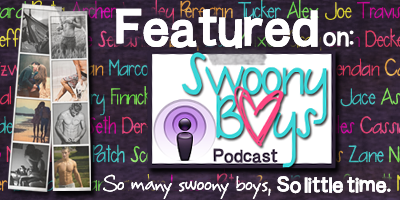 Related Posts