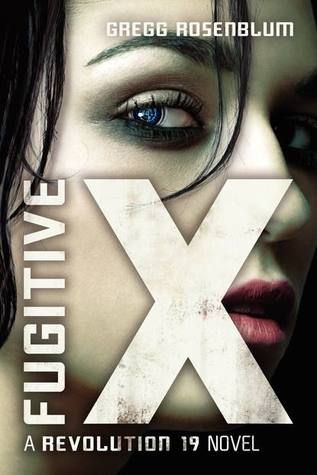 Fugitive X
by
Gregg Rosenblum
Series:
Revolution 19 #2
Published by
HarperTeen
on January 7, 2014
Genres:
Dystopian
,
Sci-Fi
Pages:
272
Goodreads
Buy the Book
Their fight for freedom is humanity's last hope for survival. The chilling Revolution 19 trilogy continues in Fugitive X.

A war between humans and robots is on the horizon, and only one side will survive.

Siblings Nick, Kevin, and Cass are struggling to survive in a world where deadly, sophisticated robots have turned on their creators and enslaved mankind. Fugitives from one of the bot-controlled Cities, the siblings venture into the woods, but when they are attacked by bot foot soldiers, the siblings are separated...and for the first time, they are on their own
The 411:
Fugitive X picks up right where Revolution 19 left off. Nick, Kevin, and Cass are escaping the city and on their way to rendezvous with Farryn and Lexi. Things don't go as planned and suddenly all three of them find themselves separated and alone. Who can they trust? Where will they go? And more importantly, how will they find their way back to each other?

What We Loved:
We were so excited to get our hands on an early copy of this one. We were hooked after Revolution 19 and needed to know what was going to happen next. This second installment didn't disappoint and has us very anxiously waiting the conclusion in book #3. Let's talk about some of our favorite parts.
Visualization– One of our favorite things about this series is how cinematic the story is. It reads just like a movie, to the point where you can picture each and every situation happening like it's on the big screen. We're not sure if there's a movie deal yet, but  we definitely think there should be. We'd be first in line to watch it.
Characters– There were some new characters added in this time, but most of our favorites were back. It would be easy for a book told from three (sometimes four) points of view to get confusing and lose the reader, but Gregg Rosenblum manages to prevent that. Each of the characters voices are unique and well developed. We appreciate that more than anything because we hate when we're taken out of a story for something as simple as the voice of a character or choppy transitions.
Sci-fi for the sci-fi snob– We think this is the best compliment we can give. Why? Because neither of us reads a ton of sci-fi. There just aren't as many books in this genre that appeal to us, we're picky in this area. This series still managed to draw us in. The best part is that even though we say it's sci-fi for the sci-fi snob, it's also sci-fi for the sci-fi enthusiast. No matter which category you fall in, we think you'll want to check this one out.

Um...Not So Much:
There's always got to be something that we don't love, right? Our biggest complaint here is how creepy the robots are. Especially the Senior Advisor bot. We know that's probably the point, but still. Eeeeeeek. (Maybe it's scarier because we could clearly envision a world where this scenario could play out?)
Other than super creepy robots, our only other complaint was some cheesy teenage dialogue. We think that the reason some of it comes across as too "dramatic" is because sometimes there seems to be inner dialogue written out that would be useful in a movie or TV script (little thoughts that would let the actor know why his character is doing something) but it's not always something that fits the character when said out loud. This didn't happen a lot here, but when it did, it really threw us off.

The Boys:
Nick- Oh, Nick. We was such a teenage boy in this one. He got caught up in his hormones a few times and didn't think as clearly as he usually does. He was still the strong leader we met in the first book, but we started to see the affects of everything going on. We wish that we'd had more time with him and Lexi and less time with Erica. But we're not going to lie, we're anxious to see how both situations pan out in the conclusion.
"Lead on," he said quietly. "Let's go kill some bots."
Kevin- We got a lot more Kevin this time, and a more grown-up version as well. We love how his character developed and how he was able to continue to grow. Here's one of our favorite lines from him:
"You're a coward," Kevin said. "You just want to hide until you die, when you should be fighting."
Farryn- Oh, goodness we love this guy. Our only complaint is that there wasn't more of him. We're anxious to see what happens with his injury in the third book and if it does anything to affect his personality. We really hope that it does nothing but make him stronger.

The Girls:
Cass- Everyone went through a lot in this one, but no one went through as much as Cass did. We can't say much without spoiling some HUGE plot lines… but she deserves a lot of credit. We can't imagine going through all that she did and trying to find a new "normal" the way she has to.
Lexi- We've always been huge Lexi fans. She came back stronger and better than ever in this one, even if she didn't get as much "screen time" as we would have liked. We hate that the awesome Nick/Lexi banter was absent for most of this book and that stupid Nick didn't listen to her, but we have faith that both of those things will be fixed in book three.
"Jealous!" Lexi said loudly, "You…" she said, her voice again an angry whisper, "you are a moron." She strode away.
Erica- UGH! We can't say much, and really we don't want to give her a ton of thought so we'll just it it at this… What is up with her?

What We Think Will Happen Next:
Are we allowed to just say… Ahhhh! We need the third book now!!!!! No? But seriously. There are so many different ways that this one could go, so many variables, and answers that we need. We'll just sit here not so patiently waiting for the final installment of this trilogy.

Bottom Line:
If you're looking for a book that's action packed, suspenseful, a little bit creepy, and reads like a movie, then Fugitive X is for you.

Verdict:
Rating Report
Cover
Characters
Plot
Writing
Swoon
Overall:
4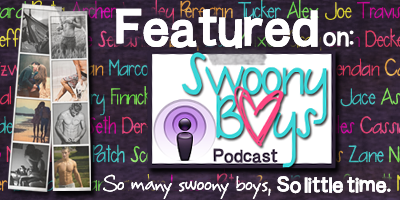 Related Posts