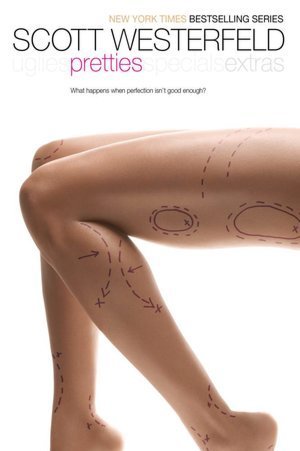 Pretties
by
Scott Westerfeld
Also by this author:
Uglies
Series:
Uglies #2
Also in this series:
Uglies
Published by
Simon Pulse
on May 5, 2005
Genres:
Dystopian
,
Sci-Fi
Pages:
348
Goodreads
Buy the Book
Tally has finally become pretty. Now her looks are beyond perfect, her clothes are awesome, her boyfriend is totally hot, and she's completely popular. It's everything she's ever wanted.

But beneath all the fun -- the nonstop parties, the high-tech luxury, the total freedom -- is a nagging sense that something's wrong. Something important. Then a message from Tally's ugly past arrives. Reading it, Tally remembers what's wrong with pretty life, and the fun stops cold.

Now she has to choose between fighting to forget what she knows and fighting for her life -- because the authorities don't intend to let anyone with this information survive.
The 411:
So, when we last saw Tally in Uglies she was turning herself over to the authorities. But not before she made the difficult choice of being the first guinea pig to try the cure. So, obviously she had to become pretty first.
The story starts with Tally as a new Pretty in New Pretty Town with all her pals. All Tally wants is to enjoy this pretty life with the pretty people. Until an ugly encounter that has her struggling to fill in the blanks.

Verdict:
Katie Says:
The first time I read this book was around the time it was published nearly ten years ago. What I remembered was that I loved it. I have not reread many of the MG books that I enjoyed when I was younger, and after this reread I think I will try and avoid doing so in the future.
What I loved about this book was not very much. The cheesy lingo that starts in the first book could also be found in this one. I tried to get into the lingo but I was cringing over the nicknames, and over everything being bubbly or bogus. I wonder how many times the word bubbly can be found in this book…
Also, I had a major issue with the repeated use of the word retarded in the first part of the book. After seeing it once I was pretty shocked and the second time it just made me angry as I would expect a more appropriate word to describe something being lame or uncool.
One of the things that stood out to me the most about this book was this:
Everyone in the world was programmed by the place they were born, hemmed in by their beliefs, but you had to at least try to grow your own brain. Otherwise, you might as well be living on a reservation worshipping a bunch of bogus gods.
Maybe weird things speak to me…but this was the best part for me. If you live your whole life in a bubble, not bothering to learn what's on the other side you risk missing out on experiences and people that could make a world of difference in your very existence.
So all in all Pretties was a good read. Not great, and at times very frustrating, but it was good. I think this MG book would be best enjoyed by actual middle graders.
Rating Report
Cover
Characters
Plot
Writing
Swoon
Overall:
3
[starbox id=Katie]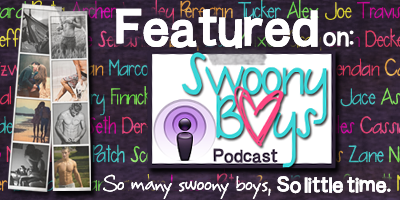 Related Posts