It's time for final teen review as part of our week-long Teen Read Week celebration. So far this week, we've posted:
Today, we chatted with Sarah about the first book in the Wings of Fire Series, The Dragonet Prophecy by Tui T. Sutherland.
Check out our Most Recommended Books for Teens, and be sure to enter our #trw14 Giveaway.
***INTERVIEW***
How do you choose what book you're reading next?
Mostly recommendations from friends.
Who is the boy or girl character that makes you swoon the most?
Four, even though he's a total whinypants.
How much does cover art influence you?
A lot.
If you could introduce any character to another character from any other book, who would it be and why?
Edward from Twilight and Four from Divergent, because they're both so whiny.
LOL Which Wings of Fire character would you want to have ice cream with and why?
Glory, because she's totally sassy and you just KNOW you're going to have a good time.
***This or That***
Hot chocolate or Mocha Frappuccino?
Both
Minecraft
Real book
Étienne, Cricket, or Josh?
Étienne
Divergent or Hunger Games?
Divergent
Thank you so much for chatting with us today, Sarah!! ♥
🙂
***About Sarah***
13-year-old Sarah lives in Colorado right now and she's also lived in Texas and Utah. She likes to draw, read, write stories, play with her dog and cat, and be creative and crafty. She is obsessed with everything Disney.
Find Sarah on Instagram
***TEEN REVIEW***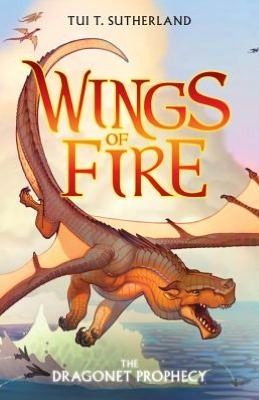 The Dragonet Prophecy
by
Tui T. Sutherland
Series:
Wings of Fire #1
Published by
Scholastic Press
on July 1st 2012
Genres:
Middle Grade
Pages:
336
Goodreads
Buy the Book
The seven dragon tribes have been at war for generations, locked in an endless battle over an ancient, lost treasure. A secret movement called the Talons of Peace is determined to bring an end to the fighting, with the help of a prophecy -- a foretelling that calls for great sacrifice.

Five dragonets are collected to fulfill the prophecy, raised in a hidden cave and enlisted, against their will, to end the terrible war.

But not every dragonet wants a destiny. And when the select five escape their underground captors to look for their original homes, what has been unleashed on the dragon world may be far more than the revolutionary planners intended . . .
The 411:
The Wings of Fire series is about dragons who are destined to a prophecy they aren't entirely sure they can fulfill.

What I Loved:
The writing style, most of all. I also liked that each book is written in third person omniscient, centered on a different character.

Um…Not So Much:
At first, the plot is a bit rushed.

The Boys:
It's safe to say that none of them know what they're doing. None of any of the characters really know what they're doing, but especially the boys.

The Girls:
Don't ever mess with any of them, except Sunny, if you're mean.

Rating Report
Cover
Characters
Plot
Writing
Overall:
5
Don't forget to enter the #trw14 Giveaway so you can win your own copy of Bleed Like Me!
Related Posts