Racing Savannah
by
Miranda Kenneally
Also by this author:
Defending Taylor
Series:
Hundred Oaks #4
Also in this series:
Defending Taylor
Published by
Sourcebooks Fire
on December 3, 2013
Genres:
Contemporary
Pages:
304
Goodreads
Buy the Book
They're from two different worlds.

He lives in the estate house, and she spends most of her time in the stables helping her father train horses. In fact, Savannah has always been much more comfortable around horses than boys. Especially boys like Jack Goodwin—cocky, popular and completely out of her league. She knows the rules: no mixing between the staff and the Goodwin family. But Jack has no such boundaries.

With her dream of becoming a horse jockey, Savannah isn't exactly one to follow the rules either. She's not going to let someone tell her a girl isn't tough enough to race. Sure, it's dangerous. Then again, so is dating Jack…
The 411:
High school senior Savannah moves with her father and his fiancee to the staff quarters at Cedar Hill Farms, where he has a new job as head groomer.  Even though she's not excited about living in the staff quarters, she is pretty stoked that she'll get to be surrounded by some of the best racehorses in the world.  It doesn't hurt that she also meets and falls for the owner's strictly off-limits son, Jack Goodwin.

What We Loved:
The cover! This is our favorite of all the Hundred Oaks Series covers.
The descriptions that Kenneally used were vivid and made us feel like we were right there, and we loved that.
I lean closer, snuggling under his arm, and rest a hand on his strong chest.  Our breathing races out of control.  He brushes my hair behind my ears and kisses my neck until I'm shaking all over.

"Truth or dare?" I whisper.

"Dare."

"I dare you to kiss m–"

His mouth captures mine and teases me into a long kiss.  He weaves his hands in my hair and pulls me closer as I run one hand over his knee and cup his neck with the other.  His pulse slams against my palm.  His strong hands sweep over my shoulders and thighs, leaving me tingly and warm and feeling beautiful.
One of our favorite parts was how much family meant, including to the staff who seemed to have bonded as one big family.  We loved every time her dad called her "Shortcake."
This is totally a standalone, but we also loved getting to see the characters we love from the other books in the series, and some things that happen might surprise you.
Kenneally is definitely an amazing storyteller and brings realistic characters to the table every time.  This time is no exception.  We found that mostly loved the "secondary" characters from the story, especially Rory and Vanessa.

Um...Not So Much:
While this was a quick read and we loved Jack and Savannah, their relationship seemed to go a little too slow for us.
We also thought that Savannah was kind of harsh and judgmental at times.  Yes, she's in a world of the haves vs. the have-nots, but we were surprised at some of the stereotyping she did.

The Boys:
We were surprised by how much we liked Jack. He starts off being pretty much an arrogant player, but a cowboy at heart and he says and does some sweet things. We don't love everything about him, but we don't want to spoil. He's determined and sweet at times. But we wanted to junk punch him at times, too.
The star of this book for us was Rory. He was sweet and funny and just…awesome.
"Get 'er done."
::dies::

The Girls:
We loved that Savannah totally kicked ass! She's funny and real. Even though we thought she was kind of jugdmental, we understood some of it. We also loved that she tells Jack that she's not going to have a secret relationship with him, and We really loved Vanessa.

Bottom Line:
Relatable characters and a sweet forbidden romance make this quick read a must.  We can't wait to see what Kenneally comes up with next!

Verdict:
Rating Report
Cover
Characters
Plot
Writing
Swoon
Overall:
3.5
We're so excited that Miranda stopped by to chat with us today!

***Interview***
Thanks so much for dropping by Swoony Boys Podcast today to let our readers get to know you, Miranda. We're excited to have you!
I'm very happy to be here! Thanks for having me.
Tell us a little about Racing Savannah. Was it a fun book to write?
Some parts of it were fun, but it was a super hard plot to figure out. I knew where I wanted Savannah to end up at the end of the book, but I had a hell of a time figuring out her backstory. For a while, I was worried I wouldn't figure it out by my deadline!
Well, we loved it! What was your favorite part to write?
Probably the kissing scene between Savannah and Jack in the barn. I love writing kissing scenes!
That's one of our favorite scenes, as well. What kind of research did you have to do to make the story seem believable?
I did a TON of research. First, I read a bunch of books on horse racing, watched races on TV, and watched the movies Seabiscuit and Secretariat. After I did that, I felt prepared to go watch some live races. I went to Charles Town Races, where Savannah worked in the book. Next I took a trip to Kentucky, where I toured Thoroughbred horse farms and Kentucky Downs. At one of the farms, I spent a lot of time watching the exercise riders and asking them questions. I also hung out with a great racehorse named Tell A Little Secret. Her owner gave me lots of good information. I am glad I read a lot of books before taking the trip, because I was able to put everything into context.
Wow! That does sound like a lot of work, but so much fun, too! How would you introduce Savannah to readers?
Spunky badass girl horse jockey.
Agree 🙂 Will our readers swoon for Jack as much as Sam Henry?
Haha! What a great question. Well, Sam Henry will always have a special place in my heart and I doubt any of my book boys will ever live up to him. I think Jack Goodwin still has some growing up to do in Racing Savannah, but I hope that readers will appreciate his growth and really like him in the end. I also have to say that the guy in my next book Breathe, Annie, Breathe is verrrry hot. He might give Sam Henry a run for his money.
Hmmm in that case, we can't wait to meet the boy in Breathe, Annie, Breathe, because you know how much we ♥ Sam Henry! What's the best piece of advice you ever received from another author?
Becca Fitzpatrick once told me not to take every suggestion given to me by editors/readers. She said that only I know what's best for my story, and if I know something won't work, I shouldn't do it.
That's great advice! How would you describe yourself in three words?
Ambitious, stressed, happy.
Which character makes you swoon the most (yours or someone else's)?
Tough! Probably Prince Po from Graceling. Where can I get me one of him?
Word. Do you have any future projects you can tell us about?
My 5th book,Breathe, Annie, Breathe, is coming out July 2014. I'm really excited about it. It's about a girl training to run a marathon in honor of her boyfriend who died. Beyond that, I have another book on contract, but I haven't decided what it's about yet. I am thinking Hot Lifeguards.
Yesssss There aren't enough books about hot lifeguards in our lives 🙂 Is there ever anything that you always wish someone would ask you, but they never do?
Well, I can't think of any questions per se, but hardly anyone ever says "Catching Jordan was great as is. We don't need a sequel!" Almost everybody begs for a sequel!
It's true. We could stand a little more Sam Henry. Thanks again for coming by today, Miranda. You know we love you and can't wait for our readers to get their ::grabby hands:: on Racing Savannah!
Thanks for having me! 🙂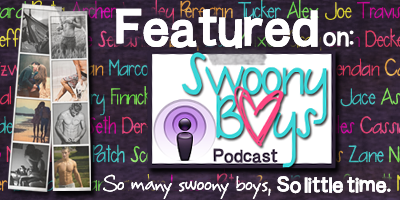 Related Posts