Trust the Focus
by
Megan Erickson
Series:
In Focus #1
Published by
Intermix
on March 17, 2015
Genres:
New Adult
Pages:
222
Goodreads
Buy the Book
With his college graduation gown expertly pitched into the trash, Justin Akron is ready for the road trip he planned with his best friend Landry— and ready for one last summer of escape from his mother's controlling grip. Climbing into the Winnebago his father left him, they set out across America in search of the sites his father had captured through the lens of his Nikon.

As an aspiring photographer, Justin can think of no better way to honor his father's memory than to scatter his ashes at the sites he held sacred. And there's no one Justin would rather share the experience with more than Landry.

But Justin knows he can't escape forever. Eventually he'll have to return home and join his mother's Senate campaign. Nor can he escape the truth of who he is, and the fact that he's in love with his out-and-proud travel companion.

Admitting what he wants could hurt his mother's conservative political career. But with every click of his shutter and every sprinkle of ash, Justin can't resist Landry's pull. And when the truth comes into focus, neither is prepared for the secrets the other is hiding.
We love best friends to lovers books. In fact, they're one of our favorites. How can you not love a friends to lovers story? There's the established relationship, the history between the two characters, the banter, the connection. The sizzling tension when feelings begin to change, deepen. It isn't a new trope, in fact, it's probably one of the most common, but it takes real talent to pull it off in a way that's engaging and believable and boy did Megan Erikson pull that off … and then some.


The 411:
Trust the Focus is the story of Justin and Landry, best friends since the 6th grade and about to head out on a cross country trip immediately following college graduation in an old Winnebago named Sally left to Justin by his deceased father. They embark on a journey to spread Justin's father's ashes in his favorite places, everywhere from Oregon to Maine. They blog, they take pictures, they fight, they play, and in the middle of all that, they figure out what and who is important and figure out how to fight for what they want.
This book is told solely from Justin's POV and immediately out of the gate, we're given a glimpse of how Justin feels about the very out and very proud Landry.
Lan was smiling at me, the smile I liked, the big one that showed his crooked bottom-right incisor. The smile that brought out the deep creases around his mouth and wrinkled his forehead and made his dark-blue eyes glint.

The smile I hadn't seen turned my direction in way too long.

The smile that socked me in the gut and brought me to my knees because he didn't know how badly I wanted that kiss I'd never taken.

And probably never would.

What We Loved:
Everything! The chemistry was fantastic, the dialogue witty and sharp, the sexy times swoony for sure, and it made us cry and laugh.
These two boys were absolutely delightful. Megan Erickson did an incredible job portraying an engaging, utterly believable story. We were completely drawn into Justin's story: his grief over his father's death, his resentment of his controlling mother trying to force him to follow a path into a future he doesn't want, his fear over losing Landry if he let his true feelings come to light, his want to come clean and admit he's gay. One of our favorite things about Trust the Focus was how Megan Erickson let the relationship play out. In a great many M/M books, once the hidden feelings come out, there's an almost immediate transition from friends to lovers. Not so here (though you know they both love each other!) and it was SO refreshing! It was important and showed the strength of their underlying friendship to watch Landry struggle with being lied to for so long. To be hurt and angry and confused, and rightfully so. So often this aspect is overlooked and in this story, it was portrayed with a real depth of feeling and emotion. We loved that!
Of course, we loved the swoon, too, and these two guys sure delivered the goods. Landry is quirky and fun and a perfect balance to Justin's somewhat more serious self. The chemistry between these two was off the charts, even doing something as simple as eating lunch in a diner (though the grilled cheese having sex was quite hilarious!) The serious moments between these two were heavy and added to the story, the funny ones made us laugh, and the sexy ones made us sigh.
But as Landry's curls tickled my neck, his hand curled around my hip, I knew I'd pick this over normal. I'd pick these moments over living someone else's life. I'd pick Landry…
Not only is Trust the Focus a friends to lovers story, but it's also a journey of self-discovery and growing up, of figuring out what you want and how to get it, and about making choices that make you happy. Justin's struggle to find himself, believe in himself—accept himself—and find the courage to stand up to his mother was beautiful.
We loved these two, so much. They weren't perfect, they made stupid mistakes, but that's what made them so awesome and real. #JusLan for the win! We highly recommend this book!

Um...Not So Much:
Hmmmm, not a lot to be honest. Even the parts that made us angry were important to the story (though we kind of wanted to kick Justin in the shins every time he hurt Landry's feelings).

The Boys:
Justin Akron. While he might be in the closest and harboring all the love for his best friend, the boy sure knows who he wants. There was never any point where it felt like Justin was going to turn his back on Landry or not admit his feelings. Showing that to the outside world, sure, here he waffled at times while he tried to come to terms with everything, but he loves Landry and we always know that.
Landry Jacobs. He's soooooo just, *sigh* Tattoos, ear gauges, snarky, and quite the talented Twizzlers wrapper-ring maker. He seems so happy, and mostly he is, but he's got a lot of depth and there's some dark in his past that will make you love him even more. He might come off as a flighty pushover where Justin is concerned, but the fact that he's not is definitely a huge plus. And we love his name!

What We Think Will Happen Next:
Besides #JusLan living Happily Ever After? Well, we hope Justin's mom gets more accepting of both Justin as a person as he follows in his father's footsteps into photography and of Justin and Landry as a couple. There weren't a lot of secondary characters mentioned in the book but that doesn't mean we wouldn't be REALLY interested in someone else's story (as long as there was plenty of Justin and Landry in it!)

Bottom Line:
A fabulous story of growing up, choosing your own path, and following your heart. Trust the Focus is definitely one of our favorites we've read so far this year!

Verdict:
Rating Report
Cover
Characters
Plot
Writing
Swoon
Overall:
4.5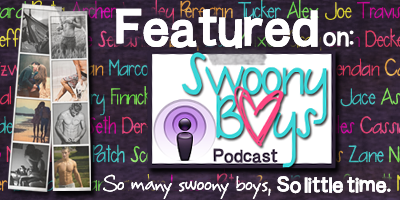 Related Posts